Koala with Diabetes at San Diego Zoo Receives Help from New Technology
Scripps Specialist Part of Innovative Care Team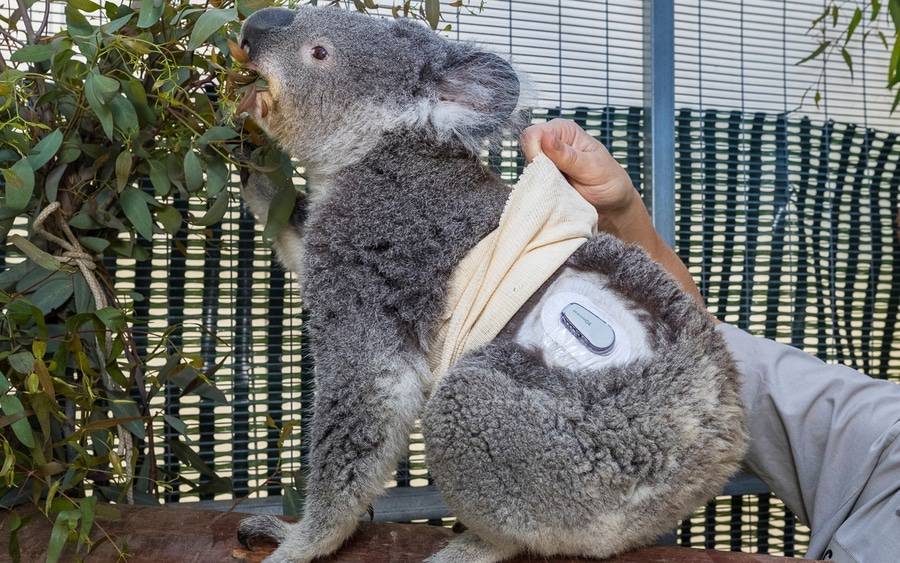 Scripps Specialist Part of Innovative Care Team
A group of San Diego-based experts came together June 1, 2018, to help a koala with diabetes at the San Diego Zoo. The koala, a male named Quincy, has been diagnosed with type 1 diabetes. The experts, representing veterinarians, endocrinologists from Scripps Health, biotechnology professionals from Dexcom and San Diego Zoo animal care specialists took a course of action designed to better manage Quincy's blood sugar levels through the application of a glucose monitor. 
"Very few koalas have been diagnosed with and treated for diabetes," said Cora Singleton, DVM, senior veterinarian, San Diego Zoo Veterinary Services. "Quincy currently requires insulin injections, which are based on his blood sugar level. With a continuous glucose monitor, we may be able to monitor Quincy's glucose levels throughout the day without having to disturb him. We are hopeful that this technology will work as well in koalas as it does in people, thus allowing us to optimize his insulin therapy while promoting his welfare during his illness."
Quincy wearing device designed for humans
The Dexcom G6 Continuous Glucose Monitoring System that Quincy is wearing is the latest innovation in diabetes management technology, which started shipping to people with diabetes earlier this month. The sensor and transmitter placed on Quincy sends his blood glucose levels in real time to a smart device monitored by his caretakers. With the new G6 technology, his veterinarians will no longer need to prick his ears multiple times per day to test his blood glucose levels. The Dexcom CGM also has built-in alerts and alarms that will proactively notify Quincy's caretakers before his blood glucose reaches dangerous levels.
"You can imagine what this technology means for Quincy, and any person trying to manage this challenging disease," said Peter Simpson, vice president of advanced technology at Dexcom. "Just like Quincy's veterinarian, people with diabetes and their family or friends can monitor their glucose levels from a mobile device, providing around-the-clock safety and peace of mind."
Koalas normally sleep during the day and are solitary animals. Animal care staff at the San Diego Zoo hope the new sensor will allow them to get more detail about Quincy's glucose levels while also reducing the number of times they need to disturb him.
Scripps endocrinologist consults on care
"Quincy has an insulin deficiency type of diabetes, and needs insulin to control his blood sugar levels and ensure he gets the energy needed to help him build muscle, gain weight and stay healthy—much like our human patients," said Athena Philis-Tsimikas, MD, corporate vice president of the Scripps Whittier Diabetes Institute.
"Hypoglycemia — abnormally low blood sugar — is a safety concern, and the limiting factor to using the right doses of insulin, especially in an animal that can't tell us their symptoms. The continuous glucose monitoring now allows optimal dosing to best manage Quincy's diabetes," Dr. Tsimikas said.
The procedure to apply the monitor went smoothly, and animal care staff said they look forward to having information that will help them develop a treatment plan to improve Quincy's condition. Quincy's diabetic condition was initially diagnosed by veterinarians at the Los Angeles Zoo, where Quincy was living at the time. He was transferred to the San Diego Zoo for continued advanced diagnosis and treatment. Diabetes has rarely been documented in koalas, and animal care experts do not know what may have triggered this condition in Quincy.
Learn more about Scripps Health, a nonprofit integrated health system in San Diego, Calif.