Parents and Physicians Play Vital Roles in the Lives of Special Needs Children
Raising kids with special needs is challenging, but with persistent parents and dedicated doctors, extraordinary things can happen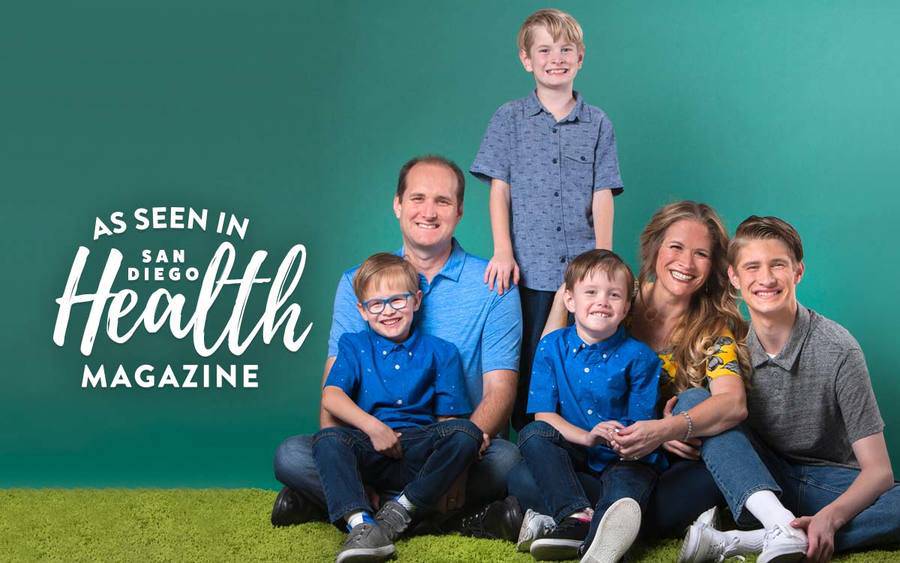 Raising kids with special needs is challenging, but with persistent parents and dedicated doctors, extraordinary things can happen
"Something's not right," Tiffany Ketcham said to herself after her son Tristen was born 15 years ago. He had trouble feeding, and when milk started to come back up, it got stuck in his throat. It's just spit-up, nurses said. But Tiffany knew better. She'd worked with children for over a decade before having her own, and this wasn't normal. "In the hospital he had trouble feeding, and something was not right." 
Mary Beth Casement, MD, had helped her feed her baby boy, so when the issue recurred, she ran to show her. Dr. Casement, a pediatrician at Scripps Coastal Medical Center, Carlsbad, suspected he'd swallowed a lot of amniotic fluid during delivery, and she was right. "I think physicians, in general, have a tendency to be problem solvers," Dr. Casement says. Little did she know how many problems she would end up solving for them.
Tiffany and her husband Kevin had yet to pick their pediatrician, but from then on they knew they needn't consider anyone else. "She just had, from the get-go, this different demeanor," Tiffany says. 
The medical mysteries begin
Tristen wasn't yet out of the woods, though. When he was 18 months old, illness struck the entire family and the bright little boy's temperature skyrocketed, causing a grand mal seizure. 
Tristen changed after that day. The talkative boy turned quiet. By his next appointment with Dr. Casement, he could make only a few nonverbal sounds. In the years to come he would be diagnosed with autism, suffer gastrointestinal issues, have hypermobility and other problems that would be attributed to the seizure. But when baby number two, Kyrin, came along, he had many of the same issues. The Ketchams began to suspect that genetics, not the seizure, were to blame.
Dr. Casement ordered genetic tests, which ruled out some conditions but showed nothing definitive. She also pushed for Kyrin to start physical, occupational, speech and applied behavioral analytics therapies early on because, as Tiffany says, "she understood how much the level of therapeutic intervention at an early age would make a difference." 
Tiffany was experiencing health problems of her own around the same time. At one point, she and her husband were told they would have only a small window to decide whether to have more children. Fate decided for them: Kolton and Trae Ketcham were born December 30, 2011 at Scripps Memorial Hospital Encinitas.
Moments after the fraternal twins were delivered via C-section, Tiffany heard murmurs from her doctors and nurses. Kolton was whisked away to the NICU, Trae shortly after. Tiffany herself had health complications. Kolton's condition worsened and he was whisked off again, this time to Rady Children's NICU at Scripps Memorial Hospital La Jolla. Even after all three were able to go home, Tiffany started noticing "something was really, really wrong." Kolton was limp, "like a rag doll," during diaper changes — no reflexes or reactions.
Doctors initially suspected hypotonic cerebral palsy, but also thought something else was going on. "That was the only thing that really fit — but it really didn't fit," Dr. Casement says. Kolton had trouble feeding. A swallow study she pushed for determined he should be using a feeding tube. He was diagnosed with autism, hypoglycemia, central apnea and a host of other ailments — "failure to thrive," doctors called it. "I remember being told, realistically, this was a child that would never walk, talk, crawl, eat, anything," Tiffany says. 
The extensive battery of tests she had already ordered saved Kolton's specialists valuable time. They eventually hypothesized that he had a mitochondrial disorder. They ruled out the most deadly forms, but an exact diagnosis remained elusive. "For a while we were living in fear, to a certain degree, but trying to have hope," Tiffany says.
Mitochondrial disorders can affect different body systems, vary in severity and manifest in different ways within families, so figuring out the specifics with Kolton could shine a light on the underlying issue affecting his brothers. "If you look at my kids across the board, they all have something that's happened with their brain. They all have something that's happened with their GI tract, except for Trae. They've all been diagnosed with autism. They all have hypotonia and they all have hypermobility. There are way too many similarities," Tiffany says. "Let's find the why." 
"When we hit dead ends where some doctors would have stopped, Dr. Casement just kept pushing."
Tiffany Ketcham
Genome sequencing confirmed a mitochondrial disease, but not one that was known. "Yes, this is a diagnosis," Dr. Casement says. "It also gives hope that as we learn more about mitochondrial functioning in general, we'll be able to find better therapies." 
Thanks to Kolton, other patients can be diagnosed with his specific defect with a blood test. "Dr. Casement kept encouraging us to have the courage to keep going," Tiffany says, "because not only could this help Kolton, this also could help other people." Five other likely patients have been identified to date. "I don't think we'd have the answers we have today if it weren't for Dr. Casement continuing to research, push and speak to doctors on our behalf." 
Dr. Casement continues to work with Kolton, now 6. His defect is catalogued and he can be enrolled in studies, which raises the chance for new treatments and testing down the road. She also helps coordinate the roughly 35 hours of medical and therapeutic appointments the Ketcham kids have each week, and has explained his condition to school administrators, some of whom didn't understand at first, since he often looks as healthy as any other kid.
"Sometimes he can be walking and moving fast," Dr. Casement says. "Other times he has no energy and is in his wheelchair. The whole concept of why it can vary so much can be hard for somebody who doesn't have a medical background or who hasn't been dealing with this." A determined Scripps physician like Dr. Casement staying involved in a family's continuing care can make a life-changing difference. 
Kolton is now strong enough to go to school with his twin, Trae. Tiffany says they are both thriving and are enamored with learning. 
The Ketchams have also become a pillar of support for other families. In 2013, Tiffany anonymously started the Facebook page "It Takes a Strong Village", which now has over 10,000 followers. She says the focus of the page is "what we're fighting for and what we're about, and centered around faith, hope, love and trust, and working with what you've got and choosing to be positive." 
The Ketchams are a world away from being afraid to go out because of anxiety and risk of infection. Tristen, now 15, uses hypermobility to his advantage as a dancer. Trae's into math and science. Kolton is reading and catching up to 8-year-old Kyrin. "He's talking and he's walking. For the most part he's thriving, and he's smart — wickedly smart," Tiffany says. Dr. Casement notes that Kolton's always going to need help, "but I see a great future for him." 
"We're going to continue to have our struggles, our setbacks," Tiffany says. "But a long time ago we had to make the choice of living in fear, or living in hope."
This content appeared in San Diego Health, a publication in partnership between Scripps and San Diego Magazine that celebrates the healthy spirit of San Diego.