Scripps Doctor Moonlights as Champion Figure Skater
Brian Kim, MD, wins a gold medal in this year's U.S. Adult Figure Skating Championships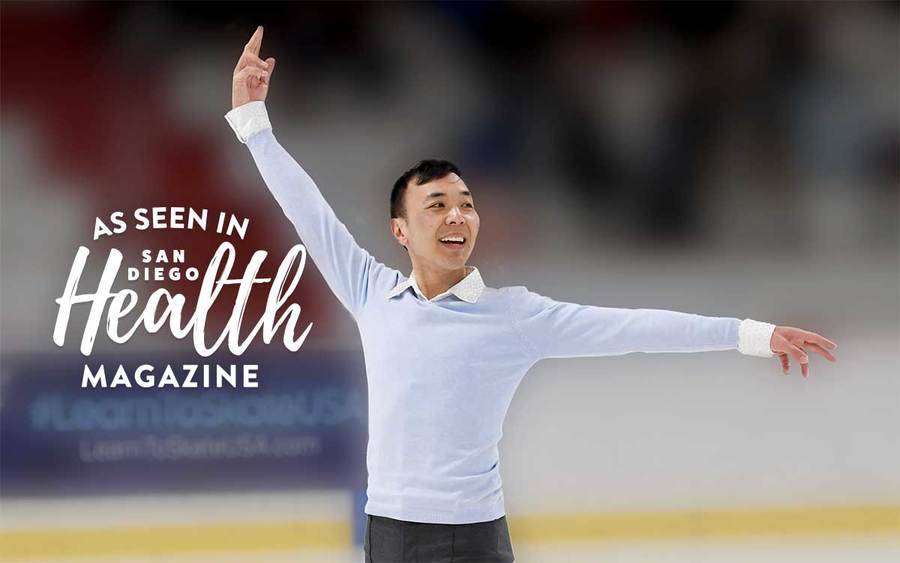 Brian Kim, MD, wins a gold medal in this year's U.S. Adult Figure Skating Championships
At age 20, Brian Kim, MD, had his nose to the grindstone studying for the Medical College Admission Test (MCAT), but he was burning out. The Santa Clarita native sought out relief from the tension that came with being a premed, so he went back to one of the things that inspired him when he was younger — figure skating. 
Japanese figure skater Midori Ito, the first woman to land a triple axel jump, had sparked Dr. Kim's interest as a child, but cost and lack of access had always held him back. "I decided to take a year off from the MCAT and start skating so I could have some balance in my life. I started it when I was 20 and have pretty much done it ever since," he says.
Of course, it was harder to skate consistently during medical school at Cornell and his residency, but he still managed to hit the rink at least once a week. After he moved to San Diego and began practicing medicine as a primary care physician at Scripps Coastal Medical Center Hillcrest, he was able to dedicate more time to skating. Although it takes some expert planning, he considers both skating and medicine commitments he's willing to structure his life around. "You have to be willing to carve out time in your schedule for it, to make it consistent." 
Now 41, he practices up to 15 hours a week while competing. He says he's fortunate to have a partner who supports him, and his hard work is paying off. He earned a bronze medal in the U.S. Adult Figure Skating Championships in 2013, silver in both 2014 and 2016, and this year, gold. "It's possible to do as a physician, but you have to make it a priority."
There are parallels between Dr. Kim's passion and his profession. "To grow in both you have to have a lot of discipline and patience and think about the long term." It's not possible to do everything by the book in medicine. It also requires focus on patient relationships and paying close attention to their care. Skating's similar in that way, he says: The sport is very technical, but it's also artistic, and mastery is all about learning to balance the two.
This content appeared in San Diego Health, a publication in partnership between Scripps and San Diego Magazine that celebrates the healthy spirit of San Diego.