Woman Who Needs Kidney Transplant Learns Husband Is a Perfect Match
More than 20 years after exchanging vows, San Diego couple exchanges a kidney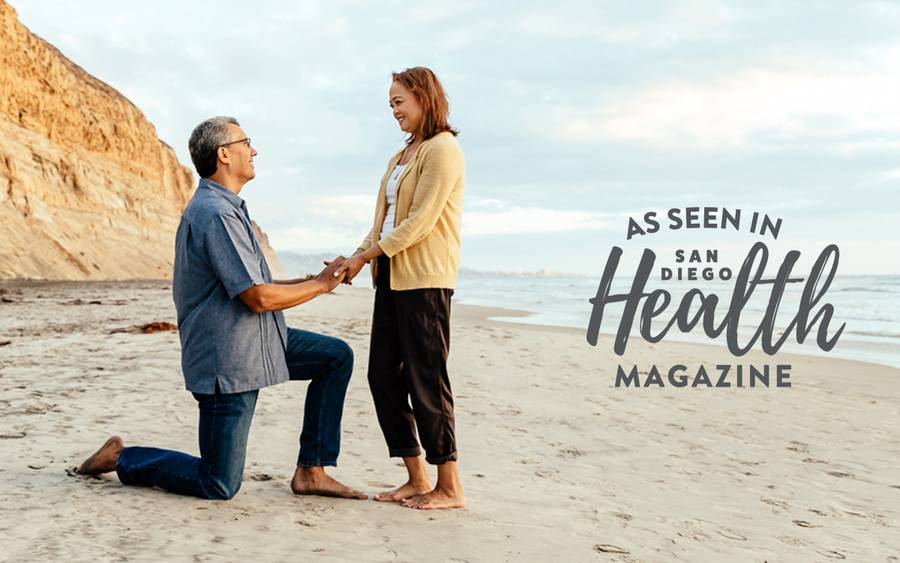 More than 20 years after exchanging vows, San Diego couple exchanges a kidney
Annabelle and Robert Villarreal are not in complete agreement on the details. Robert believes he told his wife he was getting his kidneys checked to see whether he was a suitable donor. She assures him he did not.
Either way, they both remember the night he told her he was a match. "He brought out some sparkling cider," says Annabelle, "and got down on one knee and said: 'Twenty-two years ago, I gave you my heart. Now, will you take my kidney?'"
That was October 2012, and Annabelle was in pretty bad shape. She had been on dialysis for several months to help her failing kidneys, and was also dealing with lupus and type 2 diabetes. "Even though I tried to take a positive attitude and live my life as normally as possible, it was very difficult because I was stuck at home," says Annabelle.
"I couldn't really go anywhere, couldn't travel. I just didn't feel right, and my quality of life, even with a supportive family, was really challenging."
Annabelle's kidneys had been declining for a couple of years. Her glomerular filtration rate, which measures kidney function, had been steadily falling. It was the countdown to the end of the couple's life together.
"I remember going with her to those appointments, and that number just kept going down and down and down," says Robert. "A healthy person should be in the high 90s or 100s, and hers were in the 30s and 20s and continued down to the point where we needed to get her on dialysis."
From there, they were in a holding pattern until she could get a new kidney. Annabelle's first option was to find a living donor from her immediate family. But none of her sisters were in a position to help, and she and Robert didn't want to advertise on social media.
"We're pretty private people," says Robert. "We just didn't want to post it on Facebook." They did have a party to tell some of their closest friends, and several planned to get tested, but Robert quietly intervened. "I told them to hold off for a bit," he says. "This is my wife; if I can do this, I will do it."
The screening process at Scripps Organ and Cell Transplantation
Before even being considered for a transplant, Annabelle had to undergo rigorous testing. First, a transplant coordinator explained the entire process. A battery of tests followed. The results were presented at a selection conference to determine whether she was a good candidate. 
"We need to make sure the recipient is healthy enough to go through the transplant and enjoy the benefits of that organ for years to come," says Randolph Schaffer III, MD, the Scripps Clinic transplant surgeon who leads the living donor program, and Robert's lead surgeon during the procedure. "If someone has a living donor, we will begin the testing parallel to the recipient, but we can't move forward until the person needing the transplant goes through the full evaluation."
Robert went through his own quite involved screening. In addition to making sure his kidney was a match, he had a series of interviews, psychological assessments and educational sessions. The goal was to evaluate him independent from his wife's needs.
"We need to make sure they are healthy enough to give up one of their kidneys and that their long-term health will not be impacted. They really need to understand what they are volunteering to go through," says Dr. Schaffer.
These conversations can be difficult, particularly if the willing donor is not a match. Other issues are not black and white, and donors have to weigh the consequences of their decisions. "We often tell potential donors they can donate the kidney, but it might have a detrimental impact on their long-term health," Dr. Schaffer says. "People assess the pros and cons. Some say no, others say yes."
Robert's kidney was a match. But even if he hadn't been compatible, there were other options, such as a paired kidney exchange, in which two willing but incompatible donor-recipient pairs collaborate so each receives a kidney. Either way, having an available donor was a great break for Annabelle. Otherwise she might have had to wait on dialysis for years.
The people in their corner at Scripps
The Villarreals had many reasons to choose Scripps. 
Scripps Clinic internist Marilyn Carlin, MD, had been guiding Annabelle through various health issues for nearly 30 years. They also had highly regarded Scripps Clinic specialists caring for them: transplantation nephrologist James Rice, MD; nephrologist Andrew King, MD; Christopher Marsh, MD, division head of Scripps Center for Organ and Cell Transplantation and Annabelle's lead surgeon, and Dr. Schaffer. Additionally, Scripps has one of the best transplant programs in the country.
"Living donor organ transplants are among the most special operations I do."
Dr. Schaffer
Scripps is also the primary collection source for the National Marrow Donor Program in Southern California and the Department of Defense, as well as the largest collection site in the world. The Scripps organ and tissue transplant program is even more extensive. When a person fills out their donor card, they're enabling the provision of much-needed tissue for as many as 60 individuals upon their death. They can donate their heart, lungs, liver (which sometimes helps two patients), kidneys, pancreas, intestines, corneas, skin for burn victims, bone and tendon.
Still, living donations are uniquely altruistic. "Living donor organ transplants are among the most special operations I do," says Dr. Schaffer. "The patient getting the transplant is chronically ill, and giving them this new kidney is, hopefully, a great leap forward for their life and health. The donor is someone who's completely healthy and has no reason for me to operate on them, other than their own kindness."
Couldn't come fast enough
The Villarreals had jumped through all the hoops to get their surgeries approved. Annabelle was more than ready to get off dialysis, so those last couple of months just dragged. "It felt like forever," she says. There was still a lot of medical work to be done: blood tests, EKGs, immunizations. Annabelle had her wisdom teeth removed to reduce the risk of infection.
The couple was a little sad their 19-year-old son Gabriel would be flying out of the country for his semester abroad on the day of the operations, and they would not be able to send him off in person. Gabriel, of course, had his own stress to deal with — he would be in the air while both his parents were in surgery. "I was more concerned for Gabriel and Robert than I was for myself," says Annabelle.
When the day arrived, the intricate, step-by-step procedures started with Robert. Though he had undergone extensive medical testing, Dr. Schaffer still had to examine his kidney to make sure it could do the job.
"Once I'd made enough progress that everything was good to go, I gave the signal to Dr. Marsh," says Dr. Schaffer. "Annabelle was taken to an operating room next door, and they got started on her operation. I don't do anything irreversible to the donor kidney until I get the signal from Dr. Marsh's team that everything is good on their side and they're ready to receive it."
This cautious approach ensures both patients are as safe as possible. If a complication arose on Annabelle's side, they could stop Robert's surgery and his kidney would be fine. It also ensures the time the donated kidney spends outside a body is at a minimum.
Eventually, Robert's kidney was removed using a minimally invasive laparoscopic procedure. Meanwhile, Dr. Marsh had made Annabelle's incision and was preparing her blood vessels for the new kidney. Once it's removed from the donor, it takes about 20 minutes to prepare the organ for transplant. After that, both patients are out of the OR and into the ICU.
Annabelle remembers waking up in the ICU and the anesthesiologist telling her to breathe. "Everyone was so gracious and attentive to whatever we needed."
There's an urban myth that, sometimes, a recipient acquires some of the donor's tastes, such as a new interest in pancakes. Family and friends had wondered aloud whether Annabelle might newly appreciate craft beer. (No, not this time.)
The recovery went smoothly. Robert was out of the hospital in about 48 hours. Annabelle had to stay for another day. About a month after the transplant, Annabelle had the catheter that had been implanted for her dialysis removed. In some ways, that procedure was rougher than the transplant. Her new kidney was doing great.
Robert now volunteers to speak to potential living donors, explains the process, and gives them his own personal insights. They're five years out now, and both are doing well. Annabelle can lead a normal life. As Dr. Marsh reports, "We expect her to do well for a long time."
Learn more about becoming or finding a living kidney donor.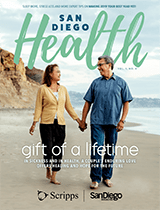 This content appeared in San Diego Health, a publication in partnership between Scripps and San Diego Magazine that celebrates the healthy spirit of San Diego.