The Best Skin Care Routine for Summer
Learn how to lower your risk of skin cancer and prevent premature signs of aging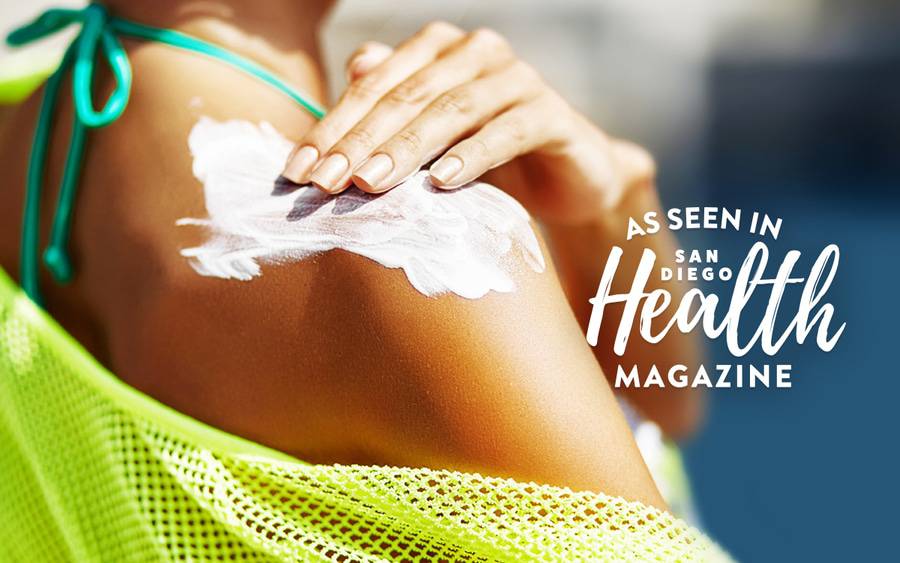 Learn how to lower your risk of skin cancer and prevent premature signs of aging
We all know that sun damage can lead to wrinkles and other signs of premature aging, not to mention potential skin cancer like melanoma. But soaking up the rays is practically unavoidable in America's Finest City.
While you can't escape San Diego's summer sun entirely, you can help safeguard your skin. Scripps Clinic dermatologist and Mohs surgeon Daniel Zelac, MD, offers practical advice for protecting your skin, eyes and lips through Labor Day and beyond.
Find a sunscreen you don't mind wearing daily
Make sure your sunscreen is at least SPF 30 and reapply as directed. Pay special attention to commonly overlooked spots like the back of the hands, the feet, and for people with thinning hair, the top of the head (an aerosolized spray is especially good for this). 
For those with skin conditions such as melasma, sunblock tends to work best. If that conjures up images of white-nosed lifeguards, rest assured. The zinc oxide or titanium oxide in modern sunblock doesn't have the chalky appearance of years gone by. Wide brimmed hats and protective clothing are must-haves, too.
Make sure your lips are also protected from sunlight whether it's direct or reflected, like from the water's surface. The lips can suffer a different kind of damage that can still lead to skin cancer, so lip balm with SPF is key.
Sport some cool shades — and prevent sun damage to eyes
Sunglasses with UVA/UVB protection are essential. They prevent the development or worsening of cataracts and of pterygium, a common, benign growth in the white of the eye.
Say no to the tanning bed
No tanning is good tanning. Avoid tanning beds at all costs. According to the American Academy of Dermatology, any use of a tanning bed raises a person's risk for squamous cell carcinoma by 67 percent. If you want a little color, stick to spray tans and self-tanners, which are largely considered safe for skin.
"In addition to the risk of skin cancers, the photoaging effect and premature aging of the skin is in many cases irreversible," Dr. Zelac says.
Read the labels on your skin care products
In the never-ending quest to halt the effects of aging, many of us turn to cosmetic treatments or even "cosmeceuticals." While these products can work wonders for our skin — retinol is considered the gold standard for anti-aging — our favorite creams, lotions and serums could be counterproductive.
"A number of agents in these products, including retinoids or retinol, tend to increase sun sensitivity," explains Dr. Zelac.
Alpha and beta hydroxy acids (common ingredients in peels), hydroquinone (used to lighten dark spots and melasma) and common acne treatment benzoyl peroxide could be summer bummers, too, as can some laser treatments.
"While undergoing photorejuvenation or other cosmetic laser procedures, follow the instructions of your provider, as many of these will make people sun sensitive," Dr. Zelac says. He also advises caution with the poolside margaritas. Spilling lime juice on the skin will make that area more susceptible to sunburn. So can some perfumes and essential oils, such as bergamot and bitter orange.
What do you do once the damage is done? For the discomfort associated with minor sunburns, an over-the-counter topical anesthetic can help. If there's significant discomfort or blistering, it may be appropriate to consider medical evaluation. The number and frequency of blistering sunburns has been associated with increased risk of melanoma.
Also, consider that sunburn a lesson in what not to do. If you're getting sunburns of any level, you're getting too much sun. Rethink your approach to sun protection and course correct.

This content appeared in San Diego Health, a publication in partnership between Scripps and San Diego Magazine that celebrates the healthy spirit of San Diego.