How Does Laser Hair Removal Work?
5 things to know about laser procedure to remove unwanted hair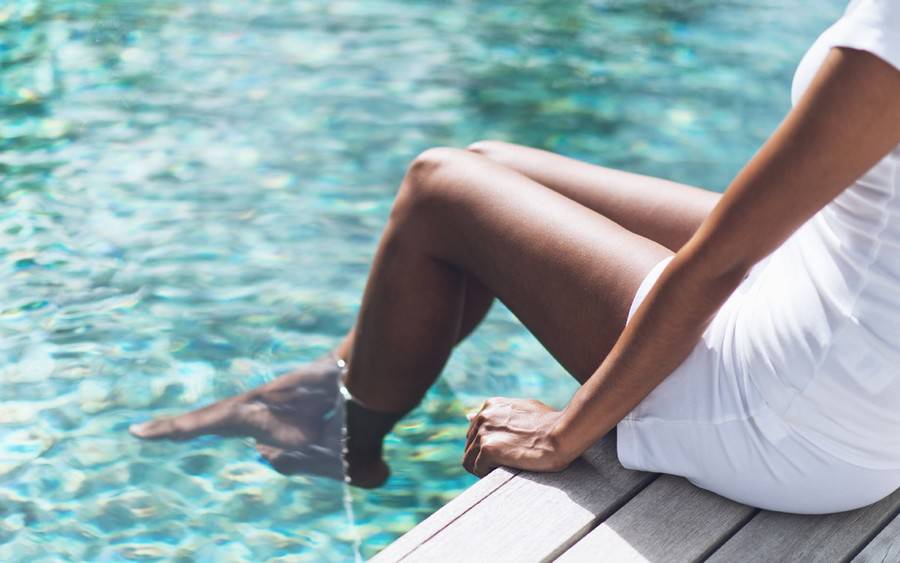 5 things to know about laser procedure to remove unwanted hair
After a very rainy winter, warm and sunny days are finally on the horizon. For many, summer brings out bare legs, tank tops and swimsuits, and that often means being more diligent about removing unwanted body hair.
Shaving, waxing and plucking remove hair temporarily, but waxing and tweezing need to be done every few weeks, and shaving every few days or more. Plus, these methods can have drawbacks, such as cuts, ingrown hairs and unsightly stubble.
Laser hair removal offers a mostly permanent way to get rid of hair almost anywhere on the body, such as the underarms, bikini line, legs and back, as well as the face. Specially designed lasers use highly concentrated light to destroy the hair follicles below the skin's surface, preventing the hair from growing back.
Laser treatment is mostly painless, with few lasting side effects. However, it is more expensive than other methods. Alvin Coda, MD, a dermatologist with Scripps Clinic, suggests you consider these five facts to decide if laser hair removal is right for you.
1.   You'll need more than one treatment.
Hair follicles have different growth cycles. Some may be actively growing while others are resting.  Most people notice results after two to three treatments, but since laser light only affects active follicles, you'll likely need multiple sessions scheduled several weeks apart to significantly reduce hair growth. You may also need occasional retreatments if the follicles are not destroyed.
2.   You shouldn't wax or pluck hair for several weeks before each treatment.
The laser targets the hair follicle below the skin. So, if you remove it by waxing or plucking, the laser can't do its job effectively. Shaving the hair is preferable. In fact, you will be asked to shave the day before your treatment to remove any hair from the surface. Also, avoid exposing the treatment area to the sun for a couple of weeks or so before treatment, as this may affect results and cause pigmentation changes. You'll also need to wear sunscreen after the treatment.
3.   Pain and side effects are minimal, if any.
Some people may feel a sharp, pinprick-like sensation for a moment when the laser zaps the hair, but others feel nothing. Depending on your skin type and sensitivity, you may have mild swelling or redness for a few hours after treatment. Taking an over-the-counter painkiller, such as ibuprofen, before treatment can help minimize pain and swelling. When needed, a topical anesthetic can also be applied prior to treatment to significantly reduce the discomfort. Let your doctor know if you are taking any medications, as some can make skin more sensitive to laser light.
"Also, some lasers work better on certain skin types than others," says Dr. Coda. "Your physician will discuss which laser is best for you before your first treatment."
4.   Treatment times and costs vary widely.
Laser hair removal costs vary depending on the size of the area being treated and the amount and thickness of your hair. A small area, such as the upper lip, can take just a few minutes and just three or four treatments. Very large areas, such as the legs or back, can take an hour or more to treat, especially if the hair is thick or heavy, and will be more costly. Before you get started, ask how many treatments you should expect to have, how long each will take and what the total cost will be.
5.   Choose a professional.
Laser hair removal requires professional training and expertise to be performed safely and effectively. Laser settings, treatment times and types of lasers vary widely and what's right for one person may not be the best option for another.
"Used incorrectly, lasers can cause burns and scarring," says Dr. Coda. "Don't take chances with your skin and your health. Choose a physician who specializes in laser hair removal and knows exactly which settings will safely treat your individual hair and skin type for the best results."