Vegan Broccoli and Cheese Soup Recipe
Our comforting soup is not only delicious and nutritious, it's also vegan and gluten-free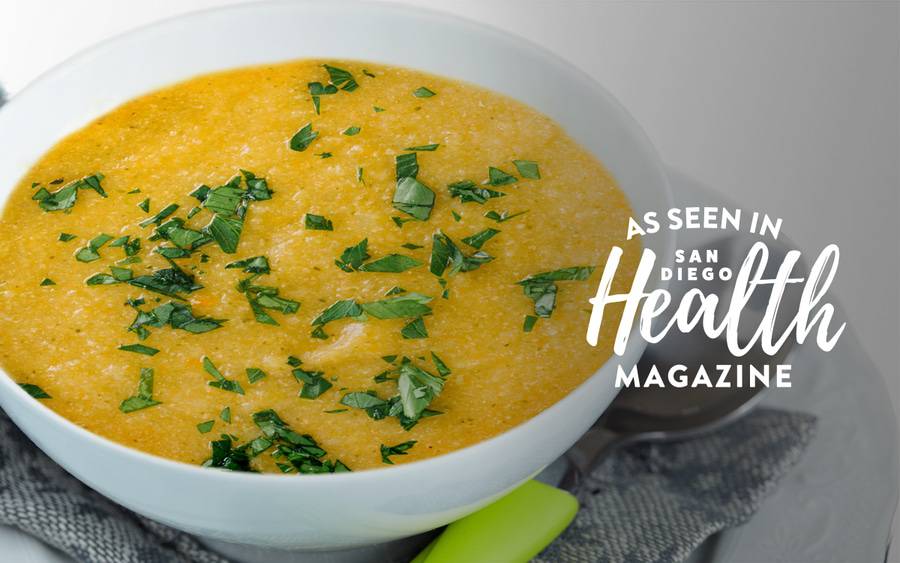 Our comforting soup is not only delicious and nutritious, it's also vegan and gluten-free
A steaming bowl of broccoli and cheese soup is a classic fall favorite, but traditional recipes are full of fat and cholesterol. Our heart-healthy, low-calorie version skips the unhealthy ingredients — but still has the flavors you crave and the nutrition you need.
"I encourage my patients to eat vegetables from the cruciferous (or Brassica) family, including broccoli," says Scripps Clinic family medicine physician Samar Rashid, DO. "Not only are they packed with powerful vitamins and phytochemicals, they also have antioxidant, anti-cancer benefits."
1 medium cauliflower, chopped
1 head broccoli, florets and spears, chopped (about 1 1/2 cups)
2 carrots, peeled and chopped
1 medium potato, peeled and chopped
3 celery stalks, chopped
1/2 medium sweet onion, chopped
3 garlic cloves, chopped
4 cups vegetable broth
1 cup unsweetened almond milk
1/2 cup nutritional yeast
1 1/2 tablespoons apple cider vinegar
1/2 teaspoon ground nutmeg
1/8 teaspoon salt
black pepper to taste
1 teaspoon chopped fresh thyme, plus sprigs for garnish
In a large saucepan, combine the cauliflower, broccoli, carrots, potato, celery, onion, garlic and vegetable broth and bring to a boil over medium-high heat. Cook, partially covered, until vegetables are soft, about 30 minutes.
Using an immersion blender or carefully transferring the soup to a blender, blend the mixture until smooth.
Stir in the almond milk, nutritional yeast, vinegar, nutmeg, salt and pepper. Simmer on low heat for 5 minutes.
Add the chopped thyme and stir. Garnish with a sprig of thyme, if desired.
(Serves 8)
Nutrition Facts 
Serving size: 1 cup 
Per Serving:
Calories: 73 Fat: 0 g Saturated Fat: 0 g Cholesterol: 0 mg Sodium: 343 mg Carbohydrates: 13 g Fiber: 2 g Protein: 4 g
Watch a video of how to use food as medicine with Mitch Biermann, MD, an internal medicine physician at Scripps Clinic Carmel Valley.

This content appeared in San Diego Health, a publication in partnership between Scripps and San Diego Magazine that celebrates the healthy spirit of San Diego.