San Diego Doctor Races for a Reason
Scripps pulmonologist is cancer survivor, connects with other survivors through dragon boat racing
Scripps pulmonologist is cancer survivor, connects with other survivors through dragon boat racing
While she was training to become a doctor, Ni-Cheng Liang, MD, learned all too well what it's like to be a patient and a cancer survivor.
Dr. Liang, a Scripps-affiliated pulmonologist who specializes in integrative medicine, was in the second year of her fellowship in 2011 when she received the diagnosis: a particularly aggressive subtype of breast cancer, in stage 2.
In her early 30s at the time, Dr. Liang took a year off her fellowship to undergo chemotherapy and three surgeries. The procedures worked; today she's cancer free. But there was an additional benefit — a profound connection with her patients, especially other cancer survivors. 
"There is strength, connection and healing in sharing vulnerability," she says. She calls it "reciprocal empathy."
Blending the best of conventional and integrative medicine
The care Dr. Liang received is the same kind she practices: Integrative medicine, or the combination of conventional, evidence-based medicine with unconventional treatment, such as mindfulness, meditation, yoga and acupuncture. 
"With everything I went through as a patient, I'm passionate about including integrative medicine in my practice," she says. "It's about augmenting allopathic medicine with a mind-body healing for a more holistic approach to patient care and well-being. It's helped me get through and maximize my quality of life as a cancer survivor."
She shares her own story with patients when she thinks it might help them endure tough treatments or the wait for test results.
"It helps to know someone else has gone through something very similar," she says.
Connecting and competing with other cancer survivors
Her personal medical history has also connected her with other survivors in a very different setting. Dr. Liang, who emigrated from Taiwan to Maryland as a child, discovered in medical school her passion for the East Asian sport of dragon boat racing. 
She picked up the paddle again last summer and joined Team Survivor Sea Dragons, which is composed entirely of cancer survivors. All 21 crew members must work in unison to paddle the boat. 
"It takes a lot of core and upper extremity strength," says Dr. Liang, who is also a keen stand-up paddleboarder.
She often practices with her team at Youth Aquatic Center on Fiesta Island three days a week as they hone their skills for the San Diego International Dragon Boat Race, a competition held each fall in Mission Bay. 
"There's a lot of endurance and stamina required, but it's really motivating because there are so many survival stories in there."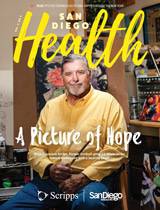 This content appeared in San Diego Health, a publication in partnership between Scripps and San Diego Magazine that celebrates the healthy spirit of San Diego.