Bariatric Surgery Patient Sheds 75 Pounds
San Diego woman runs New York City Marathon after gastric bypass surgery at Scripps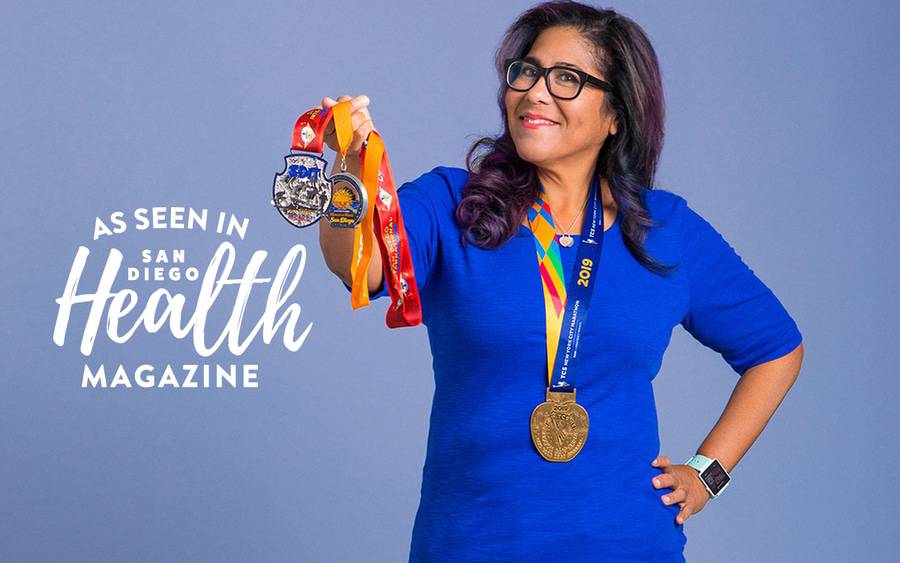 San Diego woman runs New York City Marathon after gastric bypass surgery at Scripps
Michelle Feliciano has faced a lot of loss in recent years. 
First, she lost her brother to non-Hodgkin's lymphoma. Then, she lost her mother to diabetes, kidney failure and heart disease. But the final loss was the one that really changed her life. She finally took a step she had been considering for a while: She had bariatric surgery at Scripps Green Hospital. 
Thanks to the surgery and a life-changing commitment to exercise, Michelle lost more than 75 pounds and gained an entirely new lease on life.
Game-changing gastric bypass
"I've been overweight my entire life and I never really put much effort into doing anything about it," says Feliciano, now 50. "But when I lost my brother and then my mother, I knew losing the weight and getting healthy was something I needed to do. I didn't want to spend any more time not doing what I wanted to, and I didn't want to be on medication. My biggest fear was that I'd end up with health issues like my mother. Plus, my weight made me uncomfortable and antisocial. I needed to improve my quality of life, so I decided to go all the way and get the surgery."
Feliciano met with Mark Takata, MD, a Scripps Clinic general surgeon who specializes in bariatric surgery, and began the process. As a leader in the field, Scripps offers comprehensive services and surgical options, as well as nonsurgical weight loss services for patients who don't qualify for surgery. 
At 296 pounds and with a family history of diabetes and heart disease, Feliciano was a candidate. She spent six months prior to the surgery attending required educational seminars and psychological consultations to ensure she was in the right frame of mind for it. 
She underwent gastric bypass surgery in March 2018 and has hit the ground running — literally — to a happy, healthy new life ever since.
From weight loss surgery to winning medals
From weight loss surgery to winning medals
"When I did my first half marathon, I didn't think I'd be able to do it. I thought I was too overweight. But I trained, and I finished. And I wasn't last!"
Michelle Feliciano
Now, at roughly 170 pounds, Feliciano is not only healthy and off medication, she is back running. Since her surgery, she has renewed interest in running and has competed in countless races. A triathlon in Hawaii, 5K and 10K fun runs, the Marine Corps Marathon, even one of the most competitive races of all: the 2019 New York City Marathon.
It's a whole new way of life for the former self-proclaimed "chubby girl" who still loves cake and still hates the treadmill. What she loves, though, is helping people. With each race she runs, she raises awareness and support for causes near and dear to her heart.
"When I did my first half marathon, I was doing it in memory of my brother, who had just passed, and in honor of my mom," she recalls. "I didn't think I'd be able to do it — I thought I was too overweight — but I trained, and I finished. And I wasn't last!"
After that success, Feliciano is really hooked. She looks forward to each race — especially if it has an interesting medal. 
"I'm all about the bling," she jokes. "If it's something unique, I just have to have it!"
Losing weight and gaining confidence
Bling aside, Feliciano keeps training and running, not just for the weight loss benefits she's achieved, but for the emotional benefits she experiences from fundraising and motivating others.
"I don't want anyone else to go through what my brother and my mother did," she says. "If talking about me losing weight can help someone, I will do what I can. I get so much satisfaction from seeing other people happy."
Dr. Takata credits Feliciano's post-surgery success to her enthusiasm for eating well and exercise. 
"She's always looking forward to another race," he says. "She has done so well and is so much healthier. She's an inspiration to me and to many other people."
For her part, Feliciano still considers herself a work in progress and would like to lose another 20 pounds. But she does love to look at other upsides, like shopping for clothes and knowing things will fit, or sitting comfortably in airplane seats. And she looks back with gratitude that she finally took the step to change her life for the better.
"It's amazing how my life has changed," she says. "I feel incredible and I am super happy. I wish I would have done this a long time ago."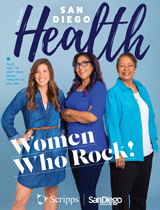 This content appeared in San Diego Health, a publication in partnership between Scripps and San Diego Magazine that celebrates the healthy spirit of San Diego.