When to Choose Virtual Care and How to Prepare
Service reduces travel, connects you with your doctor from home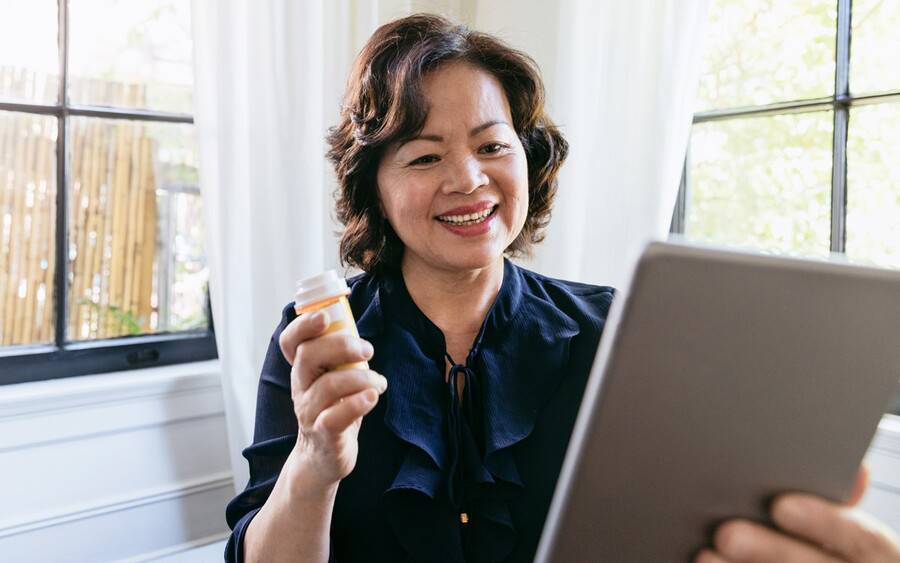 Service reduces travel, connects you with your doctor from home
Virtual care visits are more common now, but some people are still new to this type of health care.
Virtual care is health care given remotely through digital platforms. Also known as telehealth and telemedicine, it involves the use of devices like smartphones, tablets, or computers, to manage and receive healthcare services.
"Telehealth has expanded how patients can receive optimal care," says David Wetherhold, MD, Scripps chief medical information officer for ambulatory care. "Providers see a patient in real time, face-to-face, so we can read visual cues and ask the appropriate questions."
If you are new to virtual care, you might be asking questions like: When should I choose virtual care? How should I prepare for a virtual visit?
When to choose virtual care
Virtual medical services are ideal for non-emergency situations. This includes follow-up appointments, discussions, or illnesses that doctors can diagnose based on what the patient tells or shows them. These include:
Mental health concerns
Rash
Urinary symptoms
Cold/flu
Cough
Sore throat
Diarrhea
Headache
Pink eye
Joint pain
At Scripps, patients can schedule virtual appointments with primary care and specialty doctors during regular officers hours. Your health care provider must decide that it is appropriate. Users must be enrolled in the MyScripps health portal.
"Telemedicine can treat a whole range of issues," says Dr. Wetherhold. "It's a positive option to keeping you and your family healthy — safely and conveniently."
Scripps has three ways to get virtual care:
Video Visits can be scheduled online or over the phone with a primary or specialty care provider. Scripps HealthExpress also offers video visits on-demand for minor illnesses or injuries.
Symptom Checker is a free service, available 24/7, to help patients determine the level of care they need. This may include self-care, a video visit, or an in-person visit.
E-Visits is an online health questionnaire available for certain minor conditions, such as a urinary tract infection or a cold. Your symptoms determine if an E-visit is right for your situation.
Scripps' specialty care providers can use virtual care to help manage chronic conditions, such as hypertension and high cholesterol. They can also order tests and treat new patients referred to them.
Medical conditions not suitable for virtual care
Certain medical problems must be treated with in-person care, including:
Severe chest pain
Shortness of breath
Abdominal pain
Loss of vision
Loss of hearing
Sudden weakness or numbness
Ear pain
Muscle and joint injuries
If you are severely ill or injured, you should go to the emergency room. If your condition is life-threatening, call 911.
How do video visits work?

Patients and providers typically conduct virtual appointments via video calls. This allows them to interact in real time using both video and audio.
A doctor can use a video visit to observe various aspects of a patient's physical appearance and behavior. This includes their facial appearance, the way they walk, their breathing rate and their speech clarity.
Your doctor may ask you to move your joints. They may also check for pain in certain spots. In addition, they may adjust the camera to see your eyes, throat, or skin rashes. If needed, your doctor can send a prescription to the pharmacy of your choice.
Preparing for a virtual visit
For your virtual visit, here is how to prepare:
You will need a device with a camera and microphone. Test your video and audio before the virtual visit. As part of your visit or follow-up, you may also need to use an app.
Make sure your device is fully charged or plugged in during the visit.
Secure a strong internet connection: An interrupted connection can lead to miscommunication. Ensure you have a stable, strong internet connection.
Find a quiet, private location with good lighting to ensure privacy and avoid interruptions.
Position yourself so that the light is coming from in front of you, not behind you. This will help your provider see you clearly.
Make a list of questions for your virtual visit, just like you would for a physical visit.
Have your health information ready
Be ready to share this with your healthcare provider, including medications, symptoms and medical history.
Check your health insurance
Some insurance companies may have different policies for telehealth appointments, so verify your coverage before the visit.