Digital Pathology to Diagnose Patients Debuts in San Diego
Note to Patients: The following news is posted for archival purposes only. Scripps no longer has a formal partnership with MD Anderson Cancer Center. We currently provide comprehensive cancer care through Scripps Cancer Center.
Scripps MD Anderson begins shift away from microscopes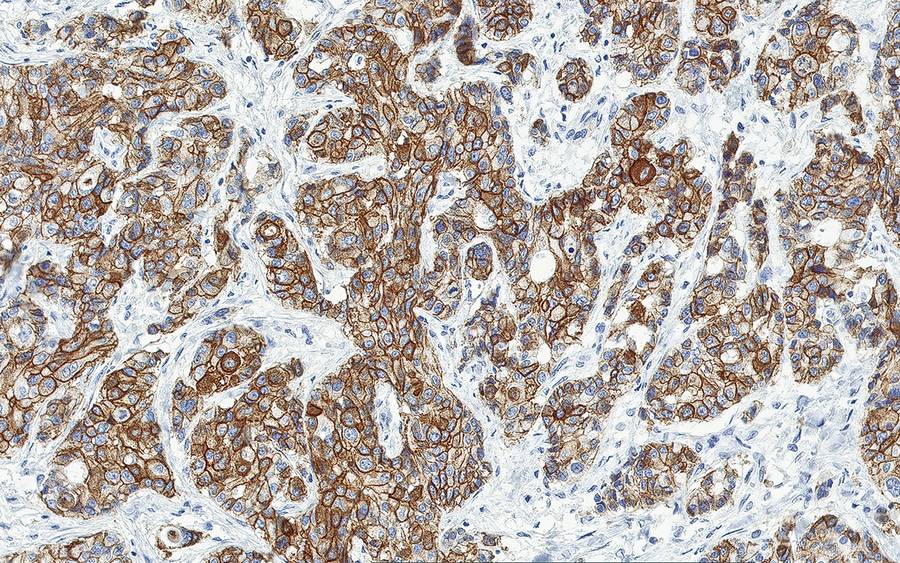 Scripps MD Anderson begins shift away from microscopes
For more than a century, the simple light microscope has been the go-to device for pathologists across the United States, enabling them to examine magnified tissue samples on glass slides to diagnose cancer and other diseases.
Now, a new technology introduced at Scripps MD Anderson Cancer Center this month is bringing the pathology lab into the digital age. Scripps MD Anderson recently became the first health care provider in San Diego County to diagnose a patient's tissue sample not by peering through a conventional microscope eyepiece, but rather by looking at a high-resolution scan of the tissue on a large computer screen.
The new digital pathology system includes a network of high-definition digital slide scanners, clinical-grade computer monitors and a cloud storage platform, which together are designed to make the process of reviewing and sharing slide images for diagnosis more efficient — and in some cases, faster — than the current method using physical glass slides. The system also is adaptable to incorporate future advances, such as artificial intelligence, to complement pathologists' diagnostic expertise. 
Acquisition of the technology was made possible through a $1 million grant from the E. L. Wiegand Foundation. The new digital pathology program will be known as the E. L. Wiegand Digital Diagnostic Center.
"Traditionally, if we wanted to consult with another pathologist on a difficult case, we had to send a physical slide to them via courier for review, which can be time and labor intensive," said Thomas Buchholz, MD, medical director of Scripps MD Anderson and a Scripps Clinic physician. "Now with this technology, we can share a digital file immediately and simultaneously to multiple people with a few quick taps of a computer keyboard. This system will also enable us to confer quickly with our partners at MD Anderson Cancer Center in Houston, which is acquiring similar technology."
Wide ranges of uses
Digital pathology will be used primarily by pathologists with Scripps MD Anderson Cancer Center, since the majority of tissue specimens at Scripps Health are obtained to either confirm or disprove cancer. The technology also will be utilized with all pathology cases across the Scripps Health system, ranging from suspected digestive tract disorders like Crohn's disease, to assessment of transplanted organs, to evaluation of cirrhosis, or severe liver scarring. Scripps pathologists analyze approximately 500,000 tissue samples on glass slides per year.
The technology is being introduced at Scripps MD Anderson on a phased basis, starting at Scripps Memorial Hospital Encinitas, where a pathologist recently became the first to use the system for a primary diagnosis. Other pathologists at Scripps MD Anderson are in the process of completing their training and validation testing, and the system eventually will be adopted at all five Scripps hospital campuses and select Scripps Clinic locations.
Technology at a glance
At the heart of the new technology are three digital scanners and 62 high-resolution computer monitors with 27-inch screens. The scanners use cameras equipped with microscope lenses, which take millions of tiny images of a tissue sample on glass slide. They then stitch the images together into a high-resolution digital image that can be shared and viewed electronically, with the same visual detail available with a microscope.
"I liken it to the shift we all saw with smartphones — we started out using them for a few simple tasks like calling and web browsing, but soon it grew into a tool that we use in ways we never imagined."
Paul Gibbs, MD
The new system also includes useful software features to assist the pathologist. For example, if a pathologist is interrupted while reviewing a slide on the microscope, they typically need to start back at the very beginning when they resume. Now, digital pathology software can provide a visual heat map that indicates exactly what portions of the slide have been reviewed, and which parts have been looked at most closely. The software also is calibrated to allow pathologists to digitally measure and annotate elements within the slide image, for quick reference by all who review.
"I think the transition to digital pathology will surprise pathologists," said Scripps MD Anderson pathologist Paul Gibbs, MD. "We often think of it simply as making the same diagnosis off of a computer screen rather than a glass slide, but the number of digital tools to allow new measurements and forms of analysis will grow rapidly in the coming years. I liken it to the shift we all saw with smartphones – we started out using them for a few simple tasks like calling and web browsing, but soon it grew into a tool that we use in ways we never imagined."
Additional funding has been invested to develop and maintain the associated software components and cloud server that are needed to transmit and store the digital slides. On average, each individual digital slide image will require 1.25 gigabytes of storage space — roughly the same storage space needed to save 380 songs on a smartphone.
The digital pathology system being used at Scripps MD Anderson is developed by Philips. It was approved by the Food and Drug Administration in 2017 for use in diagnosing tissue samples and is currently being used for this purpose by a number of hospitals and health systems nationwide.
Benefits to patients
Digital pathology will be particularly helpful in cases where a patient's case is difficult to diagnose and needs to be reviewed by other pathologists at different locations. Instead of having to physically transport a glass slide from location to location, digital pathology allows for the slide image to be sent to multiple recipients, instantly and simultaneously. The same benefit will apply when the patient's treating oncologist has a question about a pathologist's finding – the two physicians can immediately have a conversation by phone while looking at the image, instead of having to request that the slide be retrieved from the archives and transported.
"Many of our cases are straightforward and can be readily diagnosed by one pathologist without additional review — but some are more challenging and require opinions from multiple experts to arrive at an agreed conclusion," said Julie Steele, MD, service line director of oncologic pathology at Scripps MD Anderson. "Patients can understandably be very anxious about their results while they're waiting for slides to be transported around, but now digital pathology will be able to speed up that process." 
Glimpse at the process
With digital pathology, the patient's physical glass slides are produced mostly the same way as before. The patient's tissue sample goes from the operating room to a grossing lab for initial preparation into a tissue block. The tissue block then goes to the histology lab, where it is cut into very thin slices. Each slice is embedded in a waxy substance called paraffin, placed on a glass slide, treated with chemicals and topped with a protective, clear cover slip.
But instead of the conventional next step — sending the finished slide to the pathologist so it can be viewed through a microscope — the digital pathology process involves scanning the glass slide into a digital file format, which is shared electronically and viewed on a computer monitor. 
The scanned slide images are shared electronically with digital versions of two important related documents. One is the patient requisition, which includes background information on the patient and the question the treating physician wants the pathologist to answer. The other is the pathologist's report, which summarizes the pathologist's findings and is sent back to the treating physician.
There are subtle differences in the way that Scripps prepares glass slides for digital pathology compared to the way they are produced for viewing under a microscope. For digital scanning, the tissue is sliced more thinly, and the slide has to be completely dry before it is scanned and analyzed.
A lower-resolution version of digital pathology has previously been used to share slides during medical presentations after diagnosis by microscope. Only recently has the digital technology advanced to the point that it can deliver image resolution so fine it allows pathologists to view the specimen at a microscopic level, so they can deliver a clinical diagnosis.
A powerful partnership
Scripps Health and MD Anderson Cancer Center collaborated to create Scripps MD Anderson Cancer Center, a clinically integrated cancer care program in San Diego that began delivering patient care in 2018. The partnership brings together the expertise of doctors at Scripps and MD Anderson to offer patient-centered care, using some of the most advanced cancer treatments available today.
Through this partnership, Scripps MD Anderson is part of MD Anderson Cancer Network®, a global collaborative network of hospitals and health care systems dedicated to MD Anderson's mission to end cancer. The collaboration allows Scripps to combine its expertise with MD Anderson's knowledge and capabilities to further elevate the level of care for patients in San Diego. 
"We view the use of digital pathology at Scripps as a model quantum leap that will allow deeper and more efficient collaboration between pathologists at Scripps MD Anderson and those at the MD Anderson Cancer Center in Houston. The value of this technology could impact every aspect of cancer care touched by pathologists, from screening to diagnosis to tissue-based biomarker evaluation," said Joseph Khoury, MD, executive director of pathology and lab medicine for the MD Anderson Cancer Network®.
Multidisciplinary approach
Scripps MD Anderson organizes its physicians in multidisciplinary care teams that are subspecialized by cancer type. Each multidisciplinary care team comprises a medical 
oncologist, radiation oncologist, surgeon, pathologist, radiologist and others. Together, they review each patient's case and decide on the treatment to recommend. Scripps MD Anderson physicians have adopted the world-renowned treatment protocols and standards of care developed at MD Anderson Cancer Center, a global leader in cancer care.
Learn more about Scripps Health, a nonprofit integrated health system in San Diego, Calif.