How to Celebrate Halloween During COVID-19 Pandemic: Do It Safely
7 tips for a safe, fun and spooktacular Halloween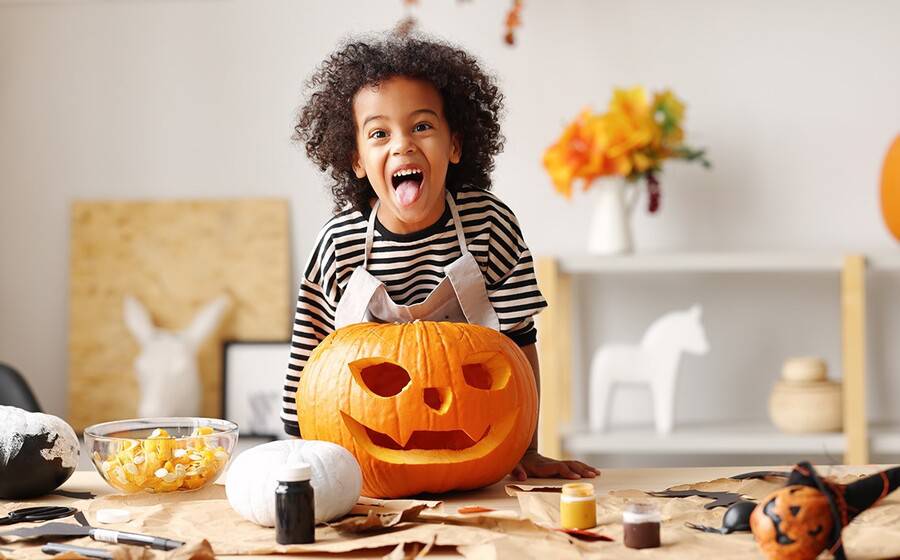 7 tips for a safe, fun and spooktacular Halloween
Halloween may look different this year compared to last year when COVID-19 made trick or treating and other traditional Halloween activities less safe to do.
There are vaccines widely available now that have slowed the spread of the scary virus, but holiday celebrants are still being urged to be cautious because the pandemic is still not over.
The Centers for Disease Control and Prevention (CDC) recently updated its safety recommendations for holiday celebrations, stressing that the best way to minimize COVID-19 risk is to get vaccinated if you're eligible.
The CDC says the best way to protect those not yet eligible for vaccination – such as young children – is to make sure that in addition to you that all eligible people around them are vaccinated.
Safe way to celebrate Halloween
Outdoor celebrations are safer than indoor ones during the pandemic, which makes trick-or-treating easier to plan.
The American Academy of Pediatrics recommends:
Trick-or-treating to be kept outside, where the risk for infection is lower
Trick-or-treating in small groups of people that you know well
Avoiding crowded places or mixing with a lot of different people, especially if you don't know their vaccination status
Wearing a face mask if you are in indoors with others to reduce the risk of transmission.
"However you celebrate Halloween this year, please keep safety top of mind," says Ghazala Sharieff, MD, MBA, chief medical officer, acute care, clinical excellence and experience at Scripps Health. "Have fun while staying safe. Practice good hand hygiene, physically distance and wear a mask that covers your mouth and nose. Use hand sanitizer and wash your hands as soon as you can. If you feel ill or have symptoms, stay home."
Check out these options for a safe and fun Halloween!
1. Outdoor/virtual Costume party
Since many Halloween activities can be safely held outside, consider holding a neighborhood costume parade where it would be easy to physically distance.
If you plan to stay indoors, consider hosting or participating in a virtual costume party online.
If you're looking for costume ideas, Google keeps track of the 500 most-searched Halloween costumes across the nation, including by location.
In San Diego, "fairy" is the top-searched costume idea, according to Google's annual Frightgeist study. Nationwide, the top-searched costumes are witch, rabbit, dinosaur, Spider-Man and Cruella de Vil.
2. Make mask part of costume
If you're deciding between wearing a face mask or a costume mask, choose wearing a face mask that protects against COVID-19 and make it part of your costume. Don't wear both because that can make breathing more difficult.
If you're giving out candy, set up a grab-and-go station with individually wrapped candy placed on a table outside your house near the end of your driveway or at the edge of your yard.
Wear a mask if you're answering the door to trick-or-treaters. Consider using tape to mark safe spacing leading up to your door.
If you're out with your children, make sure they keep a distance from other groups of trick-or-treaters, including gatherings at porches and doorsteps or any other places where candies are being passed out. Bring sanitizer so kids can clean their hands while trick-or-treating.
Look for outdoor events that focus on safety and fun, such as visiting a pumpkin patch so you can maintain social distancing. San Diego offers many options. Bring hand sanitizer in case you are unable to wash your hands with soap and water.
Avoid haunted houses where people may crowd together and scream or attending a poorly ventilated indoor party or performance.
5. Pumpkin carving at home
Pumpkin carving is a safe option but be careful and avoid injuries. Let your children draw a face with markers and the adults to do the cutting. Have fun by putting a battery-operated light inside. Roast the seeds from the pumpkin for a healthy snack.
If you plan to stay in, celebrate with a Halloween movie night with your family and consider dressing up as favorite characters.
If you're looking for age-appropriate titles, check out Rotten Tomatoes' 36 Essential Kids Halloween Movies. You'll find something for everyone, from It's the Great Pumpkin Charlie Brown and Coco, to Beetlejuice and Edward Scissorhands.
7. Homemade Halloween recipes
If you decide to skip packaged Halloween candy, consider making Halloween-themed treats at home with your immediate family.
Look for recipes online for "Jack-o-Lantern hummus," "cheesy monsters" and "candy corn cupsicles (made with Greek yogurt)." Make caramel apples from scratch, but watch those portions.
Avoid eating homemade goods from people you don't know.
Trying to explain safety guidelines and other changes during the pandemic to your children may seem difficult, but it doesn't have to be. Look at it as a chance to teach your children about infectious diseases and the importance of protecting themselves and others.