5 Meaningful Gift Ideas for Mother's Day
Show mom your gratitude with a health-focused gift from the heart
Show mom your gratitude with a health-focused gift from the heart
It's time to treat a special lady in your life this Mother's Day, so show your love and appreciation by incorporating health and wellness into the celebration (and throughout the rest of the year, too). Make this Mother's Day extra special by keeping mom's health in mind.
"Mother's Day is often a reminder of what so many mothers have sacrificed in order to provide for their families. Eating on the run, scrimping on sleep, skipping yoga class — mom has put our wellness before her own countless times," says Sarah Papalia, MD, a family medicine physician at Scripps Coastal Medical Center Jefferson. "Even if it's just by saying 'thank you,' this is a chance to show mom that we care about her and want her to feel her best."
5 Mother's Day gifts that promote health and well-being
Dr. Papalia has a few recommendations for health-focused gifts and activities whose benefits will extend far beyond the second Sunday in May:
Sign mom up for a community-supported agriculture (CSA) program. It's a great way to get fresh, seasonal fruits and veggies while supporting our local farmers and, for now, it may be a preferred alternative to visiting a farmers' market. It's also an opportunity to try something new. Take it a step further and plan a family cooking night (in person or virtually) with a new recipe based on your weekly haul.
2. Team up and try a new hobby
Take an online class together. Keeping our brains stimulated helps optimize our cognitive capacity, so consider learning something new together. Nearly everything is available in a virtual forum now, from cooking classes to pottery to astronomy. Many can be found through local colleges or adult education programs. It's never too late to learn something new.
3. Bond over brain teasers and board games
Play dates are not just for children. Schedule weekly or monthly family game nights to help keep mom socially and mentally active.
4. Share a satisfying smoothie

Go the breakfast or brunch route with a healthy smoothie. These are a great way to sneak in some of those superfoods like chia seeds, which are rich in omega-3 fatty acids that help brain health.
5. Give her a night off from cooking
Plan a healthy meal delivery. Drop off mom's favorite food in takeout containers for a delicious surprise — and support a local restaurant at the same time.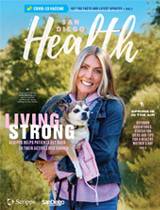 This content appeared in San Diego Health, a publication in partnership between Scripps and San Diego Magazine that celebrates the healthy spirit of San Diego.