Arugula, Beet and Carrot Salad Recipe
This delicious seasonal salad combines peppery spring greens with colorful beets and carrots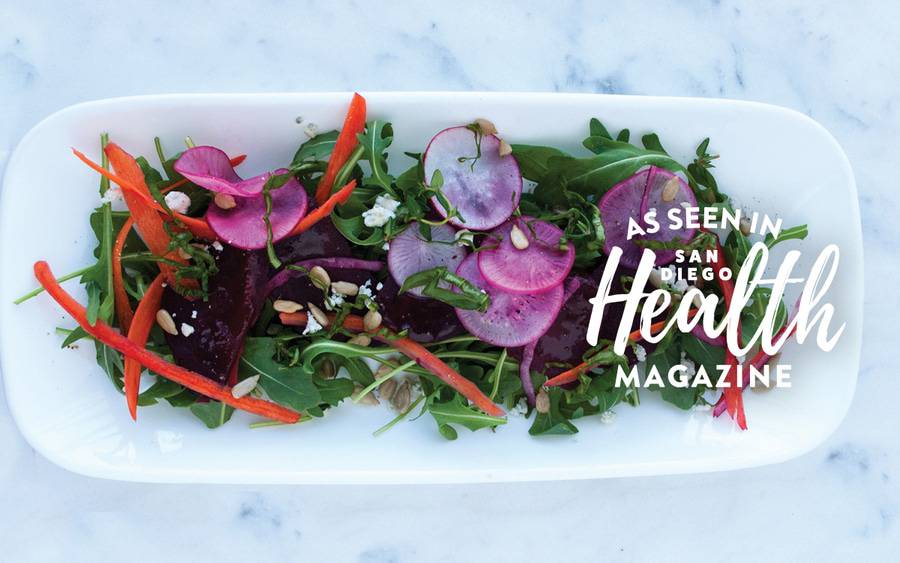 This delicious seasonal salad combines peppery spring greens with colorful beets and carrots
When you're planning a meal fit for your favorite friends or loved ones, it's only proper to focus on healthy whole foods that are as close to their raw form as possible. This prevents the loss of valuable nutrients to cooking or processing — nutrients our bodies rely on for bone health and immune system support. 
Sarah Papalia, MD, a family medicine physician at Scripps Coastal Medical Center Jefferson, says to try and choose fruits and vegetables, whole grains, proteins and dairy that are low in saturated and trans fats, and to avoid added sugar and salt. 
The arugula, beet and carrot salad below is a great way to move toward a plant-forward diet, which helps control cholesterol, blood sugar and blood pressure. It also improves overall gut health and provides a healthy dose of anti-inflammatories.
"I love this recipe for the colors and the crunch factor," says Dr. Papalia. "Adding nuts or seeds such as poppy, celery or sesame to a salad is a great way to increase our protein and mineral intake, including iron and calcium, as well as those healthy fatty acids."
Arugula, beet and carrot salad
Once the beets are roasted, this easy salad takes just a few minutes. Roast the beets the night before, and the rest will be a snap.
4 small beets
1 small red onion, sliced
6 carrots, shredded
6 radishes, very thinly sliced
4 ounces baby arugula
2 garlic cloves, minced
1/4 cup fresh lemon juice
1/4 cup olive oil
1 tablespoon chopped fresh basil
1 tablespoon chopped fresh thyme
1/8 teaspoon salt
Black pepper to taste
2 ounces crumbled blue cheese
1/4 cup chopped almonds
1/4 cup sunflower seeds, shelled
1. Heat oven to 375 degrees. 
2. Rinse beets and wrap in foil. Bake until tender, about 45–60 minutes. Remove from oven and let cool.
3. Trim the end of each beet. Wrap a paper towel around the beet and rub it with the paper towel until the skin comes off. Repeat with the remaining beets and slice. 
4. In a large bowl, combine the sliced beets, onion, carrots, radishes and arugula. 
5. In a small bowl, combine the garlic, lemon juice, olive oil, basil, thyme, salt and pepper to make the dressing.
6. Add the dressing to the salad and toss. 
7. Sprinkle with blue cheese, almonds and sunflower seeds, then toss gently to combine.
Serving size: 3/4 cup salad and 1 tablespoon dressing Calories: 175 Fat: 12 g Saturated fat: 3 g Cholesterol: 5 mg Sodium: 120 mg Carbohydrates: 13 g Fiber: 4 g Protein: 4 g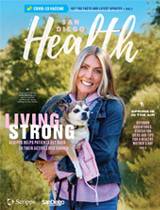 This content appeared in San Diego Health, a publication in partnership between Scripps and San Diego Magazine that celebrates the healthy spirit of San Diego.