3 Ways to Protect Your Skin from Summer Rays
Practice sun safety with sunscreen, protective wear and avoid midday sun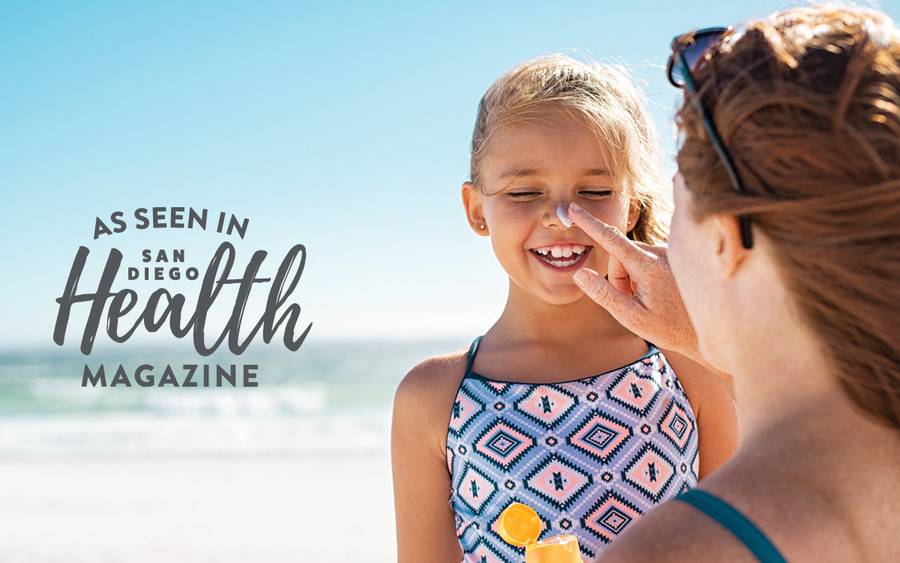 Practice sun safety with sunscreen, protective wear and avoid midday sun
Summer's here, and after a year cooped up inside, it's understandable to be ready to enjoy the San Diego sun. Be careful, though. Those beach days and morning hikes could wreak havoc on your skin.
A sunburn is more than a painful reminder that shade is your friend. It's a sign that damage has been done at the cellular level. The consequences of soaking up the rays can range from wrinkles to deadly melanoma.
Reza Jacob, MD, a dermatologist at Scripps Clinic, says that even a short time in the sun can be dangerous for your skin: "Sunburns are our skin's reaction to excessive ultraviolet sunlight exposure. In the short term, patients suffer redness and peeling."
Long-term, prolonged sun exposure can lead to more serious health problems, including premature aging, skin wrinkling and skin cancer.
Why are sun rays harmful?
Sunlight contains two types of harmful rays — ultraviolet A (UVA) and ultraviolet B (UVB).
UVB rays can cause sunburn. UVA rays penetrate deeper into the skin and can lead to premature aging of the skin and may suppress the immune system, which can increase your risk of developing skin cancer.
UVB rays cannot pass through glass, such as car windows, but UVA rays can. Overexposure to either type of ray can lead to skin cancer. A broad-spectrum sunscreen protects against both.
Protect your skin this summer, and for years to come, with these easy preventive measures.
Follow these three tips to help protect your skin from harmful rays.
Sunscreens absorb or reflect the sun's rays, so they don't harm your skin. Make sure to read the sunscreen label to get the most out of your product.
Dr. Jacob recommends a broad-spectrum sunscreen, which protects against both UVB and UVA rays, with a sun protection factor (SPF) of at least 30. "The SPF number indicates the strength of protection from UVB rays, which are the most harmful."
The US Food and Drug Administration (FDA) recommends use of broad-spectrum sunscreen with an SPF of at least 15, even on cloudy days.
The Skin Cancer Foundation recommends an SPF of 30 if you plan to be in the sun most of the day. Anything containing SPF of greater than 30 provides only slightly incremental benefits.
The foundation also issues a Seal of Recommendation for products, including sunscreen, that have proven to be safe and effective sun protection when used as directed.
The FDA requires that all sunscreens be stable and at their original strength for at least three years. However, if you are using the correct amount, a bottle of sunscreen probably shouldn't last more than a few months.
As for ingredients, the FDA offers this list of acceptable active ingredients in products that are labeled as sunscreen:
Aminobenzoic acid
Avobenzone
Cinoxate
Dioxybenzone
Homosalate
Meradimate
Octocrylene
Octinoxate
Octisalate
Oxybenzone
Padimate O
Ensulizole
Sulisobenzone
Titanium dioxide
Trolamine salicylate
Zinc oxide
2. Avoid midday rays or slather on
To reduce your chance of sunburn, avoid midday sun exposure, when the sun is at its strongest, as much as possible. If you do go out, Dr. Jacob notes that one of the most common causes of sunburn is underapplication, so slather on the sunscreen!
Be sure to apply sunscreen liberally to all exposed areas, especially your face, ears, feet and hands.
If you're using a cream or gel, a good general guideline is to use one ounce of product — about what you'd need to fill a shot glass. Apply it to dry skin about 30 minutes before you head outside to give the chemicals time to form a barrier between your skin and the sun.
The FDA also recommends:
Reapply sunscreen at least every two hours.
Apply more often if you're swimming or sweating.
If you don't have much hair, apply sunscreen to the top of your head or wear a hat.
3. Bring sun protective wear
Dr. Jacob encourages people, especially those with fair skin, to wear sun-protectant hats and clothing.
"If you hold it up to the sun and see a lot of light coming through, that clothing is too thin and won't protect you."
Consider keeping a tote bag with sun protection items handy to grab whenever you go outside to avoid getting a sunburn.
In addition to sunscreen, make sure to include:
A lightweight long-sleeved shirt or cover-up
A hat with a wide brim that shades your face, head, ears, and neck
Sunglasses to protect your eyes and surrounding skin
When to see your dermatologist
Even if you use sunscreen religiously, get a skin check from your doctor or dermatologist at least once a year to catch any suspicious moles, spots or other abnormalities before they become a problem. In its earliest stages, skin cancer is highly treatable.
This content appeared in San Diego Health, a publication in partnership between Scripps and San Diego Magazine that celebrates the healthy spirit of San Diego.