Scripps Oncologist Celebrates Life with a Dance
Scripps Oncologist Celebrates Life with a Dance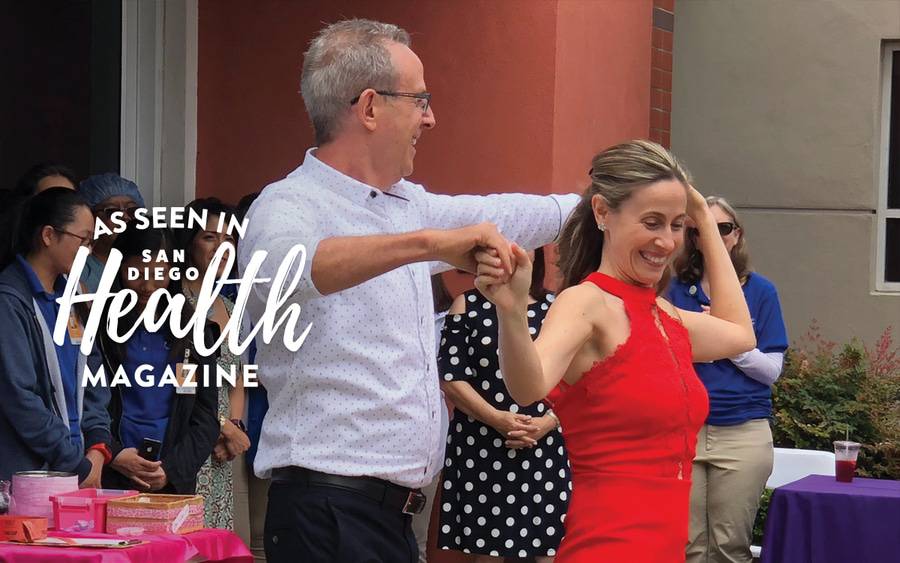 Scripps Oncologist Celebrates Life with a Dance
"My whole life I've loved dancing," says Marin Xavier, MD, a hematologist and medical oncologist at Scripps MD Anderson Cancer Center and Scripps Clinic. Her first foray into dance was ballet training as a child in her native Pennsylvania. Her college years at the University of Florida were filled with salsa and tango trips to Miami, and her medical school days included a fling with swing. She even learned a few moves while visiting extended family in South America.  
"I've surrounded myself with people who have that same kind of joy in dancing and life," she says. 
Sometimes though, life gets in the way. Her busy medical career and marriage to "the only person from Brazil who does not like to dance" caused her hobby to wane for a time. But that all changed when she met fellow dance enthusiast Eli Hans.
Dr. Xavier and Hans met in 2014, when he was scouting doctors to treat anaplastic large cell lymphoma, a rare and aggressive form of cancer. Hans, who primarily resides in San Miguel de Allende, Mexico, returned to his native San Diego for treatment and interviewed a few different doctors. There was something different about Dr. Xavier, who has worked for Scripps for the past 19 years. The trust was there from day one. 
His treatment wasn't easy, but as Hans' health improved, so did his connection with Dr. Xavier and her team of specialists. "Eli is an incredible person," she says. "He had been through so much adversity, and cancer on top of it all. He's an inspiration." Though their meeting wasn't under the best of circumstances, Dr. Xavier cherished the chance to bond with someone she probably would never have had the chance to meet otherwise.
The doctor-patient duo teamed up again to perform a choreographed cha-cha dance routine for a fundraiser in 2018. They dazzled the audience of more than 100 coworkers and grateful patients with moves straight out of Strictly Ballroom. Getting to share that "two minutes of fame and glory" with a patient made Dr. Xavier's experience even more special. 
"This was a dream come true," she says. "This was a true celebration of life. It was just incredible." 
The pandemic put her passion on pause, but once COVID-19 restrictions are lifted, Dr. Xavier hopes to resume dancing for physician wellness initiatives.  
"Dancing and learning the routines and performing, it brought us to a whole other level of joy that I would love to do again."
This content appeared in San Diego Health, a publication in partnership between Scripps and San Diego Magazine that celebrates the healthy spirit of San Diego.