Healthy Recipe: Vegetarian Stuffed Acorn Squash
Savory, nutrient-packed side dish is low on calories and sodium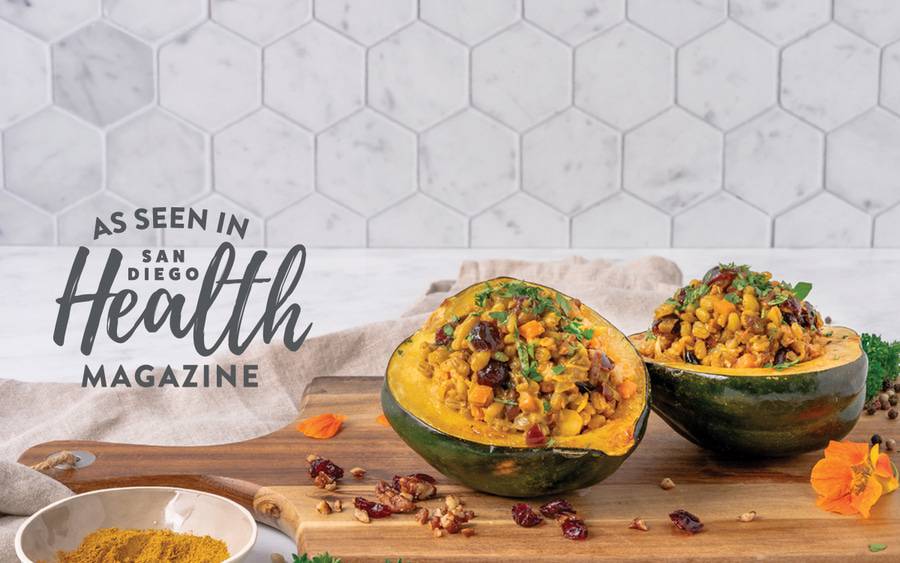 Savory, nutrient-packed side dish is low on calories and sodium
If you're searching for a heart-healthy seasonal side, you are in for a treat. This barley and curried, vegetable stuffed acorn squash dish is a plant-based powerhouse that's low in calories and sodium. It's a smart swap for traditional starchy sides like stuffing and potatoes. 
"There's minimal carbohydrate content, and the total calories are only 237," says Varinthrej Pitis, MD, internal medicine physician at Scripps Clinic Carmel Valley. "It has nutrients and healthy fat, which will give you a satisfied feeling for longer, but it doesn't weigh you down." 
This recipe's benefits are many, says Dr. Pitis.
Acorn squash is high in vitamin C, vitamin B, and magnesium, while barley is known for providing iron and fiber. Olive oil, onion, garlic, and ginger can all improve cardiac health (though people who bloat easily should use onion and garlic sparingly), and garam masala and curry contain antioxidants. Pecans and almonds are also an excellent addition, Dr. Pitis says. "They give it a little more umami flavor and make it more filling."
Watch the video on how to prepare stuffed acorn squash
Watch the video on how to prepare stuffed acorn squash
Barley and Curried Vegetable Stuffed Acorn Squash
Ingredients:
Yields two servings
1 acorn squash, cut in half 
1½ tablespoons olive oil 
Salt and pepper 
3¼ ounces barley 
9½ ounces vegetable stock 
¼ cup yellow onions, diced
¾ tablespoon garlic, chopped 
1¼ tablespoons ginger, chopped 
¼ cup celery, diced 
¼ cup carrots, diced 
2 teaspoons yellow curry powder 
½ teaspoon garam masala 
1¼ tablespoons dried cranberries 
2 tablespoons caramelized pecans, chopped 
2 teaspoons sliced almonds 
2 tablespoons coconut milk 
1 tablespoon cilantro, chopped  
Vegetable stuffed acorn squash in 8 steps
Brush the inside of the squash with half of the olive oil, then season with salt and pepper. 
Roast in a 350-degree oven for 30 minutes or until cooked through. 
Combine the barley and 9 ounces of the vegetable stock in a pot and simmer until cooked. 
In a separate pan, sauté the onions, garlic, ginger, celery, and carrots in the other half of the olive oil. 
Once the onions and celery are translucent, add the barley and cook until the grains are coated with the mixture. 
Add the curry powder, garam masala, dried cranberries, pecans, and almonds. 
Continue cooking until aromatic, then finish with the coconut milk, cilantro, and the rest of the vegetable stock until the liquid has thickened the mix. Adjust seasoning if needed. 
Stuff the mixture into the acorn squash halves, then place back in the oven for 5–10 minutes or until the squash is heated through. 
Serving size: one squash half. 
Per serving: Calories: 237, Fat: 7g , Saturated fat: 2g , Cholesterol: 0g , Sodium: 135mg , Carbohydrates: 45g , Fiber: 12g , Protein: 4g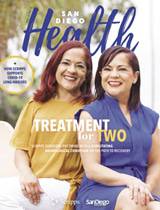 This content appeared in San Diego Health, a publication in partnership between Scripps and San Diego Magazine that celebrates the healthy spirit of San Diego.