Reaping the Health Benefits of Olive Oil
Scripps doctor grows and cultivates olives on her San Diego property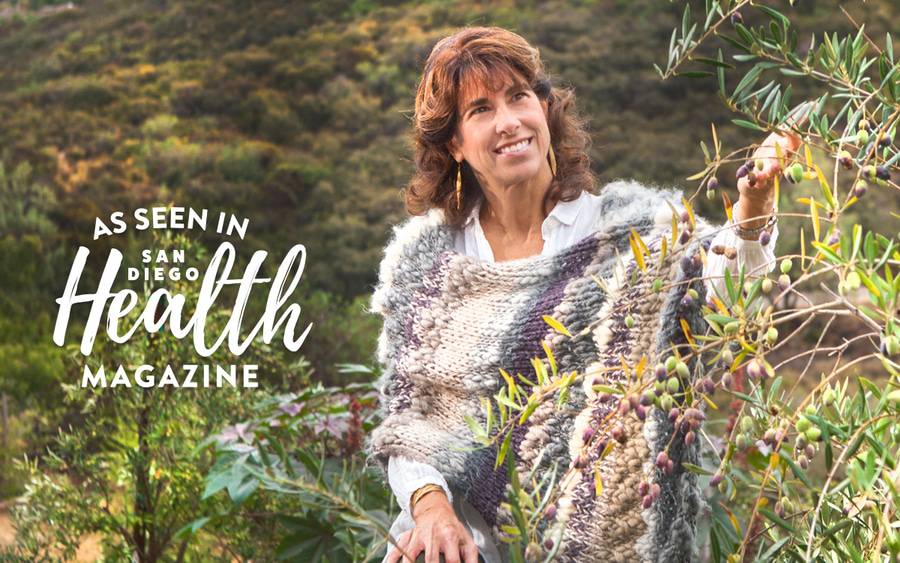 Scripps doctor grows and cultivates olives on her San Diego property
When the ancient Greeks imagined the "Nectar of the Gods," they probably didn't have olive oil in mind. But as the centuries passed and science succeeded myth, olives have proven themselves to be fruitful in the promotion of overall health and wellness.
Olives are credited with everything from reducing inflammation and balancing blood sugar to improving heart health, lowering cancer risk, and supporting brain health and cognitive function. With all these built-in benefits, olive oil may be the true nectar of the gods.
Just ask Athena Philis-Tsimikas, MD, medical director of the Scripps Whittier Diabetes Institute and Scripps Clinic endocrinologist. She has roots in Plataria, a village on the northwestern coast of Greece, and has embraced the harvest of her ancestry. Together with her husband, a cardiologist, she's taken up a unique hobby growing and cultivating olives on her rural property in San Diego's North County.
Health benefits of olive oil
The health-conscious couple's interest in olive oil production stems from their mutual interest in fighting heart disease and diabetes, their collaborative work in a lipid lab, and their shared Greek heritage.
"One year, we went back to our hometown in Greece, where there are tons of olive trees," Dr. Philis-Tsimikas says. "We conducted a blood study of 30 to 40 people in our community and found that their consumption of olive oil did indeed protect their LDL – 'bad' cholesterol – from oxidation. That's what started our interest in olive oil: It had health benefits related to both of the medical specialties we practiced."
Through the years, Dr. Philis-Tsimikas has continued to help her family pick olives in Greece and take them to the press in her hometown.
"It's like liquid gold," she says. "My parents are 84 and 93 and they pick olives like people in their 60s. They are active and healthy, and their trees provide olive oil all year for them and their neighbors."
She has seen so many health benefits that she's excited to reap the rewards from her small harvest.
"I love to cook, and I use olive oil in everything I cook," Dr. Philis-Tsimikas says, adding that while the olives on her property are not the same as those from her homeland, California is the perfect environment to grow the fruit — and she can't wait to see the results.
This content appeared in San Diego Health, a publication in partnership between Scripps and San Diego Magazine that celebrates the healthy spirit of San Diego.