Rare Lung Disorder Can't Stop This Marathon Runner
Credits Scripps pulmonary team for "giving me my life back"
Credits Scripps pulmonary team for "giving me my life back"
Qualifying for — let alone finishing — the legendary Boston Marathon is a feat most runners never accomplish. But doing it with only one lung — impossible, right? Not for Tania Tuluie. 
At 54, the competitive runner entered her eighth Boston Marathon in April, her third since a surprise lung surgery left her wondering if she'd ever be able to run again.
In 2018, Tuluie was waterskiing on vacation in Canada when a wipeout forced water into her lung. What followed was a journey to recovery she never could've expected.
"At first I felt fine, but on the way home, I broke out in a high fever," she recalls. When she still felt unwell a few days later, her doctor determined she had pneumonia and prescribed antibiotics." 
In a few more days, her fever spiked to 103.7. She switched antibiotics, but still couldn't lower her temperature below 101. A visit to the emergency department was the next step.
"They did a CT scan, and that's where I found out I had something very rare: pulmonary sequestration," she explains. "It turns out it was something I was born with, but I had no idea."
What is pulmonary sequestration?
This condition occurs when an extra mass of tissue, called an "accessory lung," develops on the lung, but performs no respiratory function. Most commonly diagnosed in infants or even in utero, pulmonary sequestration is rarely seen in adults — particularly competitive athletes like Tuluie.
"When Tania came into the hospital, she clearly had a problem in her lung, but we didn't know what it was — just that she was having fevers and may have had pneumonia," explains Samir Makani, MD, director of interventional pulmonology at Scripps Memorial Hospital Encinitas. 
"We did a bronchoscopy and biopsies, and found she had pulmonary sequestration, which is something many pulmonologists will never see in their careers. It was so unique for someone of her age to come in with it that we initially thought it could be cancer."
To the relief of Tuluie and her physicians, the mango-sized mass was not cancer. Still, she faced surgery that she feared would change life as she knew it. She needed a lobectomy — the removal of the lower part of her left lung. She also had a pulmonary embolism (a blood clot) in her right lung, and a bacterial infection. But the lobectomy scared her the most.
"When they told me they were removing the lung, I immediately thought, 'I will never run or even race again,'" she remembers. "For me, running is something I love. It's my thing. And it's not just the physical part, it's the community.
These are my friends — people I see several times a week. We run distances and we train together. I was so scared that not only was I going to lose my lung, but I would also lose all of that, too."
To add to her anxiety, Tuluie had qualified for the Boston Marathon and had been excited to run the race again. She had no idea whether this goal was now out of the question.
Can you run with half a lung?
She started combing the internet for answers: Can you run with half a lung? Can you run a marathon with half a lung? Can you run the Boston Marathon with half a lung? 
"I didn't know if the embolism would fade and if the bacterial infection in the lung would clear up, if it was contained to the mass or if it had spread," she says.
"I couldn't run while I was waiting for surgery for six weeks, so I lost a lot of weight because I lost a lot of muscle. I thought the goal was shattered because you have to qualify for Boston; I thought I'd never qualify again."
As she prepared for surgery, she was grateful for the conservative approach her physicians were taking. For Dr. Makani, this was crucial in building his patient's confidence and establishing a relationship with her that would ease her mind about the road ahead.
How does surgery impact active lifestyle?
"An important takeaway for me from Tania's case was that it's really important to take a person's quality of life into perspective regarding what surgery we're performing and what it will do to their lifestyle," Dr. Makani explains. 
"The surgery itself wasn't a risk, but it was very important to work with her as a team to understand her concerns about the surgery as it related to her running," he says. 
"Her whole life revolves around that part of herself, so having her buy-in and understand from the start was so important. I wanted her reassured that the surgery was the best thing for her and that she really would be back to herself afterward."
Minimally invasive surgery vs. open surgery
In October 2018, Tania underwent the lobectomy with a thoracic surgeon at Scripps Encinitas using the minimally invasive video-assisted thoracic surgery (VATS) technique, an innovative procedure that results in a smaller incision and shorter recovery time than traditional surgery.
"Several years ago, this would've been an open surgery, which would've caused a 5-to-6- inch incision and longer recovery," Dr. Makani explains. "Here at Scripps, we do VATS. The surgery itself took only an hour. Patients usually stay in the hospital two to five days; Tania left on day three."
With her questions about her surgery behind her, Tuluie had one question left: When could she start running again?
Training for a marathon after lobectomy 
"At my one-week checkup at Dr. Makani's office he said, 'Look, you have five weeks to expand your lung cavity — five weeks to expand that upper left lobe before scar tissue develops,'" she says. 
That five-week mark was significant to her, because it meant the difference between being able to run again or not. Dr. Makani told her to take deep belly breaths, and she started walking in her neighborhood with friends and family.
Then a friend told her she was going to start training for a marathon in April and asked if she wanted to train together. "I said yes, and with Dr. Makani's permission, I ran my first mile at the 30-day mark," she says.
"Then I kept adding mile after mile. I was doing three miles, then five, and then by March I had the capacity for longer miles. I was doing it!"
Running the Boston Marathon
In April, just six months after losing half her lung, Tuluie ran a marathon. "I was 45 minutes slower than my best time, but I thought, 'That's not so bad!'" 
She ran another less than six weeks later, and to her delight, it was fast enough to reach her goal. "I crossed the finish line and realized I had qualified for Boston — I couldn't believe it!" she says.
She ran the Boston Marathon virtually in 2020 due to COVID-19, but finally in person in 2021, fast enough to re-qualify, and she will be heading back to Boston again this April. 
Thankful to her Scripps team
Thankful to her Scripps team
"I am so thankful for Dr. Makani and the other members of my Scripps care team... for giving me my life back."
Tania Tuluie
She credits her Scripps team for not only performing a successful surgery, but also for getting to know her as a person and understand her passion for the sport that truly means so much to her.
"I am so thankful for Dr. Makani and the other members of my Scripps care team, for having the attitude that there's nothing stopping me," she says. "I had asked Dr. Makani at one point, 'Will I be able to race again?' and he said, 'Yes you can. You may not win, but you can race.' I was so grateful to him for that sendoff, and for giving me my life back."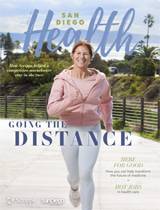 This content appeared in San Diego Health, a publication in partnership between Scripps and San Diego Magazine that celebrates the healthy spirit of San Diego.