Violinist with Hand Osteoarthritis Regains Form After Surgery
Joint replacement at Scripps helps her return to the stage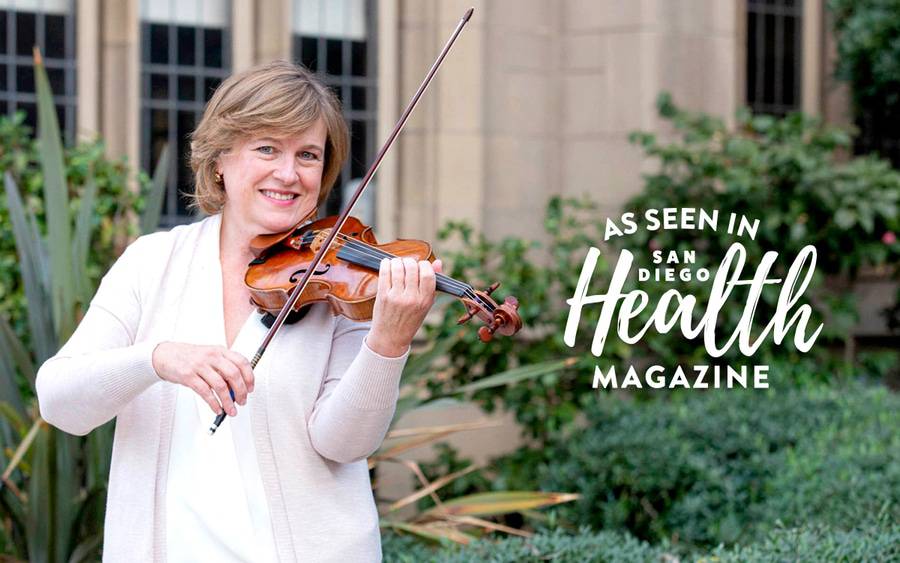 Joint replacement at Scripps helps her return to the stage
With a violin and bow in her hands, Lisa Sutton can create magic. The 65-year-old Vancouver-born and Ivy League-educated violinist spent decades honing her craft and now exercises it both for live audiences, as assistant concertmaster and member of the LA Opera's orchestra, and for movie and television soundtrack recordings. "I started taking lessons when I was 6 — I'd already been playing the piano at that age — and I just took to it," she says.
Sutton had a long and illustrious run in the LA orchestral music scene, but aching joints in her hands began affecting her performances when she was in her late 50s. She sought help from an internist, then a rheumatologist, and was diagnosed with osteoarthritis of the hand, which for her is marked by the degeneration of cartilage in the joints at the middle and tips of some of her fingers.
What causes osteoarthritis?
Osteoarthritis, which affects more than 32 million adults in the United States, is the most common form of arthritis and in some cases can lead to disability. 
Overusing joints can contribute to their tissues wearing down, as can age and gender. Osteoarthritis more commonly affects women over 50. "It was affecting my ability to play, which is my passion and my livelihood," Sutton says.
She self-medicated with anti-inflammatories for a while, but eventually the pain and reduction in dexterity became an issue, so she sought other treatments. 
Her next attempt to mitigate the pain and regain range of motion was with platelet-rich plasma injections, which are often used to regenerate joint tissue following sports injuries and accelerate healing. However, their effects are temporary. In six to nine months, Sutton would need another round of painful injections.
Sutton felt like she still had a future as a professional violin player — and at the same time, if there was no cure for her pain, she could find a way to accept it. 
"I was already 60," she says. "I was hoping to have a few more years of playing, but I realized I had a good run. I thought, 'Well, I don't have much to lose, so if I can get a good treatment, whether or not I'm able to extend my playing life, maybe I can get some benefit from it generally. Violin playing isn't the only thing I use my hands for.'" 
Still, she believed help was just beyond the horizon and kept looking.
It wasn't the first time Sutton had sought a thorough education about her own health. While undergoing treatment for breast cancer some years earlier, she combed through all available information to advocate for herself and carefully assembled her health care team.
"I was the patient who wanted to know everything that was going on," she says. "I picked my team and, fortunately, I had a non-aggressive type of cancer that was successfully treated. I had time to do that, but my doctors told me that a lot of patients just say, 'I don't want to know; just tell me what to do and I'll do it.'"
What is artificial joint replacement?
As Sutton dug deeper into treatment options for joint replacement, she learned that it was possible to replace joints in the hands. She learned that artificial joints could be made from different materials, including silicone and pyrocarbon, a synthetic form of carbon initially developed for use in nuclear energy technology and adapted for medical use due to its biocompatibility.
Silicone joints have been used for decades and work well to relieve pain, but don't usually allow the patient to regain the dexterity required for complex tasks. They also wear out and need to be replaced around the five-year mark. 
Pyrocarbon joints last longer and allow for a broader range of motion, making them the ideal choice for someone in Sutton's position. However, that posed a new problem, as there are not as many orthopedic surgeons using these implants. 
Searching the Los Angeles area produced no results, but in San Diego she was introduced to Lorenzo Pacelli, MD, an orthopedic surgeon at Scripps Clinic Torrey Pines and Scripps Clinic Carmel Valley, who was well versed in the specialized procedure and had been using pyrocarbon joint replacements in his practice for about 15 years.
"When she came to us, she was trying to find an answer that would allow her to keep playing the violin," says Dr. Pacelli. 
"The problem with silicone joint replacement is that it works well to provide pain relief, but it doesn't really allow you to have the real finger dexterity you need to play the violin," he says.
"It slowly gets stiffer and the silicone crumbles inside; it decays much like any plastic does on the shelf. Pyrocarbon does not go through that same process — it never decays, and it never breaks."
Sutton was an ideal candidate for pyrocarbon joint replacement surgery because her hands were in great shape from a lifetime of playing music, and she had the focus and desire to properly rehabilitate. Her first surgery was scheduled for October 2017.
Sutton's first joint replacement was in the ring finger of her right hand, her bow hand. The arthritic joint was removed through a small incision, the bone surrounding it was cored out using a special instrument, and a plastic trial implant was installed to make sure the bone would hold it well enough, and the finger could still move. 
Once everything was lined up and Dr. Pacelli was satisfied, the pyrocarbon joint was impacted into the bone. Pyrocarbon joints come in four sizes, so Dr. Pacelli was able to fit hers perfectly. He says the surgery is similar to a knee or hip replacement at a much smaller scale.
"The challenge with anything we do in the fingers is, there are tendons that pull our fingers straight and tendons that bend our fingers down, and those are all around this implant," says Dr. Pacelli. 
"We have to navigate and protect those important structures, tendons and nerves while we're trying to prepare the bone for these implants. They're tiny bones and we're working to get the implant just right."
Sutton's finger tolerated the implant well and she regained function. However, her left hand — where the fingers manipulate the violin strings to produce different notes — was more significantly hindering her ability to play. 
Regaining range of motion
A second surgery was scheduled a year and a half later to replace the middle joint in her left middle finger, then a third to fuse the bones in the tip of the same finger because no implant was small enough to fit such a delicate area.
Sutton asked Dr. Pacelli to fuse her fingertip at a 45-to-50-degree angle so she would still be able to reach specific notes and slight variations called half-steps that are about 1/16th of an inch apart.
"I was sitting in my living room with two violinist friends — one American trained, and one Russian-trained — and we measured each other's joints, and they have different hand angles," she says. 
"For both of them, we measured the range where my joint needed to be, because I couldn't bend my finger that far. If you don't have the range of motion and you can't get into that exact spot, then you're playing out of tune — and that's no good for a professional."
To fuse an afflicted joint, the surgeon removes it completely along with its cartilage, careful not to damage the surrounding nerves and tissue. The surgeon then inserts a pin into the bones through the end of the finger to hold them in place until they heal and meld together, usually in two to three months.
Recovery from joint replacement
Following surgery, Sutton had extensive outpatient rehabilitation in Los Angeles and her therapist-maintained contact with Dr. Pacelli.
"Dr. Pacelli was very flexible about letting me see somebody near to where I live," she says, "because it was a lot of therapy — two to three times a week — and the drive to San Diego is about two hours each way. But he was available to the therapists I was working with and they were able to communicate with him and update my progress."
Her diligent practice regimen that had become habit over the years enabled her to work her fingers on her violin little by little between rehab sessions. She also changed her diet and avoids certain lifestyle triggers that may cause flareups and inflammation in other parts of her hands that are slightly arthritic.
"Playing the instrument is some of the best physical therapy I could have," Sutton says. "I had a routine; I was very disciplined about it. When I started playing again, it was a minute a day, then three minutes, five minutes and so on. It was a gradual approach to getting back in shape."
"During the summer I asked my employer for music so I could prepare for the fall productions. I would gradually work my way through the scores, see what was going to be the most challenging and try to isolate those places and work on them slowly," she says.
"I'm constantly amazed every day that it worked as well as it did."
Lisa Sutton
She returned to work on a trial basis in September 2019 and continued until the pandemic forced the opera to shut down. But the downtime that followed meant additional strength building and rehabilitation. Today, Sutton feels capable of playing anything they put in front of her and is mostly pain-free.
"One of the great benefits was in pain reduction. I used to take a lot of anti-inflammatories, and even then, the pain was difficult to manage," she says.
"I also have increased flexibility and range of motion. Before the third surgery, I didn't have quite enough range of motion to play everything I needed to. I'm constantly amazed every day that it worked as well as it did."
Back to playing at a high level
"She's been able to go back and play the violin at the level she was before," Dr. Pacelli says of Sutton. 
"She's really an amazing artist. I have many patients who have had this joint replacement, and some are still doing very well 17 years later. In Lisa's case — and she's more than a few years out now — if these joint replacements are in there for more than a few years, they're typically going to stay well for 20 or 30 years."
Sutton has nothing but praise for the specialized expertise of Dr. Pacelli and the Scripps team and feels fortunate that he was close enough for her to travel for the procedure.
"I knew he was at the very top of his field," she says, "but one of the reasons I had confidence in him was because he just seemed to enjoy what he does. 
"He's interested in his profession. When a doctor is so passionate about what he does and has such a positive outlook, that makes me feel confident, like this person has my back. 
"The other thing I was impressed with was his staff — they all seemed to enjoy being around him and enjoy working together, and I had such a good experience. That really helped assure me that I was doing the right thing."
Scripps and Scripps Clinic orthopedic surgeons are experts in treating hand injuries and conditions like arthritis and inflammation that can cause pain and affect movement. 
Orthopedic care is already complex, but the size and delicate nature of the hands' anatomy can make a surgeon's job especially challenging.
Tiny bones and a complex web of tendons, nerves and blood vessels require a delicate approach. Each hand has 27 bones: carpal bones, which form the wrist, metacarpal bones that connect the wrist to the fingers, and phalanges, or the finger bones — some only a few millimeters long. 
Despite the challenge, helping patients regain movement and live pain-free is rewarding.
"Orthopedics is great because we have patients who have an injury or arthritis that keeps them from doing certain things and we're able to help them get back to those careers or activities they enjoy," says Dr. Pacelli.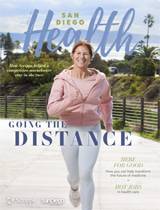 This content appeared in San Diego Health, a publication in partnership between Scripps and San Diego Magazine that celebrates the healthy spirit of San Diego.