Pandemic Setbacks Reignited Michelle's Commitment to Health
Distance runner overcame isolation and anxiety during COVID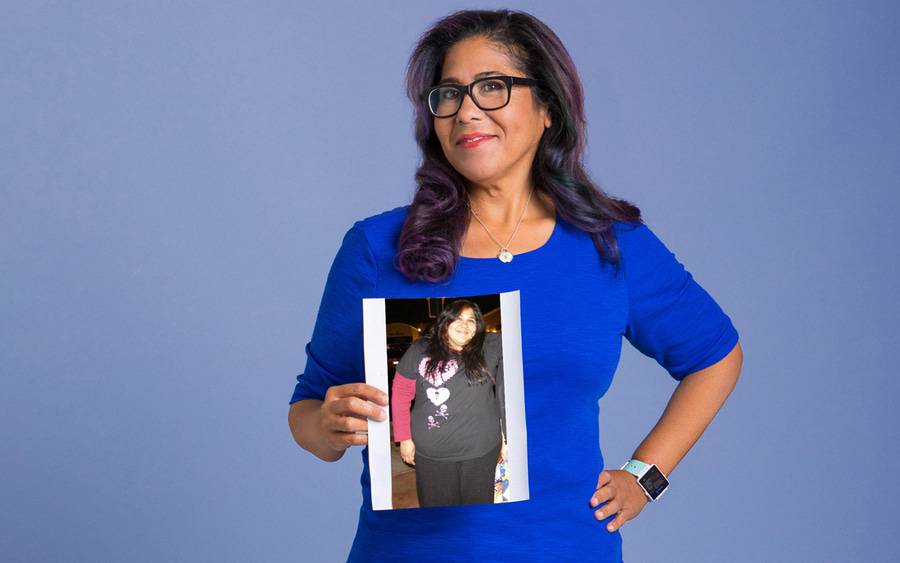 Distance runner overcame isolation and anxiety during COVID
For 52-year-old Michelle Feliciano, battling her weight was something she had grown accustomed to. But at 296 pounds and with a family history of diabetes and heart disease, she knew that something drastic had to change. When she lost her brother and then mother, Michelle's biggest fear was that she would end up with chronic health issues like her mother. "I knew I needed to change my life, and that's when I started looking into bariatric surgery as an option."  
Michelle met with Mark Takata, MD, a Scripps Clinic general surgeon who specializes in bariatric surgery, and began exploring surgical options. As a leader in the field, Scripps offers comprehensive services and surgical options, as well as nonsurgical weight loss services for patients who don't qualify for surgery. 
For six months, Michelle readied herself for surgery by attending educational seminars and psychological consultations to ensure she was adequately prepared. In March 2018, she underwent life-changing gastric bypass surgery. Thanks to surgery and a life-changing commitment to exercise, Michelle lost more than 75 pounds and gained an entirely new lease on life. She hit the ground running — literally — to a healthy new lifestyle. She found a renewed interest in running and competed in countless races. A triathlon in Hawaii, 5K and 10K fun runs, the Marine Corps Marathon, even one of the most competitive races of all: the 2019 New York City Marathon.
After that success, Michelle was hooked. She looked forward to more races — especially if it had an interesting medal. 
But then the pandemic hit.
Adjusting to life indoors
"The pandemic put a stop to a lot of the things I had been doing," Michelle says. "It was a double whammy — not being able to run, plus having a sedentary job. It felt like things just weren't going in my favor, especially after having been so active prior."
Michelle recalls the early days of the pandemic when stay at home orders were in place. "We didn't know how this virus was transmitted and I felt like people were looking at me when I was trying to exercise outside," she says. The mounting isolation added to Michelle's anxiety about the pandemic. "It felt safer just to stay inside and watch movies and snack throughout the day." She began to gain some weight back.
And then the guilt, anxiety and depression crept in. "Before my surgery, I would still go out and do things," she says. "Sure, I was overweight, but I never let that hold me back. I was always seeing people and being social. Then all of a sudden I was so isolated and anxious. In the back of my mind I was thinking, 'I need to be like I was before. I need to get back to being myself,' but it was just so difficult."
"Bariatric surgery is just the start of a lifelong commitment to health. And I'm committed – I'm doing this for me."
Michelle Feliciano
When Michelle struggled to button a pair of jeans, she knew it was time to change— again. "I refused to buy a bigger size of jeans. That was another wake up call for me. But it was different this time because I knew I still had all the good habits and skills to lose weight that I had learned before surgery. I just had to commit to it again."
Michelle's post-surgical weight is not uncommon, Dr. Takata says. "The majority of patients are able to maintain the majority of their weight loss," he explains. "But many people will gain back about 10 to 15 percent of the weight that they lost. That's why I tell my patients to look at weight loss surgery not as a cure for obesity, but as a tool to help them live a more healthy and active life."
To recommit to her weight loss journey, Michelle began to revise her food choices to include healthier options and portions, and increased her physical activity, including getting a treadmill and a bike. "So even if I had to be at home, I could still do these things for myself." 
She also started fostering dogs which requires her to walk them several times a day. "Dogs bring me so much joy," she says. "When I placed my first foster dog in its forever home, I don't think I've been that happy in years. It almost brought a tear to my eye, it was such an incredible feeling. And it was something wonderful that I was able to do for others, and it had nothing to do with my weight."
Michelle also has started training again with plans for the run portion of a triathlon soon. "It feels good to be getting back into it," she says. "For a while I really felt like I let everyone down, but I'm recommitting to training and to getting back to my healthy habits. Bariatric surgery is just the start of a lifelong commitment to health. And I'm committed – I'm doing this for me."