Scripps operates two Level 1 trauma centers in San Diego County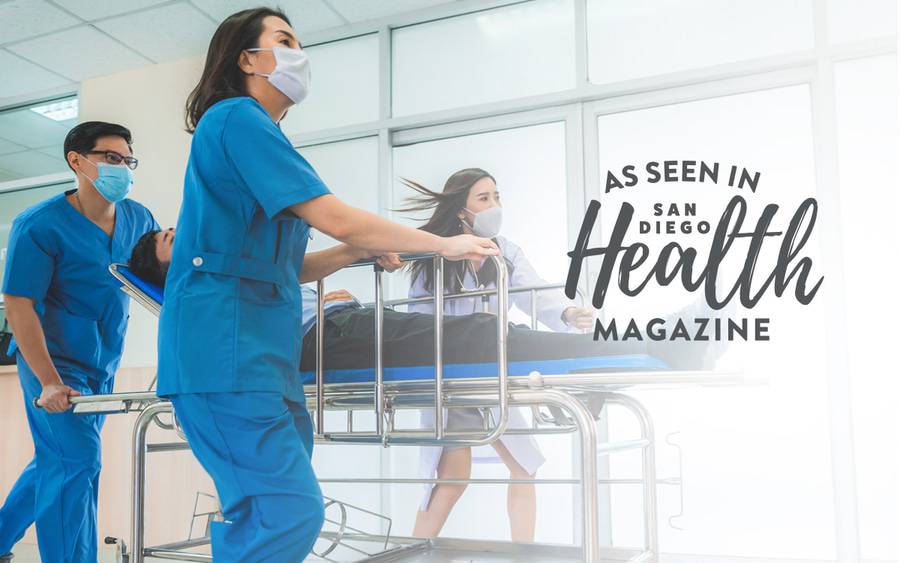 Scripps operates two Level 1 trauma centers in San Diego County
In San Diego, there are five adult trauma centers. They're staffed by multidisciplinary teams led by trauma surgeons — general surgeons with specialized training and expertise in the emergency, intensive care and surgical management of critically ill and injured patients. Trauma centers take emergency care to the next level.
A traumatic injury refers to physical injuries that are sudden, severe and require immediate medical attention to save life and limb. Traumatic injuries can result from motor vehicle crashes, sports injuries, falls, assaults, natural disasters and many other causes.
When a trauma injury strikes, timely and expert treatment is critical to ensuring a patient's survival and long-term recovery.
Two of the five trauma centers in the region are at Scripps — the Barbey Family Emergency and Trauma Center at Scripps Memorial Hospital La Jolla and the Conrad Prebys Emergency and Trauma Center at Scripps Mercy Hospital San Diego. Together, they see more than 3,500 critically injured patients each year. 
"Trauma systems are designed to get the right patient to the right hospital at the right time," says Walter Biffl, MD, trauma medical director at Scripps Memorial Hospital La Jolla, which earned its designation as a Level 1 trauma center in February. "The San Diego trauma system is one of the best in the country. There is no competition between the centers — only cooperation." 
What is a level 1 trauma center?
To earn the Level 1 trauma center designation from the American College of Surgeons, a hospital must demonstrate that it provides the highest quality of injury care available to patients, plus conducts leading-edge research to drive innovation in trauma care and offers trauma surgery training. Scripps operates an academic training program for surgical residents from Naval Medical Center San Diego and has developed education programs for partnering health care providers. 
"Scripps' integration with the Navy and the Balboa Medical Center department of surgery allows us to train not only future surgeons who will be working downrange on the battlefield, but also will eventually retire from the Navy and work in a civilian setting," says Vishal Bansal, MD, director of trauma surgery at Scripps Mercy Hospital San Diego. "That plays a really important role in terms of what we do for trauma care not just today, but 20 years from now." 
Both Dr. Biffl and Dr. Bansal agree that research and academic training improve trauma care as a whole and encourage team members to stay up to date on the latest developments in the field. 
"The care is outstanding. The surgeons are outstanding. The nurses and the hospital are outstanding," says Dr. Bansal. "The research is a way to measure or underscore the commitment that the hospital has towards trauma care, because when you perform research, you're always asking questions that can improve your overall system and improve your overall management of patients." 
Dr. Biffl adds that research and educating residents lead to providing the best evidence-based care for patients. 
"We look at our own numbers, our own patients, and we ask questions and try to improve their care. So, we're continuously working on new, innovative ways to improve patient outcomes," he says. "That's important, but it's also a lot of resources. Not every hospital can do that. But Scripps has made the commitment and it's great for the hospital, great for the patients." 

This content appeared in San Diego Health, a publication in partnership between Scripps and San Diego Magazine that celebrates the healthy spirit of San Diego.