Expert trauma services in San Diego County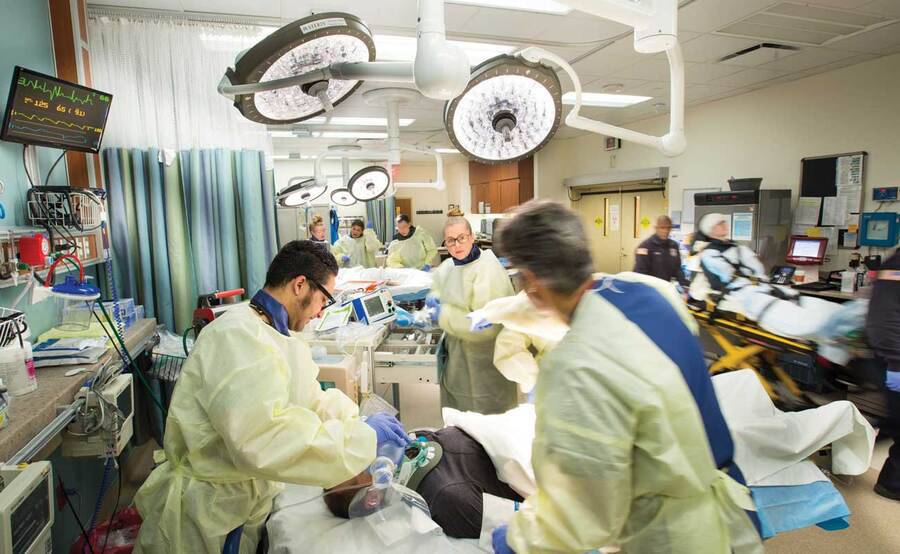 Expert trauma services in San Diego County
Scripps is one of the leading providers of trauma care in San Diego County. We provide immediate, highly specialized care to more than 3,500 critically injured patients every year through our Level I Trauma Center at Scripps Mercy Hospital San Diego and Level I Trauma Center at Scripps Memorial Hospital La Jolla. Our expert trauma surgeons, specialty physicians and multidisciplinary team of trauma staff are ready 24 hours a day to care for every type of traumatic injury.
Trauma care at Scripps Memorial Hospital La Jolla
The Barbey Family Emergency and Trauma Center at Scripps Memorial Hospital La Jolla is a Level I Trauma Center verified by the American College of Surgeons Committee on Trauma. It offers the most advanced technology and medical expertise available to treat life-threatening injuries. The center includes a 33,000-square-foot Emergency Department, 51 private beds, precision imaging in two diagnostic X-ray suites, MRI, ultrasound, a low-dose CT scanner and more.
Our multidisciplinary teams include:
Board-certified specialty-trained trauma physicians and surgeons
Trauma surgery residents
Trauma nurse practitioners and physician's assistants
Trauma nurse team leaders
Trauma case managers
Licensed clinical social workers (LCSW)
Performance improvement specialists
Trauma registrars
Administrative staff
More than 1,700 patients receive care annually from our trauma service. Patients arrive by ambulance, air transport and private vehicle. At the Trauma Center at Scripps Memorial Hospital La Jolla:
Our patients range in age from 15 to more than 100 years old
One-third of our trauma patients are over the age of 65
Over 40% of patients are injured in falls
Our patient volume has increased over 35% in the last decade
The trauma research program at Scripps Memorial Hospital La Jolla trauma service performs a wide variety of investigative studies into traumatic injuries, treatments and outcomes. Research findings are disseminated in journal publications and national scientific meetings and provide foundations for decisions about the best treatment options and education for the public.
Projects have included:
National and international clinical trials investigating trauma injury and outcomes:
Collaborative work with neurosurgeons investigating the efficacy of minimally invasive surgery for clot removal in stroke patients (MISTIE iii)
Multi-institutional studies with trauma centers throughout the world investigating injuries involving major organs, intensive care management and geriatric trauma.
Multiple physician-initiated studies throughout the year, including reviews of:
How we manage splenic injury
Surveillance and prediction of deep vein thrombosis (DVT) risk
Outcomes related to severe TBI management and pain management
Other projects emerging from assessing needs in the community, including evaluating risk and outcomes of:
Skateboards and motorized scooters
Falls from heights, as well as fall prevention education for our geriatric patients
The risk of traumatic injury affects each population differently, and our research addresses needs for the communities we serve. Injuries among the elderly continue to increase as this population grows, and our research committee is actively investigating ways to prevent traumatic injuries and reach out to the community, as well as provide the best treatment options available.
Trauma care at Scripps Mercy Hospital
The Conrad Prebys Emergency and Trauma Center at Scripps Mercy Hospital San Diego is a Level I center verified by the American College of Surgeons Committee on Trauma. It is also a private teaching hospital for trauma medicine. Scripps Mercy Hospital has a dedicated trauma floor with an Intensive Care Unit (ICU), telemetry and medical/surgical bed capability. Experts from all disciplines come together as a team to provide immediate, comprehensive and compassionate care. We collaborate with specialists every step of the way, from the scene of the injury through hospital care, discharge, follow-up care and rehabilitation.
Our multidisciplinary teams include:
Board-certified trauma physicians and surgeons
Emergency and trauma-trained nursing staff
Advanced practice trauma nurses
Trauma nurse practitioners (NP)
A senior director of trauma services
A director of trauma research & injury prevention and outreach
Trauma team nurse leaders
Trauma research staff
Trauma research residents
Case managers
Licensed clinical social workers (LCSW)
Research/performance improvement specialists
Trauma registrars
Administrative staff
Approximately 2,500 patients receive care annually from our trauma service. Scripps Mercy's catchment area encompasses the southeast section of San Diego County bordered on the west by the 805 Freeway, on the east by Highway 94 and on the south by the U.S. – Mexican border. Patients arrive by ambulance, air transport and private vehicle.
Scripps Mercy has an active research program and also collaborates with UCSD on a variety of clinical studies to help improve trauma patient care and outcomes. The research program focuses on the evaluation, resuscitation and management of critically injured patients both within the hospital and in national multi-center studies. Studies recently conducted include the advanced radiologic imaging for central nervous system trauma, management of chest injuries, early airway management following injury, and alcohol and drug use as root causes of injury. Through scientific presentations and publications, Scripps Mercy Hospital is nationally known for our evidence-based advances in these important areas.
Graduate medical education for trauma care
Scripps Mercy Hospital is a private teaching hospital affiliated with the University of California, San Diego (UCSD) and the Naval Medical Center San Diego (NMCSD). Surgical and emergency medicine residents are actively involved in trauma care and research activities.
Featured educational event
Featured educational event
Falls are the leading cause of injury-related emergency department visits for older adults. Our panel of experts hosted this comprehensive webinar in September 2020 to provide the community with safety tips, education and exercises. 
Trauma care and resources
Comprehensive trauma care often involves a wide range of programs and services, not only for patients, but families and caregivers as well. From specialized physical and emotional education and support services to help with transportation and finances, San Diego offers numerous trauma-related resources, including the following:
Specialized care for trauma patients
Trauma patients frequently need immediate, highly specialized care for their severe and often life-threatening injuries. Scripps has on-site experts in a full range of medical specialties. Expert trauma surgeons and other specialty physicians, nurses, social workers, case managers and technologists dedicated to trauma care stand ready 24 hours a day to provide our community's top care for the critically injured with the most advanced trauma treatments and technology available.
In addition, Scripps Trauma Centers provide on-site imaging, specialized operating suites, interventional radiology and pathology to ensure patients are diagnosed and treated quickly. Following treatment, Scripps offers a full continuum of services to help patients recover as quickly and fully as possible. Our services include:
Trauma surgery
Trauma critical care medicine
Neurotrauma
Trauma ophthalmology
Trauma radiology
Trauma social work
Trauma case management
Community education and events
Scripps Trauma Centers are important community resources. In addition to patient care services, we provide information, expertise and leadership in preventing and treating serious injury. Our community outreach programs are designed to improve trauma outcomes and prevent injury through public and professional education. Learn more about our education and events.
San Diego County trauma system
Scripps is part of the San Diego County trauma system, a nationally recognized model for trauma care. Because of our regional trauma system, a person who sustains a life-threatening injury in San Diego is twice as likely to survive compared to any other part of the U.S.
Serving all of San Diego County and many patients from Imperial County hospitals, the San Diego County Trauma System is a successful public-private partnership between the County of San Diego and six designated Trauma Centers:
Palomar Medical Center
Sharp Memorial Hospital
Rady Children's Hospital
UC San Diego Medical Center
The County Health and Human Services Agency's (HHSA) Emergency Medical Services triages patients to one of the six centers based on a number of factors, including geographic proximity. Each trauma center receives injured trauma patients in a defined area in the county known as its "catchment area." Whether arriving by ambulance, helicopter or on foot, critically injured people are rapidly assessed and the coordination of trauma care begins. Learn more about the San Diego County Trauma system.
Brain and spinal cord injury services
Financial assistance, health insurance and Medicare
Frequently asked questions
What is a traumatic injury?
A traumatic injury refers to physical injuries of sudden onset and severity which require immediate medical interventions to save life and limb. Traumatic injuries could result from motor vehicle crashes, sports injuries, falls or natural disasters. Injuries can be described as intentional (such as assault) or unintentional (such as an accident).
What is a trauma system?
A trauma system is a coordinated system of care in which a certain numbers of hospitals in a geographic region are designated as Trauma Centers, with the medical specialists, technology and equipment needed to treat traumatic injuries. The American College of Surgeons assigns Level I and Level II Trauma Center designations to hospitals that provide a comprehensive range of immediately available, in-house services and expertise. The designation ensures that trauma patients receive the most complete range of timely care available in their region.