Scripps Dedicates Conrad Prebys Emergency & Trauma Center
New facility will double size of current emergency department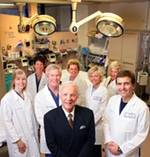 Scripps Health today will dedicate the new Conrad Prebys Emergency & Trauma Center at Scripps Mercy Hospital. The phased expansion project will nearly double the size of the current emergency department. Upon completion, Scripps Mercy Hospital San Diego will boast a 27,000-square-foot, 49 bed emergency and trauma center dedicated to serving the health care needs of the San Diego community.
The new facility is named in honor of Conrad Prebys, the prominent San Diego developer and philanthropist who donated $10 million to support Scripps Mercy Hospital San Diego's emergency department and trauma services in 2006. The gift remains the largest donation to the not-for-profit hospital in its 121-year history. It marked Mr. Prebys' first donation to Scripps, which was followed in 2011 with a $45 million donation to build the Scripps Prebys Cardiovascular Institute on the campus of Scripps Memorial Hospital La Jolla.
"Today is a historic day as we honor Mr. Prebys and see the result of his gift," said Scripps President and CEO Chris Van Gorder. "It is through the generosity of donors like Conrad Prebys that Scripps Mercy San Diego has been able to expand our emergency and trauma services and update our facility to meet the growing health care needs of the community we serve."
The newly constructed expansion includes private patient rooms, a department-dedicated CT scanner adjacent to the trauma room, a telemetry system to provide continuous wireless monitoring capabilities within the emergency department and a dedicated laboratory to quickly provide test results. Each addition increases the efficiency of care and reduces the volume of patient transportation to different departments.
As a Level I Trauma Center, the highest designation for trauma care assigned by the American College of Surgeons, Scripps Mercy Hospital San Diego is nationally recognized for its trauma and injury prevention work. The expansion of the emergency and trauma center further enhances the hospital's reputation as an industry leader in health care.
The next phase of the project will be the renovation and re-opening of the existing emergency department.
Because of its central location and high quality, comprehensive health care services, Scripps Mercy Hospital San Diego plays a pivotal role in the health and well-being of residents in San Diego County. Scripps Mercy operates one of the busiest emergency departments and trauma centers in the county with 60,000 patients seen in the emergency department and 2,400 trauma patients treated in 2010.
"Scripps Mercy Hospital is vital to our community," said Mr. Prebys, a Point Loma resident. "The hospital provides emergency and trauma care to a growing number of people in the county's central and southern regions. It feels good for me to be able to give back in such a meaningful way to a community that has been so good to me. It fills me with joy and gratitude."
Learn more about the Conrad Prebys Emergency & Trauma Center (PDF, 1.4 MB)
Learn more about Scripps Health, a nonprofit integrated health system based in San Diego, Calif.