Weight-Loss Solutions for Obesity and Related Conditions
Most common procedures are gastric bypass and gastric sleeve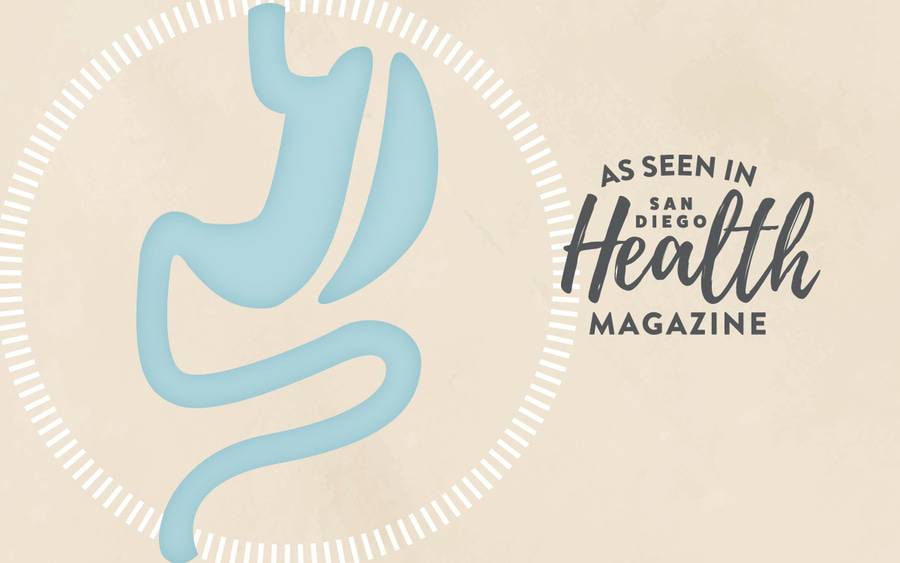 Most common procedures are gastric bypass and gastric sleeve
For some patients with obesity who have not had success with traditional weight-loss methods, bariatric surgery could be a catalyst to improved health. 
At Scripps, experienced bariatric surgeons regularly perform several types of surgical procedures that have the power to drastically change or even prolong a person's life. 
"For patients who need to lose 60, 80 or over 100 pounds, there's no better option out there that even comes close to what weight loss surgery can provide," says Mark Takata, MD, a bariatric surgeon at Scripps Clinic.
"When you look at benefits of weight loss surgery, you look at weight in general, improvement in medical problems and quality of life — all three are tied together. Overwhelmingly, patients say that their biggest regret is that they didn't do it sooner." 
What are the most common bariatric procedures?
Scripps surgeons perform various procedures that reduce the size of the stomach. The most common are Roux-en-Y gastric bypass and vertical sleeve gastrectomy. 
Both gastric bypass and the gastric sleeve, as they're commonly known, along with the third option, laparoscopic gastric banding, work in similar ways. The amount of food the stomach can hold is restricted, so patients must eat smaller portions. Bariatric surgery also triggers hormonal changes that help reduce hunger and increase the feeling of fullness. 
Roux-en-Y gastric bypass is widely accepted as the most effective form of weight-loss surgery. Patients can expect to lose up to 80 percent of their excess body weight, most of which will come off in the first year or so.
Gastric bypass works in two ways: it reduces the size of the stomach and bypasses part of the intestine that absorbs calories. 
In a gastric bypass, the surgeon sections off a small pouch at the top of the stomach using staples, then attaches the new smaller stomach to the middle portion of the small intestine, "bypassing" the rest of the stomach and first part of the small intestine. However, the sectioned off stomach and small intestine are kept intact so they can still make and release digestive juices to help break down food. 
"Gastric bypass entails shrinking the size of the functional stomach and reconnecting the intestine," says Dr. Takata. "Both of those things enhance weight loss, and there's also the benefit of decreased appetite. There are physical effects, but also metabolic and physiologic effects that all work in the same direction of weight-loss benefit." 
In a vertical sleeve gastrectomy (also called a gastric sleeve resection), the surgeon forms a skinny, banana-shaped pouch using about 20 percent of the stomach and removes the other 80 percent. The new stomach holds only around two ounces of food, and the shape slows the movement of food, allowing the patient to feel fuller longer. Weight loss is typically slower and less drastic than with gastric bypass (60 percent compared to 80 percent with gastric bypass), but the risk for complications is lower. 
"With the sleeve gastrectomy, the stomach is stapled in a way to create a narrow conduit, a new narrow stomach, and the excess stomach is removed entirely from the abdomen," says William Fuller, MD, a bariatric surgeon at Scripps Clinic.
"Gastric sleeve differs from gastric bypass surgery, because in that procedure, the stomach is stapled in such a way that creates a new gastric pouch, a small reservoir, and the intestines are then reconnected to this new stomach." 
Latest bariatric procedure
One of the latest procedures available to patients at Scripps Memorial Hospital La Jolla is single anastomosis duodeno-Ileal bypass with sleeve gastrectomy, also known as SADI. Scripps is one of the first bariatrics providers in Southern California to offer this option people who are considered morbidly obese with a BMI of 50 or higher. 
"The SADI procedure was pioneered by surgeons in Spain," says Sunil Bhoyrul, MD, a bariatric surgeon at Scripps. "We're thrilled to bring this procedure to San Diego. We're seeing positive outcomes and are reassured by the results in patients who have struggled with super obesity and others who have regained their weight after a sleeve gastronomy." 
A less common option is to restrict the size of the stomach with a device known as a gastric band. Sometimes referred to as lap-band, short for laparoscopic gastric banding, this procedure gives patients an option that is adjustable and reversible. 
A band that contains saline is placed around the upper stomach, dividing it into a small upper pouch and a larger lower pouch. 
Though Scripps surgeons no longer implant gastric bands, for those who already have the device, they can adjust the opening between the sections to increase or decrease how much and how quickly food gets through. Patients who are struggling to lose weight with their gastric band may also have the device removed and then receive a gastric sleeve or bypass procedure. 
Benefits of minimally invasive techniques
Scripps bariatric surgeons employ the latest minimally invasive techniques. By using a few small incisions during surgery instead of making one large incision, patients may experience less pain, shorter hospitalization, decreased risk of complications, shorter recovery time and better cosmetic results. 
"In many of these cases, the risks of surgery are tenfold less than what they used to be," says Dr. Fuller. "It's clear that these techniques are superior to the open techniques. Surgeries done minimally invasively have tremendous benefits to our patients." 

This content appeared in San Diego Health, a publication in partnership between Scripps and San Diego Magazine that celebrates the healthy spirit of San Diego.