New Chief of Staff Elected at Scripps Mercy Hospital
James Grisolia, MD, to lead 1,100-member physician staff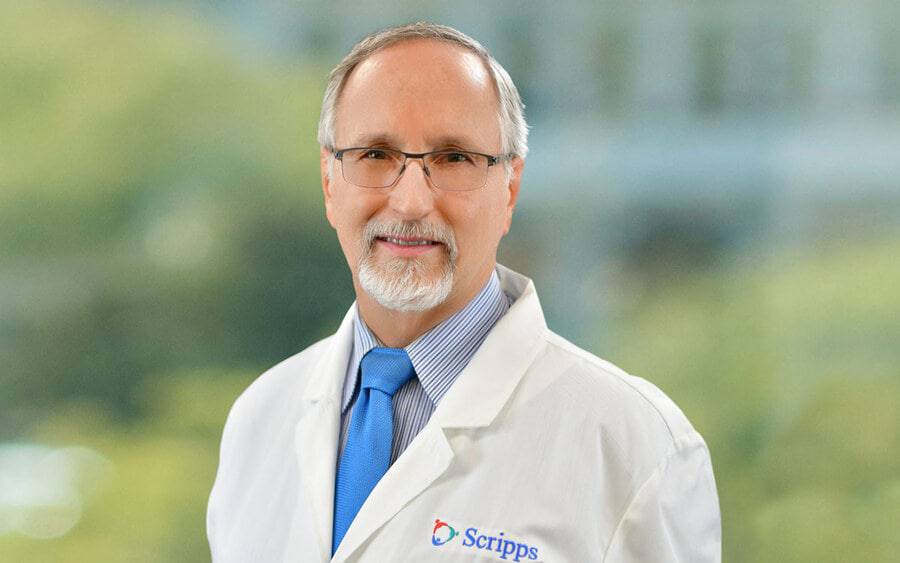 James Grisolia, MD, to lead 1,100-member physician staff
The physicians of Scripps Mercy Hospital's San Diego and Chula Vista campuses have elected neurologist James Grisolia, MD, as their chief of staff. Dr. Grisolia took over as head of the 1,100-member physician team on Jan. 1.
As chief of staff for Scripps Mercy Hospital's two campuses (San Diego and Chula Vista), Dr. Grisolia will serve as a medical staff liaison to administrative staffs at the two locations, as well as to Scripps Health's board of trustees. During his two-year term, he will play a key role in driving continuous improvement in the delivery of health care services to the more than 200,000 patients who visit the hospital's two campuses annually. He succeeds the hospital's outgoing chief of staff, Beverly Harrell-Bruder, MD.
"In addition to the exceptional care he delivers to our patients, Dr. Grisolia has demonstrated exemplary leadership as he enters his 40th year on the hospital's medical staff," said Tom Gammiere, Scripps Health's corporate senior vice president and southern regional chief executive. "His guidance will benefit physicians, staff and patients alike."
Dr. Grisolia has been a member of the medical staff at Scripps Mercy Hospital San Diego since 1983 and has served on the medical staff at Scripps Mercy Chula Vista since 1986. Scripps Mercy's San Diego and Chula Vista campuses previously operated as separate hospitals before merging in 2004 as one hospital and one medical staff on two campuses.
Track record of leadership
At Scripps Mercy, Dr. Grisolia has held numerous leadership positions and earned several accolades. He has served as the hospital's chief of rehabilitation, chief of cerebrovascular disease and chief of medicine. He also served as chair of the hospital's section of neurology and was chair of its department of neurosciences. He currently serves on the hospital's ethics committee and on Scripps Health's neuroscience steering committee. Dr. Grisolia has earned multiple awards for his contributions to the hospital's internal medicine teaching program.
Dr. Grisolia's leadership also extends to several national, state and local medical organizations. He has served on the Epilepsy Foundation's national board of directors, as well as on professional advisory committees for the Multiple Sclerosis Society and Parkinson's Association of San Diego. He also has served as a trustee for the California Medical Association.
Additionally, Dr. Grisolia serves on the editorial board for the San Diego County Medical Society's publication, San Diego Physician magazine. He has received several honors, including being named the Epilepsy Foundation of America's advocate of the year and being given the San Diego County Medical Society's presidential award. Dr. Grisolia has written numerous articles for peer-reviewed medical journals, has edited a book on the neurology and biology of violent behavior and has lectured on the neurology of meditation.
Dr. Grisolia's priorities
As chief of staff, Dr. Grisolia plans to continue encouraging and developing the excellence in patient care that Scripps Mercy has long provided to the community. His priorities include applying the many lessons learned from the COVID-19 pandemic to patients' overall medical care going forward. This includes a special focus on creating greater awareness among Scripps Mercy's medical staff about underlying social conditions that can affect aspects of daily living, such as nutrition, medication compliance and alcohol and drug use, which in turn can affect personal health.
Dr. Grisolia earned his bachelor's degree in molecular biophysics and biochemistry from Yale University and his medical degree from the University of California San Diego, where he also completed his neurology residency. He is double board certified by the American Board of Psychiatry and Neurology and the American Board of Clinical Neurophysiology.
During his tenure as chief of staff, Dr. Grisolia will continue his neurology and clinical neurophysiology practice at Mercy Physicians Medical Group, which is affiliated with Scripps Health. He resides in Mission Hills with his wife, Carla Stayboldt, MD, and previously was a longtime resident of Chula Vista.