Randall Goskowicz, MD, Elected Scripps Memorial Hospital Encinitas Chief of Staff
Anesthesiologist leading 921-member medical team for two-year term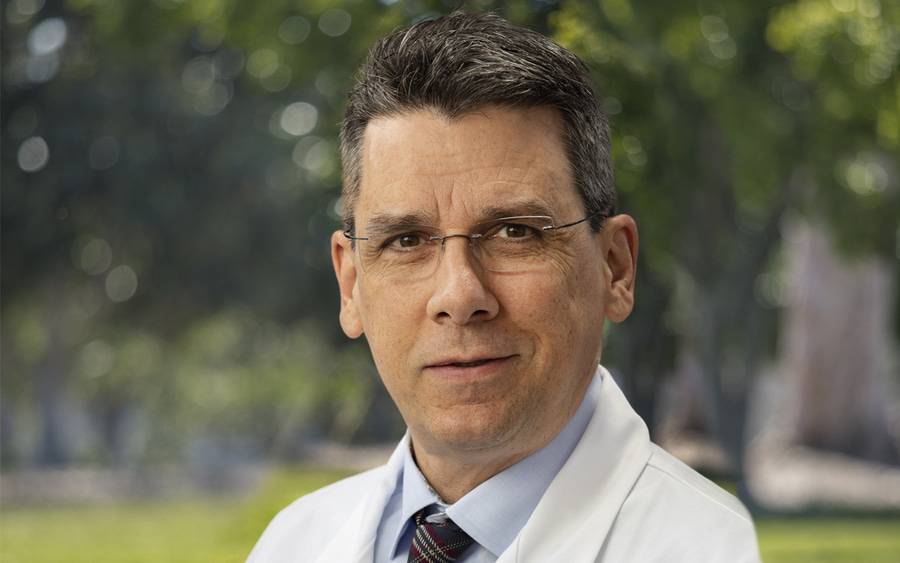 Anesthesiologist leading 921-member medical team for two-year term
The physicians at Scripps Memorial Hospital Encinitas recently elected anesthesiologist Randall Goskowicz, MD, as the new chief of staff of the 187-bed campus. Dr. Goskowicz took over as head of the 921-member medical team on Jan. 1.
During his two-year term, Dr. Goskowicz will serve as medical staff liaison to Scripps Encinitas' administrative staff and Scripps Health's board of trustees. He will play a key role in driving continuous quality improvement in the delivery of health care services to the 87,609 patients cared for annually at the hospital.
"At Scripps Encinitas, we have been a highly collegial group that has always been supportive of our staff members," Dr. Goskowicz said. "It is an honor and privilege to lead this fine group of clinicians."
He succeeded outgoing Chief of Staff Alexie Nguyen, MD.
"For more than two decades, Dr. Goskowicz has served with distinction on the Scripps Encinitas medical staff," said Carl Etter, senior vice president and regional chief executive for Scripps hospitals in North County. "He will provide strong leadership as we continue moving forward with major modernization projects while offering the highest level of care to all of our patients.
Priorities as chief of staff
Dr. Goskowicz said his principal priorities lie in the ongoing development of Scripps Encinitas into a premier regional center of excellence and the continued effort to attract superior clinical staff to further optimize the hospital as a significant community resource.
Since the start of his training in anesthesiology in 1990, Dr. Goskowicz has been involved in both basic science and clinical research; teaching medical students, residents and fellows; and in the clinical care of transplant, open heart, congenital heart disease and high-risk obstetric patients. As medical director of the operating room, he has played a key role in developing a team approach to the care of procedural patients.
"We aim to manage challenging cases as routine, while never forgetting that for each patient their encounter with us may be life-altering," he said. "We intend to provide excellent care to every patient regardless of the members of the care team, the needs of the patient or the hour of the day. This is the hospital where we bring our own family members for care, and we aim to make that care uniformly excellent for everyone."
Dr. Goskowicz joined the Scripps Encinitas medical staff in 1999 and has held numerous leadership positions at the hospital, including medical director of surgery and anesthesiology, endoscopy and graduate medical education. He was elected vice chief of staff in December 2020.
Additionally, Dr. Goskowicz has served on the executive cabinet of Scripps Medical Foundation. He was recognized as Volunteer of the Year by the North County Philanthropy Council for his work at Scripps Encinitas, and he received the Distinguished Achievement Award from the Circle of Life 100 service organization that advocates for health education and philanthropy in support of Scripps Encinitas. More recently, he was honored as a Fellow of the American Society of Anesthesiologists in recognition of his administrative, academic, teaching, clinical and philanthropic work.
He has co-authored numerous articles for peer-reviewed medical journals, presented at regional conferences and authored chapters for several medical books.
He received his undergraduate degree from the University of Notre Dame and his medical degree from Washington University School of Medicine in St. Louis. He completed an internship in internal medicine at The Jewish Hospital of St. Louis and residency training in anesthesiology at the University of California San Diego, where he also served as an assistant clinical professor of anesthesiology and director of liver transplantation services. He is certified by the American Board of Anesthesiology.
During his tenure as chief of staff, Dr. Goskowicz will continue his anesthesiology practice at Anesthesia Services Medical Group, which is affiliated with Scripps Health and other health systems in the region.
Dr. Goskowicz grew up in rural Wisconsin and lives in San Diego with his wife Maki Goskowicz, MD, who works as a dermatologist; their older son, who is attending veterinary school; and their younger son, who is a senior in high school.
Outside work, Dr. Goskowicz enjoys practicing martial arts — he has achieved a second-degree black belt in Shaolin Kung Fu — trail running, hiking, fishing and downhill skiing.
Learn more about Scripps Health, a nonprofit integrated health system in San Diego, Calif.