New Knee Procedure Helps Athlete Overcome Torn ACL
Scripps patient is first in San Diego to get BEAR implant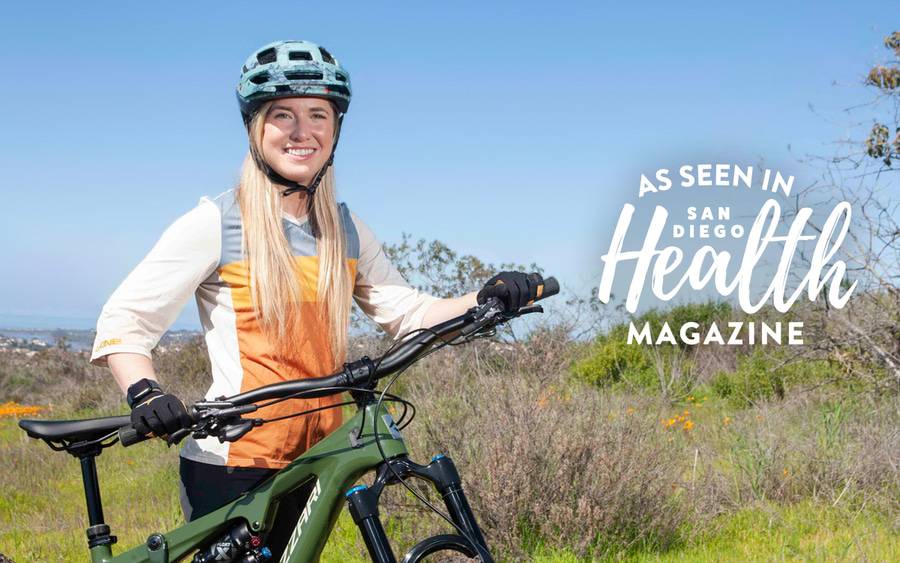 Scripps patient is first in San Diego to get BEAR implant
When you're ill or injured, it's natural to want the best care possible. When multi-sport recreational athlete Jenna Richardson tore her anterior cruciate ligament (ACL) while mountain biking in Canada, she did extensive research and sought out an innovative new treatment that enables the torn ligament to heal without the use of transplanted muscle or donor tissue. 
Richardson wanted a knowledgeable surgeon whose experience and expertise she could trust. That's what led her to Scripps. 
Unfortunate accident, common knee injury
The 30-year-old medical sales rep and her fiancé, Kemper Whaley, planned time off to celebrate the completion of a year-long construction project on their Oceanside home. In July, the avid mountain bikers booked a trip to Canada to ride Whistler Mountain Bike Park, the largest downhill mountain bike park in North America. 
The pair was just about finished for the day when Richardson decided she would go back out for one last run. 
"I was pushing myself to the limit, doing stuff that I had never done before. My fiancé had been riding all day and he was finished, so I said, 'I want to do one more run,'" she says. 
"The fall was a total freak accident. I immediately knew that my leg twisted in a way it never should have. And when I tried to stand up, I was screaming in pain. It was just an unfortunate situation." 
Rescuers transported Richardson to the emergency department of a Canadian hospital, where doctors suspected she had torn her ACL, the band of tissue that runs diagonally through the center of the knee and connects the femur with the tibia. 
The ACL works to keep the knee stable when twisting or pivoting. ACL tears are fairly common knee injuries, affecting up to 250,000 people in the United States each year. 
Tears to the ACL typically do not heal on their own. Active patients with complete ACL tears, like Richardson, are often encouraged to consider reconstructive surgery, because without it, knee instability can limit activity and lead to future cartilage damage. 
A lifelong athlete who had traveled the world to surf, ski and snowboard, Richardson was determined not to give up her active lifestyle. She began researching ACL treatments that could get her back in the game, including a new, innovative ACL implant procedure. 
New knee implant procedure
A torn ACL can't simply be stitched back together. In the traditional treatment, surgeons completely remove the damaged ligament and rebuild it using tissue — most commonly tendons from the kneecap or hamstring — from a donor or the patient's own body. 
However, for some patients, a new treatment option that uses an implantable device derived from animal collagen may replace the need for traditional ACL reconstruction. The device, called the Bridge Enhanced ACL Restoration (BEAR) implant, stabilizes the torn ligament and enables the body to bind the torn ends back together. The Food and Drug Administration cleared the BEAR implant for patient use in December 2020. 
The sponge-like implant is filled with the patient's own blood and arthroscopically inserted between the torn ACL segments. It essentially acts as a clot and supports the patient's healing. The patient's body eventually absorbs the implanted material, by which time healthy new muscle has taken its place. 
BEAR vs traditional ACLR repair
Richardson pored over the research on the implant and even contacted the first person who had ever undergone the BEAR procedure. She also talked to acquaintances who had the traditional ACL reconstruction about their experiences. 
She liked the idea of undergoing a leading-edge treatment and, if issues were to arise and the procedure was unsuccessful, she could later opt for traditional ACL reconstruction. 
She was also in search of a doctor who was up to speed on the newest innovations in the field. In San Diego there was a very short list of surgeons with the ability to perform the procedure at the time — and one name stood out: Tianyi "Tim" Wang, MD, an orthopedic surgeon at Scripps Clinic Encinitas, Scripps Clinic Torrey Pines and Scripps Clinic Jefferson in Oceanside. 
"When I saw it was Scripps, I was so thankful because I work in the medical field, and I've always gone to Scripps for my care. I think it's the highest-quality standard of care in San Diego," Richardson says. "Everyone cares and treats me as a valued patient." 
Scripps, leader in orthopedics
Scripps, leader in orthopedics
"Torn ACLs are among the most common knee injuries we see."
Tianyi "Tim" Wang, MD, an orthopedic surgeon at Scripps Clinic
Scripps has a reputation for innovation and expertise, and its nationally recognized orthopedics program at Scripps and Scripps Clinic has been lauded for advanced techniques and procedures, and leading-edge research. Scripps offers numerous minimally invasive orthopedic procedures, such as the BEAR implant, with benefits that include faster healing and recovery of muscle strength. 
"Torn ACLs are among the most common knee injuries we see. Though it's not a life- or limb-threatening injury, they can significantly limit a patient's ability to return to exercise, sports or athletic endeavors at a high level," says Dr. Wang. 
"It's exciting to offer a new approach that can fundamentally change the way we treat torn ACLs. This device helps support the initial healing so that the patient's own body can build tissue and collagen and restore the native tension and biomechanical strength of their own ACL." 
First BEAR knee procedure
Richardson was confident in Dr. Wang's ability and expertise, but she did have a few questions about the risks, benefits and the procedure itself. Among Richardson's questions: How many of these procedures have you performed? It turned out, she would be the first. 
In August 2022, Richardson became the first patient to undergo the BEAR ACL implant procedure in San Diego County. The outpatient procedure was performed in the ambulatory surgery center at Scripps Medical Center Jefferson in Oceanside. The procedure was so successful that Richardson was able to leave the clinic about an hour after coming out of surgery. 
"Jenna was an ideal candidate to be the first because she was motivated, she was interested in being on that leading edge of medicine, and she'd done a lot of her own research and had a good understanding of the BEAR implant procedure. It was a perfect combination," says Dr. Wang. 
"With any sort of knee surgery or orthopedic surgery, yes, the surgery's important," he adds, "but ability to follow through with the rehab and recovery is important, too. Having both those pieces of the puzzle are crucial." 
Physical therapy paves road to recovery 
Richardson was fitted with a knee brace and crutches following the procedure and started working with a physical therapist — initially three times a week and now less frequently as she continues to progress in her recovery. 
"This is a totally different rehab protocol, so I not only felt confidence in Dr. Wang, but knowing that Dr. Wang was willing to work with my physical therapist made it feel like we were all one team," Richardson says. 
Physical therapy is critical, says Dr. Wang. 
"It's important for a patient to have a good relationship with their therapist — it's a team approach with the doctor, patient and therapist," he says. "Surgeons are really good at fixing people and putting the parts back together, but the therapists are the experts in coaching. They bridge that gap between medical treatment and sports performance." 
In addition to working with her physical therapist, Richardson continues to build up her strength by running, riding a stationary bike and attending studio fitness classes with friends. 
"I have absolutely no pain, and when I run and I work out, I can't even tell a difference between my knees," she says. 
Dr. Wang is monitoring Richardson's recovery on a step-by-step basis, allowing activities based on her progress and the healing of the graft. Typically, those that involve twisting and turning motions that put stress on the ACL are the ones patients go back to later in their recovery. 
Every few weeks, Richardson is assigned new exercises to strengthen her ACL and minimize the risk of reinjury once it's healed. Full recovery is expected around the nine-month mark. 
"It's kind of like super glue hardening," he says. "We put the glue in there, but her body has to harden it, heal it and get it strong, and that's the part that takes time." 
Active again with knee implant
So far, Richardson has been given the go-ahead to begin riding her beloved mountain bike and is patiently awaiting Dr. Wang's approval to resume skiing and surfing. She's working with her physical therapist on sports-specific motions, like jumping and twisting, so she'll be ready when the time comes. 
"I'm looking forward to getting back on a surfboard and longboarding when the water gets a little warmer and hopefully doing some skiing," she says. "If everything goes as planned, I plan to be skiing this year." 

This content appeared in San Diego Health, a publication in partnership between Scripps and San Diego Magazine that celebrates the healthy spirit of San Diego.