Innovations in Orthopedic Surgery
Wide range of conditions can be treated on outpatient basis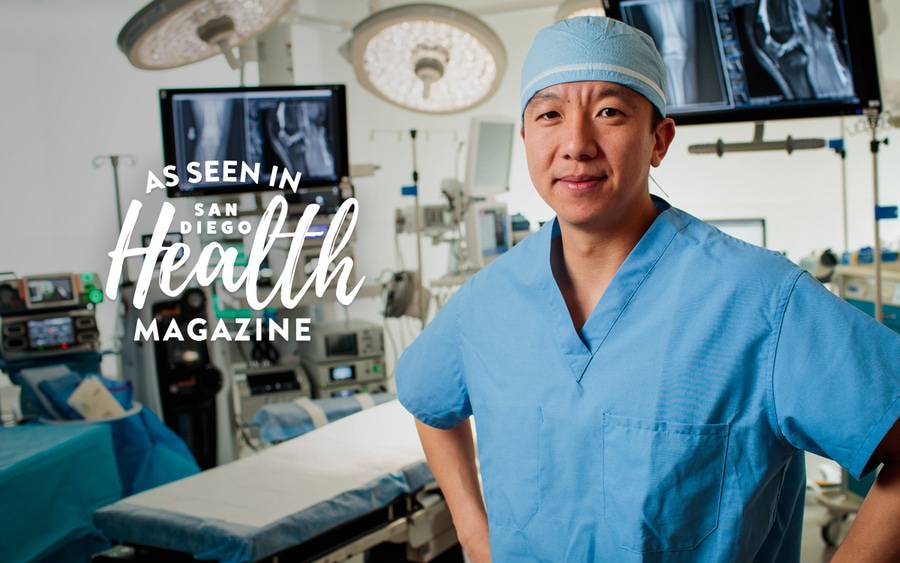 Wide range of conditions can be treated on outpatient basis
Delivering quality care to the community is at the heart of Scripps' mission, and its orthopedics program is a pillar of that excellence. In fact, Scripps' orthopedics program earned U.S. News & World Report's top spot for the San Diego region for 2022-2023. 
The rankings, which evaluated 1,660 hospitals across the United States, also named Scripps among the best orthopedics programs in California and the entire U.S. 
Scripps' orthopedic surgeons see patients with a wide range of conditions, many of which can now be treated on an outpatient basis thanks to advances in technology and technique. 
This includes both common and complex procedures, such as:
Hip and knee replacements
Spine surgery
Hand, wrist and elbow surgery 
Treatment for sports-related injuries
Benefits of outpatient surgery
Outpatient surgery allows patients to spend less time in the hospital and recover in the comfort of their own homes, without sacrificing safety or quality of care. 
Scripps' ambulatory surgery centers are equipped with state-of-the-art technology, including specially designed operating rooms, microscopic and robotic support for surgical care and comfortable patient recovery rooms. 
Scripps' centers are equipped with advanced diagnostic tools, such as computed tomography and magnetic resonance imaging, as well as X-ray capabilities. 
The availability of a wide range of outpatient surgeries boosts patient satisfaction, says Steven Copp, MD, an orthopedic surgeon at Scripps Clinic Torrey Pines and Scripps Clinic Mission Valley. Dr. Copp is chair of Scripps Clinic Department of Orthopedic Surgery. 
"This is the apex of specialty care, says Dr. Copp. "Many procedures can now be performed in a minimally invasive way and we can control pain, which allows us to get patients up the same day of surgery allowing them to recover quickly."
Leveraging the best orthopedic technology  
Repairing damaged cartilage is just one area that sets Scripps apart.
The cartilage in joints doesn't have much healing capacity on its own and, until recently, was thought of as unfixable. The traditional course of action was to allow it to deteriorate until it reached the point a joint replacement was warranted. 
However, the skilled orthopedic surgeons at Scripps favor early intervention and have the ability to replace damage cartilage using tissue grown with advanced bioengineering techniques from the patient's own cells or from a donor. 
"These are procedures that didn't exist 10, 20 years ago, and are procedures that not very many surgeons perform," says Tianyi (Tim) Wang, MD, an orthopedic surgeon who specializes in sports medicine at Scripps Clinic Torrey Pines, Scripps Clinic Encinitas and Scripps Medical Center Jefferson.
"Fortunately, we've got a qualified, experienced team at Scripps that's on the leading edge of orthopedic care." 
Procedures like this and new muscle-splitting techniques used by Scripps surgeons are at the forefront of orthopedics, and in many cases allow patients to return to their active lifestyles sooner. 
Scripps' multidisciplinary care model also plays a role in getting patients back on their feet faster. Although the surgery may be same day, the care team crafts a comprehensive plan with every detail from the weeks leading up to the surgery through the patient's recovery. That can include administering medication to control pain and inflammation prior to a joint replacement, using a numbing agent, such as an epidural or regional anesthesia during the procedure (as opposed to general anesthesia), and coordinating physical therapy afterward. 
"In collaboration with our research team at Shiley Center for Orthopaedic Research and Education (SCORE), we're at the leading-edge of innovations in joint health, joint preservation and cartilage repair — and our patients benefit from these advancements," says Dr. Wang. 
Expanding surgical care options 
Throughout the Scripps system, ambulatory surgery centers give patients access to an array of services all under the same roof. 
The newest center at Scripps Medical Center Jefferson in Oceanside is a comprehensive surgical center for a variety of specialty areas.
For patients who need orthopedic care, there is a full staff of specialists, including a hand surgeon, sports medicine surgeon, foot and ankle surgeon, non-operative podiatrist, a joint replacement surgeon and a pain management physician. The surgical team is supported by specially trained nurses and surgical staff members who assist as needed. 
The scope of surgeries includes:
Hip and knee replacements
Ankle replacements
Cartilage transplants
Shoulder surgery and ligament reconstruction
With advanced technology in the outpatient setting, surgeons can treat complex joint issues. 
Shorter stay, quick recovery 
Outpatient procedures allow patients to avoid many of the risks that come with an extended hospital stay. 
"When you think of hospitalizations for elective surgeries, patients risk exposing themselves to hospital-based diseases," Dr. Copp says. "With outpatient procedures, patients can return to the environment that they are most comfortable. In many cases, it's their home, which is conducive to healing." 
Being able to easily access surgical care while having the option to recover at home also means patients are more likely to address their health care challenges sooner rather than delaying treatment because of the inconvenience.  

This content appeared in San Diego Health, a publication in partnership between Scripps and San Diego Magazine that celebrates the healthy spirit of San Diego.