Canine Therapy Program Continues to Shine at Scripps
Volunteer program resumed after pandemic pause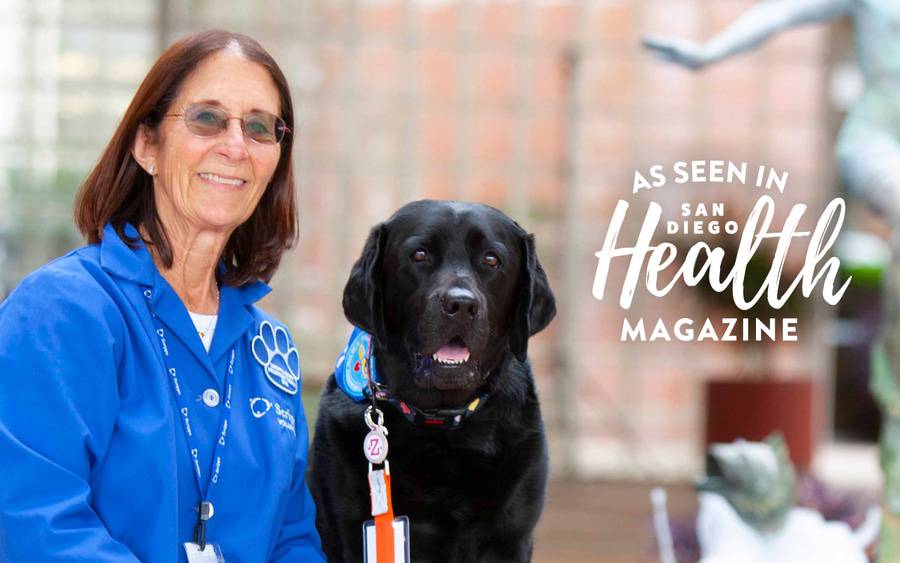 Volunteer program resumed after pandemic pause
On a not-so-average morning at Scripps Memorial Hospital La Jolla, six well-mannered dogs and their owners could be seen parading through the corridors. 
The pack walked calmly from the entryway fountain to an elevator and into a narrow hallway, passing crutches, walkers, IV stands and strangers with outstretched hands hoping for a dose of puppy love. 
While charming to behold, this was no walk in the park — or lobby, as the case may be. These dogs were auditioning for a volunteer spot in Scripps Canine Therapy Program, relaunched after a pandemic-era hiatus. 
Candidates selected at these auditions get to join the roster of therapy dogs bringing comfort and socialization to patients and hospital staff at Scripps facilities throughout San Diego County. 
"The hospital environment can be stressful for patients," says Denelle Curry, Scripps canine therapy advisor. "Just a therapy dog walking into a patient's room can cut the tension immediately. People who are not feeling well and are stressed often start smiling and relax a bit more. It can really make a difference." 
In a hospital setting, it's been shown that therapy dogs provide comfort and support and help reduce patients' anxiety. For health care providers, therapy dogs boost mood and help reduce stress.
The number of dogs in the Scripps Canine Therapy Program is picking up again after dropping during the pandemic. "Two to three years is a long time in dog years," Curry says. 
To participate, dogs must be at least 1-year-old and have an American Kennel Club Canine Good Citizen certificate. While therapy dogs are often Labradors, golden retrievers and poodle mixes, the breed is less important than temperament and good behavior. Curry says Scripps therapy dogs have included an Alaskan Malamute, Great Dane, bulldog and a three-legged mixed breed. 
Therapy dogs and their human companions must be OK with hospital sounds and smells, polite and able to maneuver the hospital setting without getting in the way. 
Teresa Friedrich had a hunch her 4-year-old pup, Ace, was canine therapy material. A Labrador and golden retriever mix, Ace is gentle with everyone from babies to her husband's 92-year-old grandmother, who uses both a walker and a wheelchair. 
"He's very sweet. He's very tolerant," Friedrich explains. "He will lay his head on you, and it's really relaxing." 
Ace handled the audition with ease, even passing up strategically placed dog treats while listening to Friedrich's commands. 
Rosemary Van Gorder, wife of Scripps Health CEO Chris Van Gorder, has been volunteering with her therapy dogs since 2007, most recently with her 3-year-old Labrador retriever, Zegen.
Van Gorder says people are naturally drawn to Zegen, and she certainly appreciates the pets and attention.  "The staff are very appreciative," she says. "It feels really nice to know that we're helping everybody — patients, employees and physicians." 
Scripps Health's volunteer services manager, Jill Sandman, says hospital volunteers, both human and canine, are needed. For people interested, there are various roles, such as welcoming guests, helping staff and patients in nursing units and working in the gift store. Volunteers must be at least 15 years old and commit to helping a few hours a week. 
For more information on volunteering at Scripps Health, visit our volunteer services page or contact caninetherapy@scrippshealth.org. 

This content appeared in San Diego Health, a publication in partnership between Scripps and San Diego Magazine that celebrates the healthy spirit of San Diego.