Scripps Monitoring Solves 'Mystery' Behind Patient's Seizures
Epilepsy Monitoring Unit gets to root of problem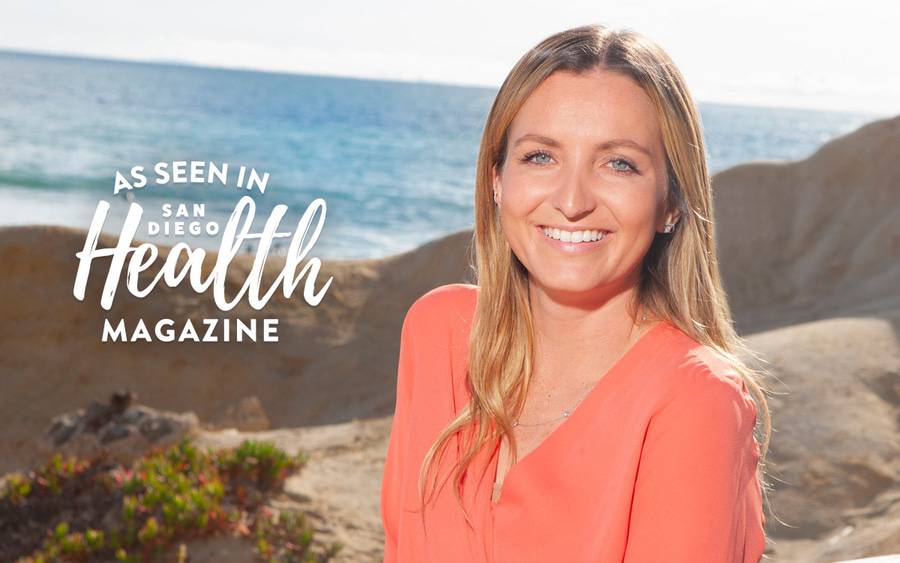 Epilepsy Monitoring Unit gets to root of problem
Ariana Collopy has always been a restless sleeper. So, when her boyfriend, Zack Wagner, told her in early 2021 that she appeared to be having seizures in her sleep, she brushed it off. 
Nearly 30 years old, she'd never had a seizure or any other health issues. She thought she just moved a lot in her sleep. He brought up the seizures a few more times, but Collopy wasn't concerned. During the next several months, her nighttime movements became so common that her boyfriend stopped mentioning them.
Then in October 2021, she had a tonic-clonic seizure. Previously known as grand mal seizures, tonic-clonic seizures cause people to lose consciousness and have violent, uncontrollable muscle contractions. 
Wagner called 9-1-1 and Collopy woke up in the emergency department at Scripps Memorial Hospital Encinitas. She began taking seizure medication and went home. It was the beginning of a long journey to find a diagnosis and treatment. 
Despite the medication, Collopy's seizures returned. Though she didn't have another tonic-clonic episode, the multiple small seizures that occurred several nights a week left her exhausted. She slept during the day and had no energy. Even basic daily activities were a struggle. 
Her seizures also forced Collopy to give up her driver's license. Having returned home to San Diego in 2020 after a career in New York's fast-paced fashion industry, Collopy had recently launched an interior design company. Being unable to drive to clients' homes severely impacted her business and her everyday life. 
Turning to Scripps for help
A family friend referred Collopy to Michelle Van Noord, MD, a neurologist who specializes in epilepsy at Scripps Clinic Torrey Pines. 
During the next few months, Collopy underwent a barrage of tests and tried multiple medications as her team worked to determine what was causing her seizures and how best to control them. Unfortunately, her condition was refractory to medication, meaning her seizures were not adequately controlled by treatment. 
"About 50% of people with epilepsy get their seizures under control with one medication at a reasonable dose. If they're still having seizures, typically we'll add a second medication," explains Dr. Van Noord. 
"We can get about 70% of people seizure-free on two medications, but that means about 30% are still refractory. While we can keep trying additional medications, at that point it starts to feel like guesswork." 
By December of 2021, Collopy was taking several medications and still having nightly episodes. 
Dr. Van Noord decided to have Collopy evaluated in the Scripps Memorial Hospital La Jolla Epilepsy Monitoring Unit (EMU). The inpatient unit continuously monitors patients with epilepsy and other seizure disorders for up to five days using continuous video surveillance and electroencephalogram (EEG) monitoring, with the goal of capturing the exact moment a patient has a seizure. 
"The EMU is the gold standard for diagnosis when someone comes to us and they're having seizures or seizure-like events and not responding to medication," says Dr. Van Noord. 
"Typically, patients don't have seizures in front of us in the office, so we're making decisions about management based on reports from the patient and people who see what happens at home. The EMU allows us to actually capture their events with EEG and video to see exactly what is happening during the seizure, as well as record the brain activity." 
The video and EEG data provide important information that helps physicians confirm that a patient's seizures are caused by epilepsy and not something with similar symptoms, such as syncope (passing out) or other seizure mimics. 
"When we do confirm a patient has epilepsy, the EMU also allows us to figure out what type of seizure they're having, and where in the brain it is coming from," adds Dr. Van Noord. "We do this by studying both what the patient does during the seizure and the recording from the surface electrodes attached to their scalp." 
Monitoring seizures as they happen
Collopy, who had never spent a night in a hospital before the ED, began her stay in the EMU in January 2022. With COVID-19 restrictions still in place, visitation was limited. She was a bit nervous about being alone in the unit, but also hopeful. 
"I went into it with an open mind and really wanting to get answers," she says. "The nurses were really supportive and did a great job of helping me feel comfortable and safe." 
When a patient enters the Scripps EMU, the goal is to create an environment that will allow their seizures to emerge naturally. This involves tapering them off any anti-seizure medications, depriving them of sleep by allowing only a few hours of sleep per night and, in some cases, using visual stimulation or hyperventilation to encourage seizures. All of this occurs in a highly controlled medical environment, with nurses trained to respond quickly and provide seizure first aid if needed. 
Focal epilepsy, but not typical
Collopy's first two nights in the unit were uneventful. Then, on the third night, she had two seizures consistent with what had been happening at home. Finally, Dr. Van Noord was able to confirm that Collopy's seizures were in fact caused by a common form of epilepsy called focal epilepsy — but it wasn't typical. 
"Epilepsy is a medical condition that causes a temporary, uncontrolled surge of electrical activity in your brain. Think of it as a spontaneous electrical storm in the brain," says Dr. Van Noord. "In focal epilepsy, the surge starts in one part of the brain and can spread from there." 
Focal seizures most commonly start in the brain's temporal lobe, but the seizures Collopy had been having for months didn't sound typical of temporal lobe epilepsy. The EMU study revealed that Collopy's seizures were likely starting in her frontal lobe — information that was key in helping Dr. Van Noord determine treatment. 
Exploring surgery as treatment 
For patients like Collopy who aren't helped by medication, surgical treatments or implanted devices that modulate brain activity (called neuromodulatory treatments) may be options. 
Resection surgery removes the part of the brain where the seizures begin. Another procedure, laser ablation surgery, uses a laser to destroy the part of the brain causing the seizures. Both surgeries are about 60% effective at eliminating or reducing seizures. 
However, because Collopy's seizures were starting in the frontal lobe rather than the temporal lobe, surgery was less likely to be successful. Additionally, the frontal lobe controls motor functions, such as speech, so surgery could result in a loss of function, known as "unacceptable neurological deficit." 
Finding the right medication
Finding the right medication
"I'm almost six months seizure-free. I'm feeling normal again and have more energy and can exercise. I finally have my life back."  
Ariana Collopy
For Collopy, medication was still the best option. Dr. Van Noord tried a different medication based on the EMU results, and Collopy was seizure free for several months. But the seizures came back — this time occurring in the evening before bedtime. 
During the seizures, which lasted five to 15 seconds, Collopy would be aware of what was happening but couldn't speak. Though the seizures occurred less frequently than before, they were still highly disruptive to her life.
 In late 2022, Dr. Van Noord made another medication change. Collopy has not had a seizure since. 
"That was the game changer for me," says Collopy, now 31. "I'm almost six months seizure-free. I'm feeling normal again and have more energy and can exercise. I finally have my life back."  
Solving 'medical mystery'
Though epilepsy more commonly begins in children or older adults, it can start at any time. Collopy says her epilepsy "came out of nowhere." 
"I had no idea what was happening or why or if it would continue for the rest of my life. The uncertainty was terrible," she says. "Dr. Van Noord said I was a medical mystery." 
One of the biggest challenges of treating epilepsy is not knowing what causes it, but the more information neurologists have about the seizures, the more successful treatment is likely to be. That's why the Scripps EMU is so valuable. 
"We are very fortunate that in our Scripps EMU, we have a trained EEG tech watching the patient around the clock," says Dr. Van Noord. 
"I'm on call 24 hours a day, but when I do have to go home and sleep, I know there are eyes on my patient. I'm not going to come in the next morning to learn that she had three seizures and no one knew. 
"If she has a seizure, the EEG tech calls me, and I can stay on top of what is happening. And I can adjust medication, if needed, and keep my patient safe." 
After several months without a seizure, Collopy returned to work as a designer at a tile store in Solana Beach. She can walk to work, but is looking forward to having her driver's license reinstated once she has been seizure-free for a full six months. 
She and Wagner are engaged to be married in May of 2024, and she plans to travel back to New York to shop for a wedding dress. 
"I'm just so grateful for Dr. Van Noord and the whole team at Scripps" she says. "I cannot thank the team enough for the hours, energy and effort they put into just sticking with me and figuring it out. I don't think I would be here without them." 
For Dr. Van Noord, being able to help patients like Collopy is the most rewarding part of her work. 
"Ariana is one of those success stories that reminds me of why I chose to do what I do," she says. "When I became a neurologist, I knew I was interested in epilepsy. When you can make a difference in just one person's life, that makes all the challenges worth it."  

This content appeared in San Diego Health, a publication in partnership between Scripps and San Diego Magazine that celebrates the healthy spirit of San Diego.