Treating hearing and balance disorders in San Diego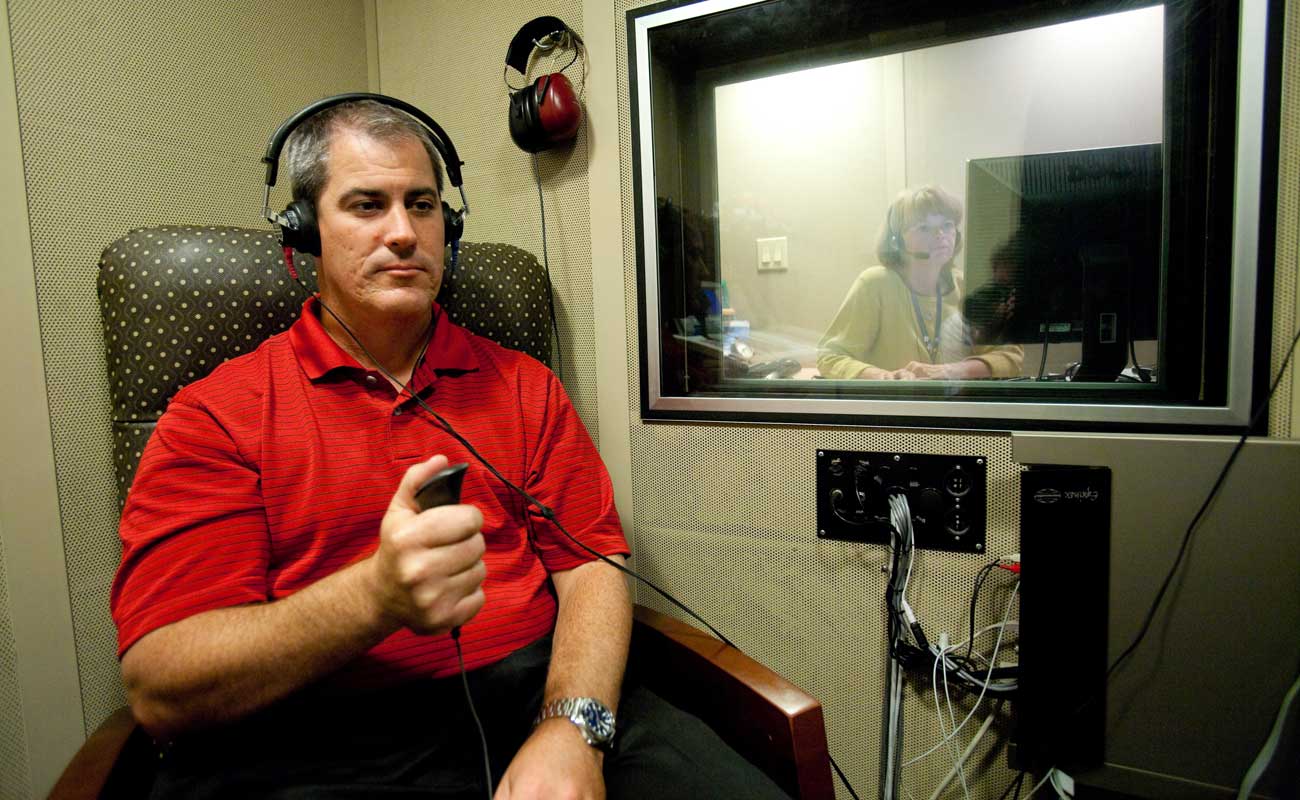 Treating hearing and balance disorders in San Diego
Scripps offers numerous audiology programs and services to meet the needs of adults, children and infants with hearing and vestibular (balance) disorders.
Through comprehensive hearing tests, evaluations and balance assessments, Scripps audiologists can establish whether patients hear within the normal range. They can also help determine the cause of hearing loss or vestibular abnormality and suggest a course of treatment from a wide variety of hearing aids and aural rehabilitation therapies.
Scripps audiologists are certified by the American Speech-Language-Hearing Association (ASHA) and/or the American Academy of Audiology (AAA). They provide care at several Scripps hospitals and clinics throughout San Diego.
If you have a hearing disorder or condition that requires medical or surgical treatment, our audiologists work closely with a wide range of hearing specialists and other experts within the Scripps network and can refer you to a doctor for specialized care.
Audiology services at Scripps
The audiologists at Scripps Health are dedicated to providing quality care for people with hearing impairment and vestibular (balance) disorders. Services vary by site and may include:
Comprehensive hearing test and evaluations for infants, children and adults
Vestibular (balance) testing using videonystagmography (VNG)
Central auditory processing evaluations
Cochlear implant evaluation and mapping
Hearing aid evaluation and fitting
Repair BAHA devices (bone-anchored hearing aid)
Custom ear plugs and swim molds
Assistive listening devices
Tinnitus consultations
Aural rehabilitation, including auditory training and lip reading (speech reading) lessons 
Depending on the cause and extent of your hearing loss, treatment options vary but can include hearing aids, cochlear implants, medications or surgery. 
Hearing test and evaluation
Hearing difficulty or hearing loss can make communicating difficult, which can strain relationships or cause challenges at work. The audiology department at Scripps can help, starting with a hearing test and evaluation. Once completed, your audiologist will discuss various options to determine an appropriate solution for you and help you overcome your hearing challenges.
Comprehensive hearing tests
A comprehensive hearing test, or "audiogram," defines the sounds you are able to hear and those that are outside of your hearing range. Your speech comprehension will also be evaluated, as well as other more in-depth audiology tests.
This information helps your physician and audiologist determine the best treatment plan for you, which can include medical intervention, hearing therapy, hearing aid device rehabilitation or a combined approach.
The audiometry tests we offer include:
Pure-tone audiometry, air-and-bone-conduction
Word recognition, speech recognition threshold and speech-in-noise testing
Acoustic immittance testing, including tympanometry, acoustic reflex, acoustic reflex decay and Eustachian tube function testing
Conditioned play and visual reinforcement audiometry for children
Hearing screenings for newborns using auditory brainstem response testing
Otoacoustic emissions testing
Sound field testing
Central auditory processing disorder test
A comprehensive hearing test, called an audiogram, examines your hearing sensitivity, or how the peripheral auditory system within the ear itself is functioning. But for a person to comprehend what is heard, the message must be received accurately by the brain. So if there are concerns with hearing beyond the ear, a central auditory processing evaluation may be recommended.
Tinnitus is the sensation of hearing sound — such as ringing, buzzing, roaring or hissing — when no external sound source is present. Tinnitus is a common problem, occurring in about 1 in 5 people. If you find your tinnitus to be very bothersome and significantly affecting your life, a consultation may be helpful to discuss treatment options and strategies to help you manage your tinnitus.
Hearing loss treatment and devices
If you have difficulty hearing, a Scripps audiologist can help determine the best treatment options based on the cause and severity of your hearing problem.
A common recommendation for hearing loss is the use of hearing devices or hearing aids. Your audiologist may suggest a hearing aid trial to demonstrate the benefits of a hearing device on your speech understanding.
There are several manufacturers and styles available. Your audiologist will help you decide what will work best for you based on your audiogram and specific hearing needs.
Getting new hearing devices is a process, not a one-time event. In addition to properly fitting your hearing devices, we will continue to provide:
Follow-up care
Hearing aid accessories
Hearing aid repairs
Hearing aid training to optimize your hearing
Assistive listening devices
Assistive listening devices are accessories and devices to help improve your hearing without hearing aids. They can also be used to maximize the effectiveness of your hearing aids or cochlear implants. Your audiologist may discuss and demonstrate a variety of devices, including listening systems for communicating via telephone, enjoying TV or music, and hearing in groups or lectures.
Custom earmolds and earpieces
Scripps audiologists work with professional laboratories to make custom earmolds for hearing aids, personal music players and telecommunications equipment. We also offer earmold impressions for:
In-ear monitors
Custom ear protectors designed for swimming
Reducing harm or annoyance from loud music, noise and gunfire
Cochlear implant evaluation and programming
Cochlear implants provide an opportunity to improve hearing when benefit from hearing aids is limited. Your audiologist can determine if you are a candidate, assist you with finding a surgeon, provide programming of the device, and teach you how to hear with it.
We also gladly work with patients who received their devices from other centers and will assist you to keep your hearing implant working well. We fit devices from a variety of cochlear implant vendors. (This service is currently only available at Scripps Clinic Del Mar.)
Auditory training and lip reading classes
We hear with our brain, not just our ears. Hearing devices or cochlear implants can provide adequate access to sound, but it is up to your brain to interpret and assign meanings to the sounds. If you struggle to understand speech in noise, rapid speech or group conversations, auditory training or lip reading classes may help you to gain skills and strategies to deal with these situations.
Balance assessment and fall prevention
Dizziness is one of the three most common complaints in the medical setting. But half of all patients reporting dizziness to their primary care doctor are never diagnosed. The first step to address imbalance or dizziness is to find the cause so proper treatment can follow.
Videonystagmography examines the function of the inner ear, or the vestibular system, through observation of eye movements associated with balance. Vestibular disorders are responsible for more than 50% of dizziness complaints.
Audiologists can identify the source of your balance problem, and this gives you a diagnosis by a physician. Once diagnosed, patients may be referred to a specially trained physical therapist who provides balance and vestibular rehabilitation.
We offer the following tests as part of the balance assessment:
Gans sensory organization performance test for an overall assessment of balance ability
Ocularmotor tests to examine how accurately eye movements coordinate with movement in the world around you
Positional and positioning tests to determine if your dizziness is elicited by changes in position or caused by dislodged crystals in the inner ear, known as benign paroxysmal positional vertigo
Tests of symmetry, including caloric testing to determine if one ear is functionally weaker than the other
Find audiology care near you
Contact us to make an appointment or find a Scripps audiology location near you. In order to schedule an appointment, you will need a referral from your physician. Check with your insurance company before you call.