Proton Therapy in San Diego at Scripps Health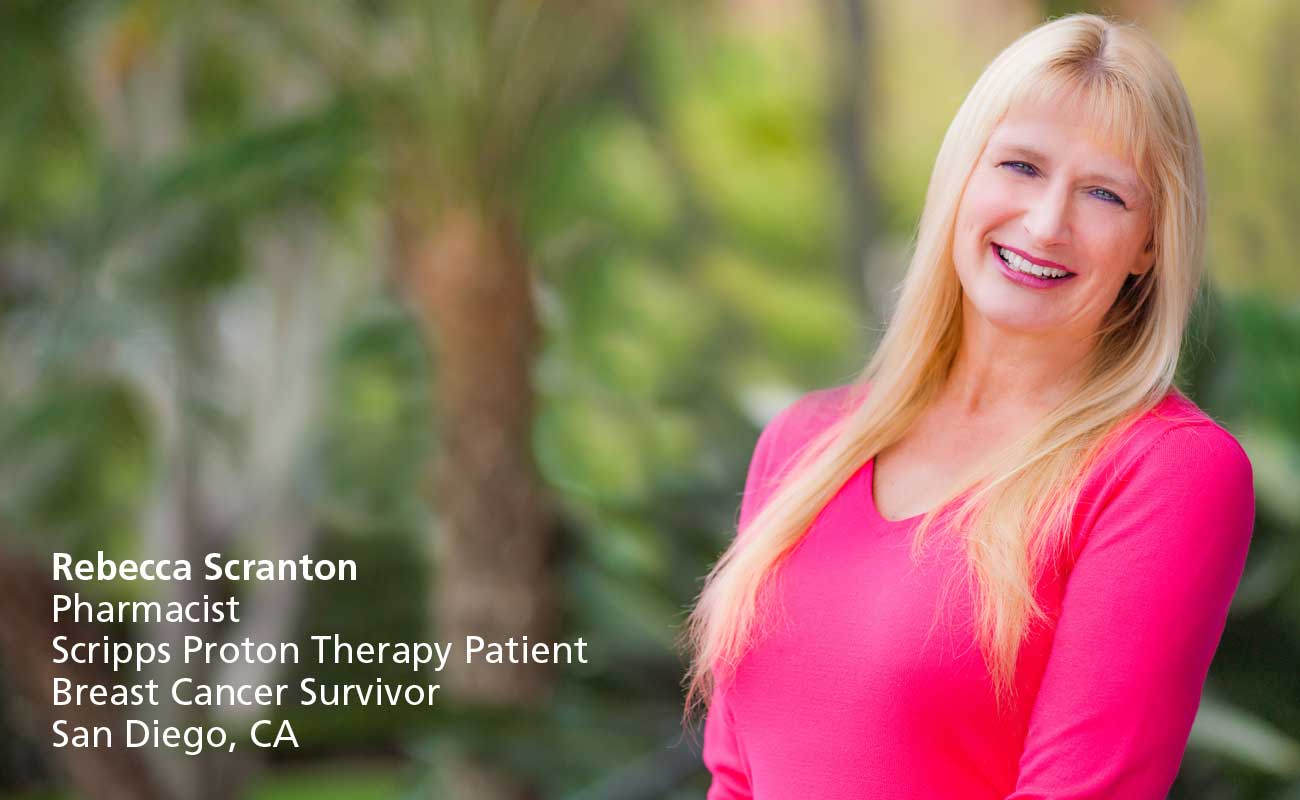 Proton Therapy in San Diego at Scripps Health
At Scripps Proton Therapy Center, you'll have access to some of the world's best doctors and the latest micro-targeting radiation therapy that can eliminate many types of cancers and benign tumors.
Scripps is advancing the fight against cancer in new ways by being the first U.S. proton therapy center to use pencil-beam technology in all of our treatment rooms. This helps provide patients with the promise of greater convenience and quality of life through reduced radiation exposure.

Learn more about proton therapy for cancer treatment.

From a former U.S. Olympic track star to active seniors to working professionals, proton therapy offers a non-invasive cancer treatment option. See their stories.
Explore your cancer treatment options
If you have been diagnosed with cancer for the first time — or are facing recurrent cancer — proton therapy may be an option in your fight against the disease.
Proton therapy is used to eliminate several cancers that historically have been only treated through traditional approaches, including surgery, chemotherapy and X-ray radiation. Proton therapy can be an exclusive treatment option, or provided as treatment in combination with surgery or chemotherapy, depending on a patient's cancer and condition.
Learn more about cancer treatment and proton therapy at Scripps.
Key benefits of proton therapy at Scripps
Precise targeting of cancerous or benign tumors
Reduced radiation exposure to vital organs
Reduced radiation exposure to healthy tissues
Non-invasive and convenient treatments
Personalized care from one of the world's best proton teams
Scripps proton therapy difference
Advanced proton therapy technology at Scripps with pencil-beam scanning differs from previous forms of proton therapy, as well as traditional X-ray radiation therapy.
Pencil-beam scanning sweeps a narrow proton beam back and forth across a tumor in microscopic strokes, while increasing their intensity and dose layer by layer inside the tumor.
Delivered with the accuracy of less than 1 millimeter, proton therapy releases a high dose of cancer-killing radiation that conforms precisely to the unique shape of the tumor. Doctors can stop the proton beams precisely to the tumor's edges. This becomes especially important for difficult-to-reach tumors close to vital organs such as the heart, lungs and sexual reproductive organs.
Proton beams also have a lower entrance dose of radiation than traditional X-ray radiation beams. Proton beams can be aimed and controlled to target tumors only, minimizing exposure and risk to patients, making proton therapy one of the world's safest and most effective cancer treatment options. Learn more about pencil-beam technology.
More than 9,000 prostate patients treated — and counting
Carl Rossi, MD, who serves as Medical Director of Scripps Proton Therapy Center, has treated more than 9,000 prostate cancer patients with proton therapy — the most of any physician in the world. See what Dr. Rossi, the foremost expert on proton therapy treatment for prostate cancer, says about the latest technology breakthroughs in proton therapy available at Scripps.
Reducing risks when fighting recurrent cancers
Because proton therapy minimizes radiation around the entire tumor, it is often ideally suited for treating recurring tumors in areas that have previously been treated with conventional radiation therapy. A study of recurrent head and neck tumors treated with proton therapy found that the treatment was well tolerated without any initial severe acute toxicity. Learn more.
Proton therapy for palliative care and pain relief
When patients have late-stage or metastatic cancers that are non-responsive to traditional treatments, proton therapy can be an option to provide palliative care and reduce pain. The precise targeting of proton beams with pencil-scanning technology reduces radiation exposure to damaged or vulnerable tissues and organs for patients who need specialized palliative cancer care.