Proton Therapy for Recurrent Cancer
Proton Beam Radiation for Recurrent Cancer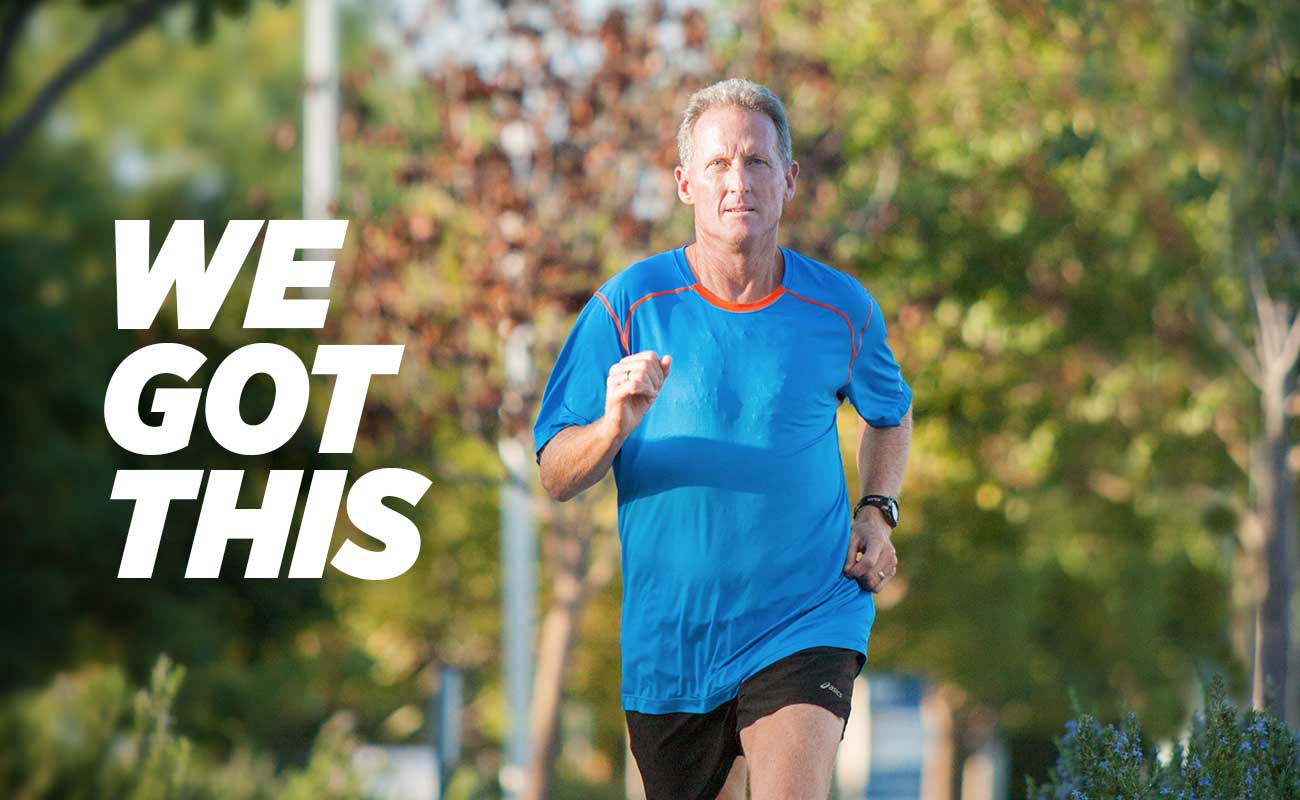 Proton Beam Radiation for Recurrent Cancer
We hope it never happens. But sometimes — even with the best medical care and the most advanced technology — cancer comes back. If it does, fight back with everything you've got and we'll fight with everything we've got — including proton therapy. Learn how proton therapy can deliver a precise beam of cancer-fighting radiation that limits exposure to surrounding healthy tissue.
Treatment for Recurrent Cancer

Treatment for Recurrent Cancer

When the three-time Olympian Steve Scott was diagnosed with prostate cancer, he researched all of his options and chose proton therapy at Scripps. Find out why.
What is recurrent cancer?
Cancer recurrence means that cancer has returned after it has been successfully treated. When treatment is successful, there is no sign of cancer detected in the body. Nonetheless, cancer may recur months or even years after treatment has been completed. Cancer may recur in the same place, such as the breast or prostate, or it may return in a different area, such as the bones, cervix, uterus or vulva.
Treatments for recurrent cancer
Treatments for cancer that has returned, also called a secondary cancer, depend on several factors including the type of cancer, when and where it recurs, and how advanced it is. In addition, your previous cancer treatments, such as radiation therapy, may affect your current treatment options.
Radiation treatment for recurrent cancer
Radiation therapy uses radiation to kill cancerous cells. When you receive radiation to a tumor, some of the radiation goes beyond the tumor and can potentially damage normal, healthy tissues and organs around the tumor. Normal tissues can absorb only a limited amount of radiation before irreversible damage is done that can cause serious side effects, permanent disabilities or even a new cancer.
It is extremely important to limit the amount of radiation to normal tissue when treating recurrent cancer. The healthy tissues around the recurrent tumor don't "forget" the previous radiation dose. There is a maximum amount of radiation that normal tissue can safely receive during your lifetime. This is known as your lifetime maximum dose. Any additional radiation continues to increase the risk of damage — often exponentially.
If cancer comes back after radiation therapy, treating cancer again with X-ray radiation in or near the same area is challenging and potentially very risky. The dose of radiation required to effectively treat the tumor may be too toxic for surrounding healthy tissues, but a lower dose may not be enough to kill the cancer cells.
Why proton therapy for recurrent cancer?
Proton therapy is an alternative cancer radiation treatment that can be an option to treat recurring cancers. With its ability to better concentrate dose in the target volume and limit dose elsewhere, it is often the best way to treat these challenging cases. Unlike conventional radiation, proton therapy is an extremely precise form of radiation treatment that enables us to target cancerous cells while limiting exposure to surrounding areas.
Proton therapy has been shown to deliver lower doses of radiation to surrounding areas than X-ray radiation. Because protons deposit their maximum energy directly in the tumor, exposure to your fragile healthy tissues is greatly reduced.
Even patients who have already had X-ray radiation and cannot receive more may be able to have proton therapy. Proton therapy minimizes radiation beyond the tumor, so it is often ideally suited for treating recurring tumors in areas that have previously been treated with conventional radiation therapy. One study of recurrent head and neck tumors with proton therapy found treatment was tolerated well without any initial severe acute toxicity.
Scripps Proton Therapy Center's precisely targeted pencil-beam scanning technique further reduces the amount of radiation to surrounding tissues, even when compared with other proton therapy technologies such as passively scattered protons. The radiation dose from pencil-beam scanning that extends beyond the target has been shown to be substantially less than passively scattered protons and intensity-modulated X-ray therapy (IMRT).
See the evidence supporting proton therapy as a treatment option for recurrent cancers.
To make the most informed decision about your care, we encourage you to learn more about the following:
Proton therapy is a highly precise form of external radiation therapy that can be used for tumor control in select patients. All cancer treatments have advantages and disadvantages. Be sure to discuss these, as well as your treatment options, with your cancer specialist.
Supporting evidence for proton therapy for recurrent cancer
Re-irradiation with scanned charged particle beams in recurrent tumours of the head and neck: acute toxicity and feasibility.
Jensen AD1, Nikoghosyan A, Ellerbrock M, Ecker S, Debus J, Münter MW. Radiother Oncol. 2011 Dec;101(3):383-7. doi: 10.1016/j.radonc.2011.05.017. Epub 2011 Jun 2.
Intensity-modulated radiation therapy, protons, and the risk of second cancers.
Hall EJ. Int J Radiat Oncol Biol Phys. 2006 May 1;65(1):1-7.
Spot-scanning proton radiation therapy for recurrent, residual or untreated intracranial meningiomas.
Weber DC, Lomax AJ, Rutz HP, Stadelmann O, Egger E, Timmermann B, Pedroni ES, Verwey J, Miralbell R, Goitein G; Swiss Proton Users Group. Radiother Oncol. 2004 Jun;71(3):251-8.
Nasopharyngeal Carcinoma: Repeat Treatment with Conformal Proton Therapy—
Dose-Volume Histogram Analysis
Lin R1, Slater JD, Yonemoto LT, Grove RI, Teichman SL, Watt DK, Slater JM. Radiology. 1999 Nov;213(2):489-94.