What to Expect from Proton Treatment
The Proton Therapy Experience at Scripps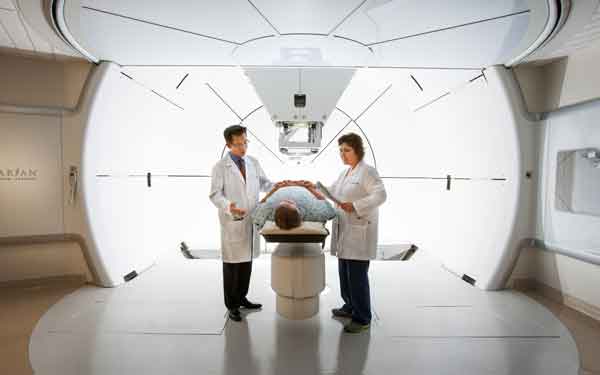 The Proton Therapy Experience at Scripps
Because no two patients – and no two health conditions – are exactly the same, our team at Scripps Proton Therapy Center collaborates with medical oncologists to develop an individualized cancer care plan for each patient.
Proton therapy may be used alone or in combination with chemotherapy. It may be prescribed following cancer surgery. The types of treatment and number of treatment sessions will depend on the type, stage and location of the tumor.
A step-by-step proton treatment guide can be found here (PDF, 1.9 MB).
How do I prepare for proton radiation therapy?
If proton therapy is deemed a treatment option for your cancerous or non-cancerous condition, you can typically expect to spend approximately five to eight weeks undergoing treatment at the center. As part of your care, we work with you and your insurance company to determine your benefits and coverage.
To start, you will have several meetings with your own specialized team of radiation oncologists, radiologists and physicists to create a personalized treatment plan. The medical team takes CT and/or MRI scans of the treatment area; imaging services are available on-site at the center for your convenience. The team uses computer modeling to formulate a proton treatment plan designed to deliver the maximum radiation doses to the tumor while minimizing the radiation exposure to healthy surrounding tissues.
Watch the video to see what to expect before treatment begins
Does proton therapy hurt?
Proton therapy is non-invasive, so treatment itself is typically painless. Most types of cancer — and even non-cancerous conditions — can generally be treated in five to eight weeks with proton therapy.
In order to help you feel as comfortable as possible, we match you with a patient care team that follows you every step of the way, including during treatment and in follow-up meetings to evaluate your results and progress.
To prepare for your proton radiation treatment, we conduct a "dress rehearsal." We check the positioning of the beam to ensure it is accurately set for your treatment. The proton beam can be delivered with incredible accuracy, to within less than 1 millimeter of a healthy tissue margin outside of the tumor, so it is important for technicians to carefully position you during treatment. Depending on the type of tumor, you may be outfitted with a specially designed body mold or mask to position you correctly.
While actual treatment time ranges from one to three minutes, you can expect to be in the treatment room for up to 30 minutes per session, depending on your tumor type, size and location. Full two-way video and audio are always on during treatments, allowing you and your medical team members to communicate throughout the process.
Watch the video to see what to expect during treatment
What is life during proton therapy like?
Proton therapy generally has minimal side effects, and most patients are able to continue their usual activities throughout their treatment, including working, exercising and socializing. You may be more tired than usual, so plan a realistic and flexible schedule that can be adjusted according to how you feel.
Because patients receive proton treatments every weekday for a number of weeks, they often get to know each other in the waiting areas and plan activities together after their daily treatments, such as dining out, easy hikes, bowling or painting classes. In addition, the Scripps Proton Therapy Center staff hosts weekly dinners for patients at a local restaurant and provides restaurant recommendations and sightseeing tips. This is especially beneficial for our many out-of-town patients who are staying in San Diego during their treatment.
Patients also can take advantage of yoga classes, support groups and other activities held at the Scripps Proton Therapy Center.
What should I expect after proton therapy?
Every post-treatment plan is also personalized to meet your needs. Your Scripps Proton Therapy Center doctor will meet with you to discuss your treatment plan following proton therapy, including a schedule of follow-up visits and any necessary tests, such as blood work or images.
If traveling to the Scripps Proton Therapy Center for follow-up appointments is a hardship, you may have the option to return to your oncologist or primary care physician for post-treatment monitoring.
Several of our past and current patients keep in touch through informal gatherings or our Facebook page.
Find out if proton therapy is a treatment option for you or someone you love.