Refer a Patient to the LVAD Program
For physicians: how to refer LVAD patients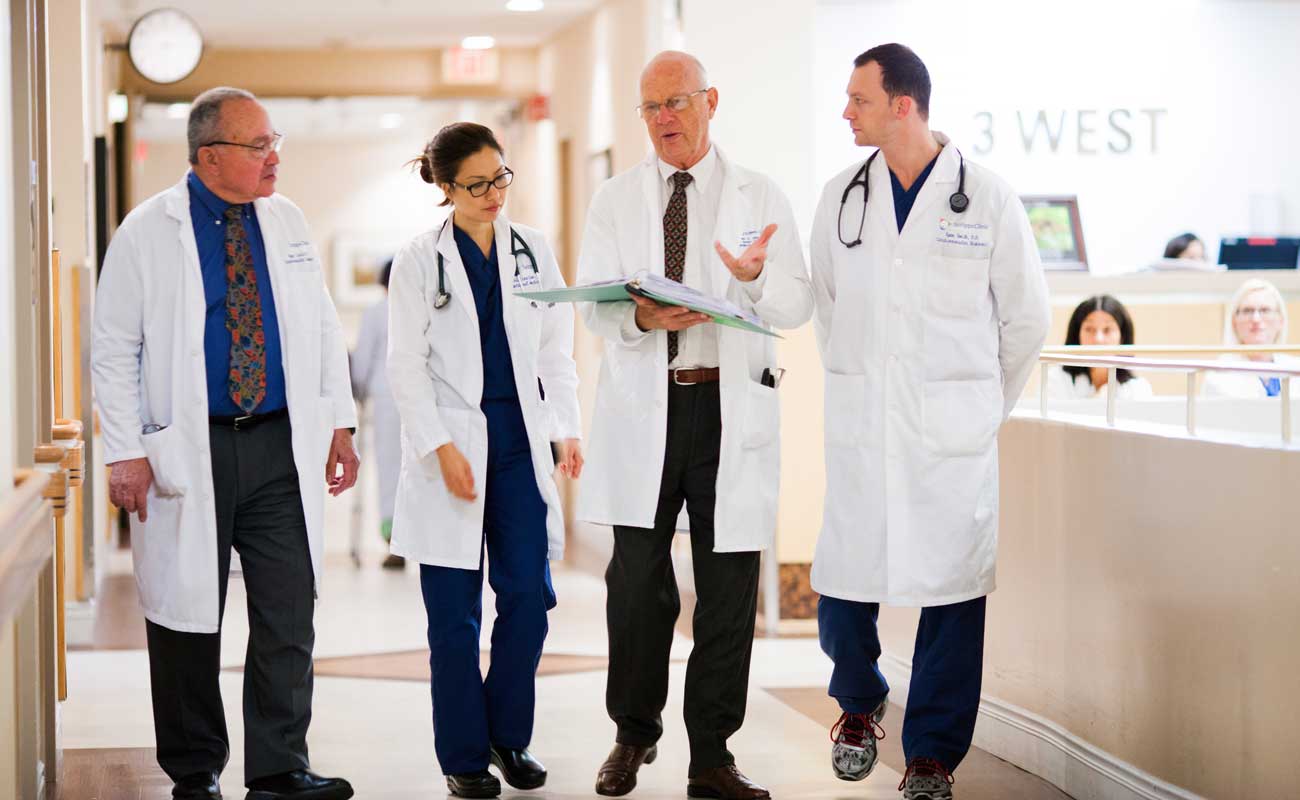 For physicians: how to refer LVAD patients
If your patients have heart failure, or acute cardiogenic shock, consider offering them the expertise of the Scripps heart failure/mechanical circulatory support (MCS) program.
Guidelines for referring LVAD patients
Patients who meet the profiles below may be eligible for an LVAD implant at Scripps.
Advanced or Chronic Heart Failure Patient Profile:
Ejection fracture <35%
More than one hospitalization or ED visit within the last year for heart failure
Systolic blood pressure < 100 mm Hg
Labile renal function
Unable to tolerate heart failure medications
Shortness of breath while dressing, showering, or walking one block
"Non-responder" to biventricular pacing
Acute Cardiogenic Shock Patient Profile:
Hemodynamic criteria: Mean PAP> 25 mmHg, CVP>15 mmHg, Cardiac Index <2.0L/min/m2
On any inotropes or vasopressors (Epinephrine, Dobutamine, Dopamine, Milrinone)
On intra-aortic balloon pump (IABP), Impella or ECMO
Treatment options for the Acute Cardiogenic Shock Patient include:
Revascularization (if appropriate)



Short-Term Support




Percutaneous Left Ventricular Mechanical Support (Impella)
ECMO (including portable option, such as CardioHelp for easier inter and intrahospital transfer)
Long-Term Support




LVAD
Cardiac transplantation evaluation
The Scripps LVAD program has earned the highest accreditation from The Joint Commission with the Gold Seal of Approval and Advanced Certification, and our experienced team of cardiologists and cardiothoracic surgeons have performed hundreds of successful left ventricular assist device (LVAD) implants for patients from across San Diego and throughout the Western U.S. with exceptional outcomes.
We perform LVAD implant surgeries in the state-of-the-art operating suites at Prebys Cardiovascular Institute. Prebys Cardiovascular Institute is ushering in a new era of heart care that includes dedicated units for heart failure patients and a trained multidisciplinary team that supports doctors and nurses in caring for our patients.
Scripps also offers the HeartMate 3 LVAD, which provides a new option for physicians managing advanced heart failure patients in need of short-term hemodynamic support (bridge-to-transplant or bridge to myocardial recovery). The system also provides patients living with their device new benefits that embody the evolution of left ventricular assist device (LVAD) therapy, such as improved blood flow in a pump that uses full magnetic levitation to reduce trauma to blood passing through the system.
Exceptional LVAD patient outcomes
Our LVAD program continually achieves outcomes that are among the best in the nation. Scripps submits data to the Interagency Registry for Mechanically Assisted Circulatory Support (INTERMACS), a North American registry for patients who are receiving MCSD therapy (such as LVAD), to compare our results against programs across the country.
These INTERMACS graphs (PDF, 260 KB) illustrate how our program performs regarding quality of life, functional status and overall mortality rates.