Artificial Disc Replacement
Reducing back pain and improving mobility
Artificial disc replacement, also known as total disc arthroplasty or spinal arthroplasty, is a surgical procedure designed to reduce neck or lower back pain as well as associated radiating limb pain due to degenerative disc disease, disc deterioration or injury.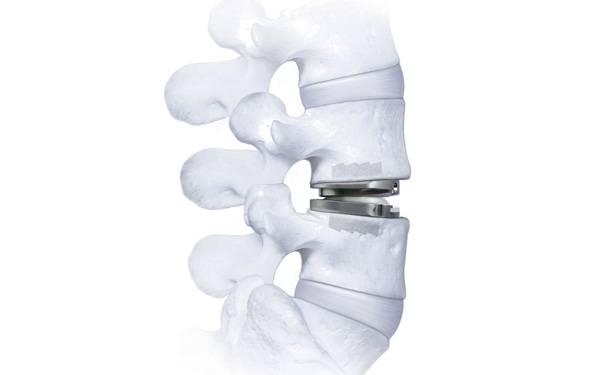 Spinal discs are pads that act as cushions between the bones, or vertebrae, of the spinal column. When these discs become damaged or herniated, pain and reduced mobility may result.
Artificial disc replacement is a safe, long-lasting surgical option to replace the damaged or degenerated disc in the lower back (lumbar) or neck (cervical) with an artificial implant.
Get expert, comprehensive care at Scripps in San Diego
Physicians at Scripps have extensive experience with artificial disc replacement and were the first in California to perform the procedure at Scripps Memorial Hospital Encinitas in 2001. Since then, the surgeons at Scripps have been involved in multiple clinical trials and FDA studies, as well as the development and training of new replacement disc devices for both lumbar and cervical spine surgeries.
Our team of surgeons treats both neck and lower back disc degeneration and injury and have been investigators for prominent artificial disc clinical trials. In addition to surgical expertise, Scripps offers comprehensive orthopedic, neurologic and physical rehabilitation programs designed to help you achieve the best possible outcome.
The benefits of artificial disc replacement
Artificial cervical or lumbar disc replacement is an alternative to spinal fusion surgery.
With spinal fusion, two bones in the spine are fused together to reduce strain on the disc. While it can reduce pain, there is a 25% chance that additional surgery will be needed within 10 years because the discs above and below the fused bones can prematurely degenerate. Unfortunately, having additional fusion surgery can significantly reduce mobility of the spine.
Similar to a knee or hip replacement, artificial disc replacement surgery replaces the affected spinal disc with a synthetic disc. This approach allows the spine to move as it normally would while causing less stress and strain on the adjacent discs. Replacement of the disc with an artificial implant could reduce the chance that the discs above and below the prosthesis will wear out and require additional surgery.
Additional benefits of artificial disc surgery in place of spinal fusion surgery can include:
Reduced possibility of secondary surgery
Faster recovery time and a shorter rehabilitation time
Preserved range of motion
Cervical artificial disc replacement patients often do not need to wear a neck collar during recovery
In cases where a spinal fusion surgery was performed and a second surgery is now needed, an artificial disc could be an alternative.
Talk to your surgeon to find out if artificial disc replacement surgery is right for you.