Study Finds Exercise More Important than Diet in Losing Weight
Physician suggest a regular walking routine to lose weight and keep the weight off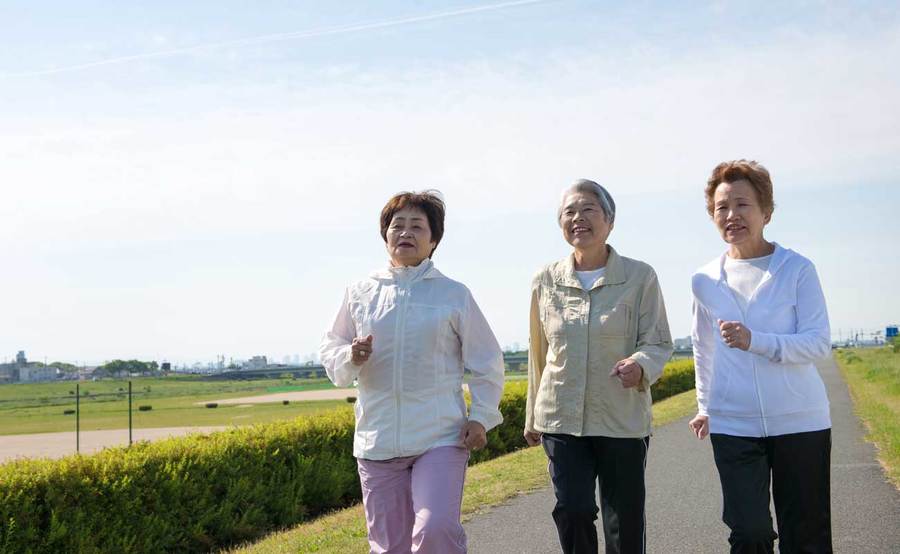 by Paul S. Phillips, Director of Interventional Cardiology
Was one of your New Year's resolutions to increase your physical activity? Perhaps you joined a gym or began taking brisk walks three or more days a week? If so, and you're still waiting to see the results, you should continue with your exercise routine — or even step it up a bit.
A recent study published in the Journal of the American Medical Association found that postmenopausal women who exercise regularly at moderate intensity, while keeping their usual diet, can achieve significant decreases in body weight and body fat, and presumably reduce their risk of diabetes, heart disease, hypertension, postmenopausal breast cancer and many other problems associated with being overweight or obese.
The women achieved this health benefit over a year's time, mostly with brisk walking, but also with aerobics and other moderate intensity exercise for 45 minutes or more, five days a week. The women also achieved better cardiorespiratory fitness as well, which does not occur with diet-induced weight loss.
This study's findings are particularly important because half of the women in our country are overweight or obese and the prevalence among women is particularly high.
The study examined 173 sedentary, overweight (body mass index 24.0 and >33% body fat), postmenopausal women aged 50 to 75 years who were living in the Seattle, Wash., area between 1997 and 2001. Participants were randomly assigned to an intervention consisting of a gym, home-based moderate-intensity exercise, or a stretching control group.
The study found changes in body weight and hip and waist circumferences at 3 and 12 months, but it took 12 full months for the major decreases in intra-abdominal fat to occur.
Women in the exercise group participated in moderate-intensity sports/recreational activity for a mean of 3.5 days per week for a total of 176 minutes per week. Walking was the most frequently reported activity. Exercisers showed statistically significant differences in body fat over the control group after 12 months. Greater body fat loss was observed with increasing duration of exercise.
The conclusion: Regular exercise, such as brisk walking, results in reduced body weight and body fat among overweight and obese postmenopausal women.
So women who started a walking routine as their New Year's resolution should not be discouraged. Maintaining those goals over longer periods of time will offer better health goals. Remember, it's always a good idea to consult with your family physician before embarking on a strenuous exercise routine.
This Scripps Health and Wellness tip was provided by Paul S. Phillips, M.D., director of interventional cardiology, Scripps Mercy Hospital.