Preventing Sports Related Injuries in Children
Simple steps can help prevent childhood sports-related injuries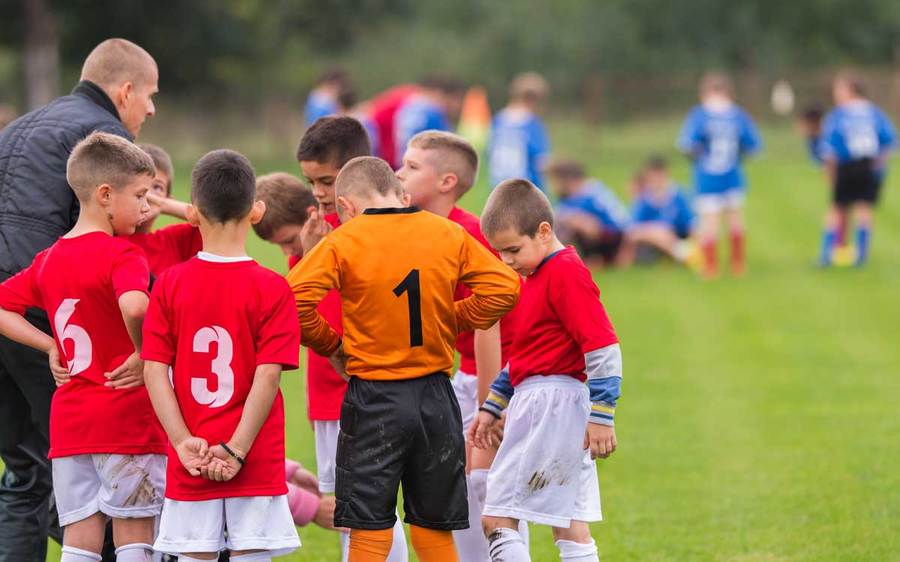 by Dr. Norman Kane
More than 30 million children participate in organized sports in the United States, with millions more participating in recreational activities such as skateboarding, in-line skating and bicycling.
Each year, approximately 775,000 children are treated in hospital emergency departments for sports-related injuries and about 25 percent of these injuries are considered serious.
Experts estimate that about half of the injuries children suffer during sports activities are preventable by following a few simple guidelines.
Helping to prevent childhood sports injuries
These guidelines will help children stay safe, without taking all the fun out of the activities:
Supply children with proper equipment, such as helmets, pads, protective eyewear and mouth guards. Properly maintained equipment assures its effectiveness and can save a child from suffering severe injuries such as head trauma, eye damage or broken bones.
Make sure playing surfaces are properly maintained and are appropriate for the activities being conducted on them. Playing fields that are full of holes and ruts could cause a child to fall and get hurt. In addition, basketball courts and running tracks should not be made of concrete. These types of surfaces could lead to injury after a fall or even cause shin splints, which occur from constant running on hard surfaces.
Adults should supervise activities at all times and be committed to safety. Qualified adults should always supervise team sports and other activities. A commitment to safety and injury prevention includes having people present who are trained in first aid and CPR.
Addressing child sports injuries
Regardless of a parent's best efforts to prevent a child from getting hurt while playing sports, injuries do occur. Children suffer from three common types of sports injuries: acute injuries, overuse injuries and re-injuries.
Acute Injuries
Acute injuries in younger children typically include bruises, sprains and strains. However, older children commonly sustain more severe injuries, such as broken bones and torn ligaments. Acute injuries also include damage to the eyes and brain.
If an acute injury is affecting a child's function, first aid should be administered immediately. The child should then visit a physician immediately for further assistance or, if the injury appears severe, they should be taken to the nearest hospital emergency department.
Overuse
Overuse injuries occur from repetitive actions that put too much stress on the musculoskeletal system. Child athletes often suffer from this type of injury because of the constant strain that is applied to developing bones and muscles. Overuse injuries range from "Little League elbow" and "swimmer's shoulder" to shin splints and anterior knee pain.
If a child complains of pain associated with overuse, have the child examined by a physician who can then determine whether it's necessary to see a sports medicine specialist. Prompt diagnosis and treatment of overuse injuries are crucial to preventing the development of a chronic problem. After recovery, adjustment in the child's technique and/or training schedule may be necessary to prevent recurrence.
Re-Injuries
Re-injuries occur when an athlete returns to a sport before a previous injury has sufficiently healed. An injured child-athlete is at a great risk for re-injury when recovery isn't quite complete. Returning to the sport before a previous injury has completely healed places stress upon the injury and forces the body to compensate for the weakness, which may put the athlete at greater risk for injuring another body part.
This type of injury can be avoided by allowing the injury to completely heal. Once the doctor has given approval to return, you can help your child prevent re-injury by properly warming up and cooling down during exercise.
Participating in sports carries value, despite risks
Involvement in sports can be very important for children as exercise can reduce their chances of developing health problems related to inactivity, including obesity. Sports also help children build social skills, learn team skills and develop a general sense of well-being.
Encouraging safe sports participation with your children is great way to help them stay healthy and happy for years to come.
This Scripps Health and Wellness tip was provided by Dr. Norman Kane, Scripps Memorial Hospital La Jolla.