Breakthrough Shoulder Injury Research to be Presented at National Conference
Scripps doctor's work to be highlighted at meeting of American Academy of Orthopaedic Surgeons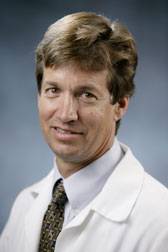 San Diego – Breakthrough research into the treatment of shoulder injuries, led by Scripps Clinic orthopedic surgeon Dr. Heinz Hoenecke, will be presented during the annual national conference of the American Academy of Orthopaedic Surgeons, Feb. 15 to 19 in San Diego.
Dr. Hoenecke's body of research during the past eight years has led to important changes in how shoulder injuries are treated. His research began with the goal of finding the best way to implant and align prosthetic shoulders.
At that time, most joint replacement surgeries were performed on lower, weight-bearing extremities such as knees and hips. The medical community believed the strategy for replacing lower-extremity joints – using the shape and position of the bones to assess mechanics – would also apply to replacement of upper extremities, such as the shoulder.
"We felt these traditional beliefs were off base, because in the shoulder, muscles are more important than bones in transmitting mechanical forces," said Dr. Hoenecke. "But to establish this as fact, we had to demonstrate how forces move across the shoulder, which required developing new technology that wasn't previously needed. Then we needed to collect data to disprove the belief that hip and knee replacement strategies would work in shoulders."
Under Dr. Hoenecke's leadership, Scripps developed a sophisticated 3-D computer-animated shoulder simulator, which uses the same type of software used for testing bridges and buildings. The program measures how much stress is put on muscles during various motions. "We found that it didn't statistically hold up that you could predict where the force would be occurring in the shoulder, or how the device would hold up over time, by simply looking at the bones," Hoenecke said.
Knowledge gained from this technology and research has enabled Scripps to develop expertise in positioning shoulder implants. Further research by Hoenecke's team at the Shiley Center for Orthopaedic Research and Education (SCORE) established the first clear indication that the human scapula is not a single bone, but rather a modular structure of multiple pieces that come together – a finding that has helped doctors refine the alignment of shoulder implants.
Scripps' 3-D shoulder simulator model also allows doctors to perform "virtual surgeries" on laptop computer the night before surgery. The computer modeling program is believed to be the most sophisticated of its kind in the world, with the capability to examine a wide variety of factors such as accelerations, forces, displacements, impingements, muscle tension and muscle wrapping.
Dr. Hoenecke, who is head team physician for the San Diego Padres, also helped develop a range of motion program using the Wii game device, which is used to digitally measure the shoulder flexibility of Padres pitchers. He has also overseen the creation of a new iPad app that will help with day-to-day tracking of pitchers' health symptoms when it is put into use in 2011.
Dr. Hoenecke said he has gained valuable cross-sharing between professional athletes and everyday patients. He says the subtleties he has learned to detect in Major League pitchers has helped him make better health assessments and care recommendations for recreational athletes and people engaging in everyday activities.
Earlier this year, Dr. Hoenecke's body of research was honored with the Thornburg Award, given annually to a Scripps Clinic surgeon for significant research achievements.
Founded in 1924 by philanthropist Ellen Browning Scripps, Scripps Health is a $2.3 billion, private not-for-profit integrated health system based in San Diego, Calif. Scripps treats a half-million patients annually through the dedication of 2,500 affiliated physicians and 13,000 employees among its five acute-care hospital campuses, home health care services, and ambulatory care network of physician offices and 22 outpatient centers and clinics.
Recognized as a leader in the prevention, diagnosis, and treatment of disease, Scripps is also at the forefront of clinical research, genomic medicine, wireless health care and graduate medical education. Scripps has been recognized by Thomson Reuters as one of the Top 10 health systems in the nation for quality care. With three highly respected graduate medical education programs, Scripps is a longstanding member of the Association of American Medical Colleges. More information can be found at www.scripps.org.