Scripps Launches Comprehensive Driver Assessment Program
Note to Patients: Pricing for services have changed since this news release was originally posted in 2011. Visit the Scripps Driving Safety Evaluation Program or call undefined for updated information.
Program for those affected by stroke, brain injury, advanced age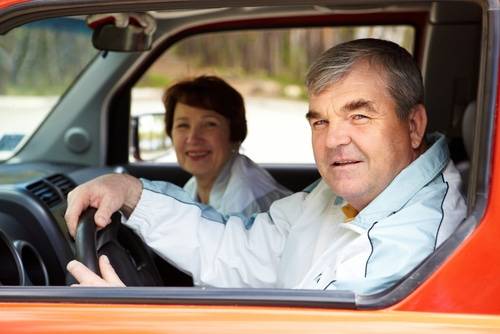 People who want to determine their capacity to safely drive a motor vehicle after having a stroke or brain injury – or whose faculties may be impaired by aging – now have a new avenue to get an objective perspective on their abilities.
The rehabilitation center at Scripps Memorial Hospital Encinitas recently launched a comprehensive driving assessment program as a resource for the greater San Diego County and surrounding communities. The program is available to individuals and their families and friends who may be wrestling with the difficult decision of whether it's safe to resume or continue driving.
"Getting behind the wheel without all of the necessary skills presents serious health risks to everyone on the road," said Dr. Michael Lobatz, medical director of the rehabilitation center at Scripps Encinitas. "Our program can provide peace of mind by taking the guesswork out of whether driving is a safe option for certain patient populations."
Strokes and brain injuries can impair many of the competencies needed for driving, such as vision, concentration, reaction time and endurance. With time and therapy, these abilities can sometimes be restored sufficiently to allow patients to resume driving. The aging process can also cause driving skills to decline, but recognizing the signs may be more difficult since they come about more gradually than sudden-onset health conditions.
More than 700,000 people experience strokes annually in the United States, and approximately 1.7 million people suffer traumatic brain injuries every year. More than 39 million people in America today are 65 or older, and those numbers are expected to increase in the years ahead.
The Scripps Encinitas driving assessment program offers a variety of objective evaluation tools. These include a computerized driving simulator, a dual-control assessment vehicle and driving-specific vision and reaction-time testing equipment. All participants in the program are evaluated by a certified driving rehabilitation specialist and occupational therapist.
Participants in the program are either self-referred, or referred at the suggestion of a physician, family member of friend. Each evaluation begins with a clinical evaluation by an occupational therapist to gauge the participant's motor skills, range of motion and cognitive functioning.
If appropriate, the participant will next undergo an assessment on the interactive driving simulator, located in a "zero-risk" environment in the Scripps Encinitas rehab center. Sitting in the simulator's driver seat, the participant uses the steering wheel, dashboard and brake and gas pedals to navigate through a virtual road trip as seen on a widescreen TV monitor. A computer records the participant's responses to the various roadway situations, while the driving rehab specialist observes behavioral responses to the challenges encountered.
Participants who satisfactorily complete the driving simulator (and who have a valid California driver's license) will then go through an evaluation with the driving rehab specialist in the hospital's dual-control assessment vehicle. These sessions may progress onto an open roadway, depending on the driver's performance. The driving rehab specialist has the ability to control the vehicle at any time if necessary.
Following the assessment, the driving rehab specialist reports findings to the participant's physician. The physician then makes a final determination about the participant's capacity to drive, and will contact the California Department of Motor Vehicles if appropriate. The need for subsequent DMV testing will vary, depending on each individual situation.
The full program takes approximately two hours to complete, and is offered Mondays, Tuesdays and Thursdays, subject to availability by appointment. Out-of-pocket cost to participate is $425. More information is available by calling the rehabilitation center at Scripps Encinitas at 760-633-6507.
The driving simulator and assessment vehicle were acquired through philanthropic gifts by the Green family of Rancho Santa Fe and the Briggs family of Carlsbad.
"This program is for anyone who has observed diminished driving skills in a loved one or themselves, or is required by law to take a medical clinical evaluation driver skills test," says Farrell Sheffield, certified driver rehab specialist with Scripps Encinitas. "In many cases, it can be a bridge back to driving. In others, it's an important intervention that can help prevent a potentially tragic outcome on the road."