How the Padres Manager Keeps Himself in Playing Shape
Bud Black shares his recipe for good health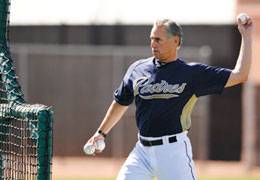 Padres manager Bud Black's 2010 National League Manager of the Year honor is based largely on his strategic approach to the game.
Black, 53, is pretty savvy when it comes to managing his health, too. How does he keep himself in playing shape, some 15 years after his last appearance as a Big League pitcher?
Heinz Hoenecke, MD, the Padres head team doctor from Scripps Clinic, believes it's a combination of focus and work ethic. "He always seems to be conscious of doing the right things with his health, whether it's eating, exercising, or any other part or day-to-day living," Dr. Hoenecke says.
Black has specific strategies when it comes to his diet. "I try to stay away from soft drinks and desserts," he says. "And I keep an eye out to avoid foods that are high in fat, which aren't good for you. I stick to three meals a day and for the most part, I eat whatever I want – but in moderation."
The 6-foot-2, 192-pound Black maintains a vigorous year-round exercise regimen. In Spring Training he spends full days on the field, but finds time for cardio or weight work afterward. During the regular season he starts his days with a workout, combining cardio, weight training and core strengthening. And in the off-season, Black stays active four to five days a week, adding golf, skiing, biking and jogging to his repertoire.
He also stays current on his health checkups and screenings, including colonoscopy and prostate cancer exams, which are recommended for most men starting at age 50. "We have a family history of melanoma, so twice a year I go through a pretty extensive screening of my skin," he says.
Maintaining a work-life balance is important to Black. "Watching my two daughters play sports has been relaxing and fun," he says of his daughters Jamie (a high school volleyball player) and Jessie (now a collegiate gymnast). Black also enjoys attending Chargers games and watching his alma mater, San Diego State University, compete in football and basketball.
"Bud proves it is possible, if the motivation is there, to maintain excellent health no matter how crazy your schedule is," says Scripps Clinic's Dr. Harry Albers.
Black credits the Padres medical staff from Scripps with keeping him, his family and the Padres organization healthy. "The care that Scripps provides has been fabulous," he says. "When I get asked by personal friends and acquaintances, I always recommend Scripps doctors to connect with."
Scripps has been the official health care provider to the Padres since 1981.