North County OB-GYN Joins Scripps Clinic
Practice expands Scripps Clinic's women's health care services in San Diego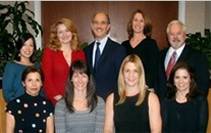 Practice expands Scripps Clinic's women's health care services in San Diego
Scripps Health has acquired North County OB-GYN Medical Group in an agreement completed today. The acquisition creates the eleventh Scripps Clinic location in San Diego County.
The seven obstetrics and gynecology physicians have joined Scripps Clinic Medical Group, which includes more than 400 physicians practicing in more than 50 areas of medicine and surgery. Scripps Health contracts for the exclusive services of the Scripps Clinic Medical Group physicians through the Scripps Medical Foundation.
The group includes Kirstin Lee, MD; Allan Silver, MD; Tracy Ruymann, MD; Kelly Harkey, MD, MPH; Elizabeth Silverman, MD; Renee Nelson, MD; Kimberly Washkowiak, MD and Azar Bastanfar, CNP. Each of the physicians is board certified by the American Board of Obstetrics and Gynecology, and the practice's ultrasound program is accredited by the American Institute of Ultrasound Medicine.
"We are pleased to provide excellent patient care under the Scripps name," said Dr. Lee. "Our practice has served the San Diego community for more than 40 years, and our patients can expect the same high-quality service they have always received."
Scripps Health has acquired the assets of North County OB-GYN Medical Group, located in the XiMED building on the campus of Scripps Memorial Hospital La Jolla, and the practice's employees are now employed by Scripps Health.
"The physicians and staff are highly respected members of the San Diego medical community," said Robert Sarnoff, MD, president of Scripps Clinic Medical Group. "As members of Scripps Clinic, they will now have greater access to the Scripps Health network to further their commitment to provide the best care for their patients."
Current patients should experience no change in their care. The group has a long-standing relationship with Scripps Health. All of the physicians currently practice at Scripps Memorial Hospital La Jolla and have delivered more than 730 babies there in 2010.
This is Scripps Health's fifth medical group acquisition since 2008. Previous acquisitions include Sharp Mission Park Medical Group, Penn Elm Medical Group, Del Mar Medical Clinic and North Coast Women's Care.