Scripps Health Breaks Ground on Scripps Cardiovascular Institute
$456 Million Institute will be Comprehensive Heart Center for 21st Century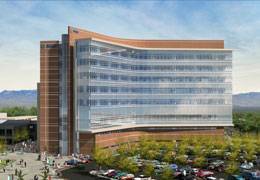 Building on its legacy as San Diego's leading provider of heart care services, Scripps Health today celebrated the start of construction for the $456 million Scripps Cardiovascular Institute, a center for innovation that will bring together leading physicians and premier cardiovascular services to San Diego County.
"Our vision is to build the world's finest cardiovascular institute right here in San Diego – providing the best in heart care for our community and serving as a destination for heart patients everywhere," said Scripps President and CEO Chris Van Gorder. "Scripps Cardiovascular Institute will be a catalyst for collaboration, drawing on the clinical expertise of some of the nation's most brilliant physicians and scientists, the most advanced technology and ground-breaking clinical research."
Scripps Cardiovascular Institute is the cornerstone of a 25-year master plan that will transform the Scripps Memorial Hospital La Jolla campus and redefine health care in San Diego for the 21st Century. Scripps Health is replacing the existing hospital with three new hospital towers to meet state earthquake safety mandates. The first of these towers will serve as the "heart" of the Scripps Cardiovascular Institute. The seven-story, 383,000-square-foot building is scheduled to open for patient care in 2015. It will feature 108 in-patient beds in private rooms, 60 intensive care beds, six state-of-art operating rooms, and as many as six cardiac catheterization labs with the most advanced medical technology.
Destination Hub of Heart Care Innovation
Scripps Cardiovascular Institute will integrate the highly respected cardiovascular programs from throughout the Scripps Health system and Kaiser Permanente. The two non-profit health systems recently agreed to a 10-year extension of their 30-year partnership. Under the agreement, Scripps is the exclusive provider of cardiac surgery and interventional cardiology to the more than 500,000 Kaiser members across San Diego County.
"Kaiser Permanente and Scripps have a long history of working together for the good of the community," said Mary Ann Barnes, senior vice president and executive director for Kaiser Permanente San Diego. "Through the expertise of the Kaiser Permanente and Scripps physicians, Scripps Cardiovascular Institute will provide access to innovative, leading edge cardiovascular health care for not only Kaiser patients, but all of San Diego."
Scripps Cardiovascular Institute will build on a legacy of Scripps breakthroughs in pioneering surgical procedures, landmark studies, genomic medicine and wireless technology to provide the most advanced treatment options available to patients with cardiovascular diseases. Every year, more than 55,000 patients receive their cardiovascular care from Scripps, making it the largest heart care provider in the region. And Scripps is the only cardiovascular program in the region consistently recognized by U.S. News & World Report as one of the best in the country.
The building design was developed with input from more than 200 physicians, nurses and clinical staff to ensure efficiencies that will foster exceptional care in a safe, comforting environment. Large expanses of windows will take advantage of natural light, and each private patient room features a visitor zone by the window to include family members as part of the healing team.
"The hospital incorporates evidence-based design principals throughout the patient care areas," said Brent Eastman, MD, chief medical officer for Scripps. "Computerized room-level observation stations, a decentralized medication dispensing process, and decentralized nurse stations will allow caregivers to closely monitor patients and facilitate communication with family members."
In addition, the design incorporates natural light, views of nature, reduced noise and a subdued color palette that studies show increase the patient's sense of well-being and help in the healing process. Patient rooms will offer a variety of amenities, including wireless Internet access, LCD screen televisions and pullout couches so family members can stay comfortably overnight.
Situated 1,600 feet away, the new Central Energy Plant will be a cast-in-place concrete structure encompassing three levels, with two of the levels located below grade. The energy plant will provide air conditioning, heating, medical gas, steam, fuel storage, waste storage, and emergency generators for the new hospital tower.
Jacobs Engineering Group Inc. is serving as the construction management firm on behalf of Scripps Health. McCarthy Building Companies, Inc. has been retained as the design-assist general contractor and HOK Architects is the project architect.
A Legacy of Quality Health Care
Established on Prospect Street in downtown La Jolla in 1924 through the vision of Ellen Browning Scripps, Scripps Memorial Hospital La Jolla moved to its current location in 1964. Today, the hospital provides care to more than 140,000 patients annually, is equipped with 389 beds, and has more than 2,400 employees and approximately 900 affiliated physicians.
Philanthropy has continued to play an important role in Scripps La Jolla's growth. The hospital expansion will be financed by operating revenues, borrowing and community support. To date, $35 million in philanthropic gifts have been raised toward the $125 million fundraising goal for the first hospital tower, which includes naming opportunities.
"Community support always has been a significant part of Scripps history," Van Gorder said. "We are thankful for that. It's the generosity of grateful patients and others that has made us what we are today, and it will be that generosity that will shape us into who we become in the future."
The Scripps Cardiovascular Institute is part of improvements being made throughout the Scripps Health system. Projects include a new emergency department and critical care building, medical office building and parking structure at Scripps Memorial Hospital Encinitas; the new Conrad Prebys Emergency and Trauma Center, a new parking structure and central energy plant at Scripps Mercy Hospital San Diego; the new Scripps Proton Therapy Center and the Scripps Radiation Therapy Center. Other facility improvements include seismic upgrades and investment in new information technology.