Darlene Shiley Commits $5 Million to Musculoskeletal Center at Scripps Clinic
Facility to be named the Donald P. and Darlene V. Shiley Musculoskeletal Center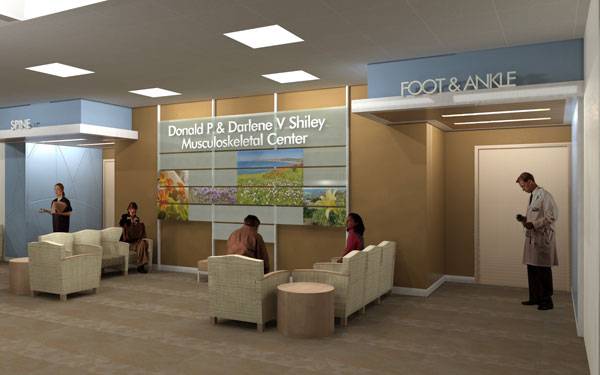 Darlene Shiley has committed $5 million to support advanced orthopedic care and research at Scripps Clinic's comprehensive musculoskeletal care facility, which will centralize orthopedic surgery, neurosurgery, sports medicine, podiatry, rheumatology and research.
The Donald P. and Darlene V. Shiley Musculoskeletal Center will provide patients with access to a wide range of medical services in one convenient, specially designed location on the first floor of the Scripps Clinic Torrey Pines Anderson Outpatient Pavilion in La Jolla. By centralizing programs, patients will save time and will benefit from enhanced care quality.
"Darlene and her late husband, Donald, have been part of the Scripps family for more than three decades – supporting programs and services across a wide continuum of care from bench to bedside – and we are very fortunate to be the beneficiary of their continued generosity and support," said Chris Van Gorder, president and chief executive officer of Scripps Health. "This gift underscores their commitment to the health of our community, and it will help increase access to the world-class orthopedic treatment and care for which Scripps is well known."
The Donald P. and Darlene V. Shiley Musculoskeletal Center will serve as a one-stop shop for state-of-the-art diagnostics, treatment, surgery, rehabilitation and routine and follow-up appointments. By concentrating the programs, health care providers will have more opportunity to engage in the kind of collegial exchanges that are key to the robust training of medical professionals and the nurturing of fruitful research.
The project is scheduled to begin this June and should be completed by January 2015.
"The support of Darlene Shiley creates a center to heighten the importance of musculoskeletal health to patients and their quality of life," said Steven Copp, M.D., who heads the division of orthopedic surgery at Scripps Clinic and Scripps Green Hospital. "It also allows us the opportunity to expand our reach within the community in musculoskeletal research and patient care."
The need for orthopedic services will only grow in the coming years as the population ages and more people seek ways to maintain an active, mobile lifestyle. Musculoskeletal services already account for more than 100,000 patient visits at Scripps Clinic annually and more than half of all surgeries performed at Scripps Health facilities.
Dating back to 1980, the Shileys' philanthropic gifts to Scripps total more than $15 million, supporting programs and services related to heart care, orthopedics, neurology and clinical research. Their generosity has contributed to leading-edge research, education and care through the Scripps Clinic Translational Research Fellowship, the Shiley Pavilion, the Shiley Chair in Orthopedic Research, the Scripps Green Hospital Electrophysiology Laboratory, and the Shiley Center for Orthopaedic Research and Education (SCORE), a state-of-the-art research center where the world's first electronic knee (or "e-knee") was implanted.
"Darlene and Don have been instrumental to the growth and development of orthopedics and orthopedic research, as well as the initial concept of the musculoskeletal center, since the early 1980s at the clinic," said Clifford Colwell, M.D., who holds the Shiley Chair in Orthopedic Research at SCORE. "We would not be in the position of national prominence without their support." Dr. Colwell was Donald Shiley's orthopedic physician for many years before he passed away in 2010.
One of the earliest donations from Darlene Shiley established the Donald P. Shiley Visiting Lectureship and served as a Christmas gift for her husband. Donald Shiley was founder and retired chairman of a pioneering biomedical firm that significantly advanced development and use of state-of-the-art medical devices in cardiovascular surgery, including the Bjork-Shiley Heart Valve.
Learn more about Scripps Health, a nonprofit integrated health care system in San Diego, Calif.