Scripps Encinitas Celebrates Opening of Hospital Expansion July 1
$94 million project includes new ER and inpatient rooms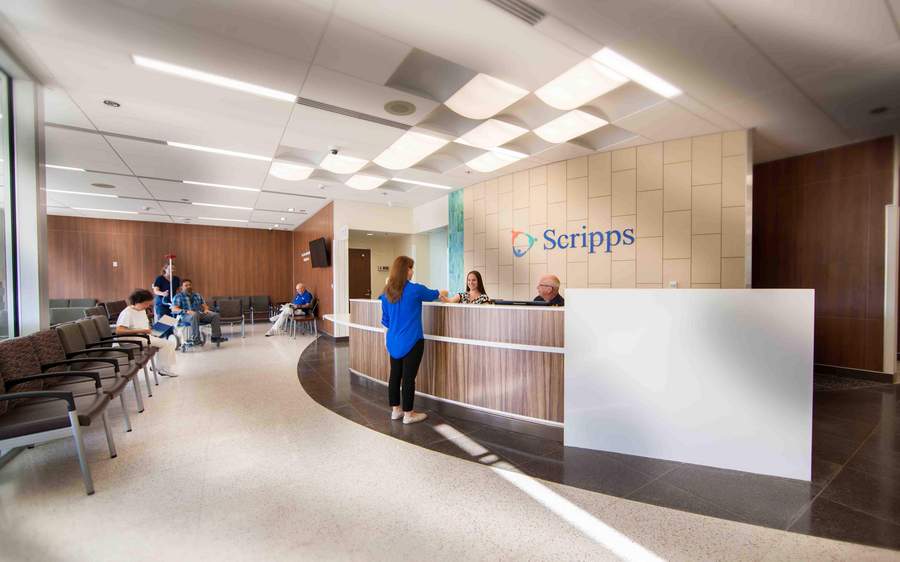 Health care in North County receives a major shot in the arm with the July 1 grand opening of the Leichtag Foundation Critical Care Pavilion, which includes a new emergency department and inpatient rooms at Scripps Memorial Hospital Encinitas.
As part of the grand opening event, Scripps revealed that the building bears the name of the Leichtag Foundation, a local philanthropic organization that in 2009 donated $10 million toward the two-story facility.
"With the steady population growth in North County, this expansion helps fill a critical community need by broadening Scripps' capacity to treat an ever-increasing patient demand," said Chris Van Gorder, president and chief executive officer of Scripps Health. "With all private rooms, our patients will notice a more comfortable environment and our staff will have more space to deliver care with even greater efficiency."
The 72,321-square-foot Leichtag Foundation Critical Care Pavilion is the centerpiece of the hospital's $94 million second phase of expansion, which also includes a new central energy plant, new medical imaging technology and various infrastructure improvements on and around the medical campus.
Expanded emergency department
The first floor of the new building houses a 26-bed emergency department, with all private rooms for greater patient confidentiality and comfort. Two of the 26 treatment spaces can also serve as resuscitation rooms and four can serve as isolation rooms for patients with suspected airborne illnesses. The new facility also includes three intake rooms to help improve the flow of patient care.
Improved capacity and flexibility
The new facility's second floor is home to 36 private medical-surgical inpatient rooms, which are used by patients recovering from surgery or acute illnesses, as well as by patients admitted to the hospital via the emergency department. The additional rooms will reduce the time that admitted patients stay in the emergency department waiting for an available room. Twelve rooms can be converted to intensive care unit rooms. Each room overlooks either a garden view or a west-facing sunset view and has ample space so friends and family can visit or stay overnight. All patient rooms have access to a telemetry system to provide continuous wireless monitoring of cardiac rhythm.
New imaging technology inside the facility includes MRI, CT scanner and digital diagnostic X-ray units.
"This new building is much needed, especially when you consider that the number of annual patient visits to our emergency department has grown substantially during the past decade," said Scott Eisman, MD, the hospital's chief of staff.
The last new construction of patient care facilities at Scripps Encinitas was completed in 1991, which included expansion of the emergency department from six to 12 treatment stations. Since 2000, the population of the hospital's surrounding region has increased by more than 20% and the number of annual patient visits to hospital's emergency department has grown by more than 50%.
Overall, the new building boosts the hospital's inpatient bed count from 158 to 194.
Greater access for first responders
The new emergency department also offers improved access for first responders, with gated access to five ambulance parking bays – more than double the number previously available. This will help reduce the time spent transporting patients and will return ambulance teams back into service more quickly to respond to 911 calls.
The facility's roof includes a heli-stop, which is used for transporting patients out of the hospital by helicopter to a designated trauma center, or for transporting newborns and pediatric patients in distress to Rady Children's Hospital-San Diego.
Philanthropy plays an integral role in supporting the costs to build and equip the new facility. Scripps has received strong community support, with more than $40 million in donations received to date. In addition to major gifts, more than $1 million has been donated by Scripps' employees and physicians toward the expansion. The Campaign for Scripps Encinitas fundraising campaign is ongoing. In addition to philanthropy, Scripps is funding the expansion through a combination of income from operations and debt financing.
The expansion also includes a new 10,678-square-foot, high-efficiency central energy plant, which is the new primary source of utilities serving the critical care pavilion and future patient care facilities on campus. The new building and central energy plant are built on the site of a former parking lot on the southwest part of the hospital campus.
A series of garden areas for families and staff are designed as part of the ground level between the new building and existing hospital. A terraced roof garden on the building's second level has been planted with drought-tolerant native grasses and succulents, offering patients a calming view to promote healing. Other roof areas are treated with a white reflective material to minimize heat gain and conserve resources.
The building is designed to reflect its coastline setting. The west-facing exterior features a series of panels that resemble sails on the water, while the east-facing side includes landscaped gardens and planted terraces reminiscent of the nearby hillsides. The interior design carries a beach theme, with sand-colored flooring and countertops with sea shell accents. Interior walls feature glass accent tiles and colors in blues, greens and whites, to evoke the tranquility of the ocean.
Whiting-Turner Contracting is the general contractor for the expansion and Perkins + Will is the architect.
The first phase of expansion at Scripps Encinitas included construction of an 884-space parking structure, which opened in spring 2011. As part of the second phase of expansion, Scripps is providing more than $6 million in public infrastructure improvements as required by the city of Encinitas. These include enhancements to Devonshire Drive and to the southbound Interstate 5 off-ramp and on-ramp at Santa Fe Drive. The master plan for expansion at Scripps Encinitas was approved in 2009 by the city of Encinitas.
Learn more about Scripps Health, an integrated health care system in San Diego, Calif.