How to Prepare for a Doctor's Appointment
What you can do to get the most out of your next visit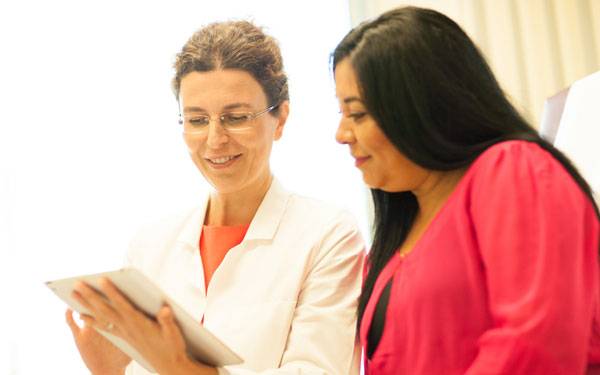 Every minute of time spent with your doctor counts, so knowing how to prepare and what to bring will help you and your doctor get the most out of your visit.
Preparing for your appointment before you see the doctor is key. It will help your doctor to have as much information as possible, so get ready to share.
Decide which two to three specific issues you want to discuss.
Consider what may have been the cause(s).
List your symptoms including when they started
Discuss what treatments you have tried and what is working.
Bring any lab work or imaging results, such as X-rays, that may be related.
You should also be clear on what you hope to get out of the visit, so your doctor can best meet your needs.
"You may want pain relief, a referral to a specialist, or an individualized plan of care," says Angel Ochoa, DO, a family medicine specialist at Scripps Coastal Medical Center in Escondido. "Or maybe you want reassurance that it's nothing serious. Whatever the reason, let your doctor know so the focus can be on what is important to you."
Bringing a few simple items to your appointment can help your doctor form a complete picture of what is happening.
Bring a list of your concerns and list them from most to least important.
"Two to three areas of concern can typically be addressed in a routine visit," explains Dr. Ochoa. "When more are addressed the quality of care may suffer, and you and your doctor may feel rushed."
Keep in mind that your doctor has the expertise to recognize conditions that need to be addressed right away. What you may feel is the highest priority may not always be what your physician thinks needs to be addressed first. If the most important thing to you is your foot pain, but you've also placed chest pain on your list, your doctor is going to place a higher priority on the chest pain since it could be life-threatening.
Bring any information about your condition that you've recorded at home.
If you have high blood pressure, don't forget the pressure readings you took at home. If you're diabetic bring your glucometer. Feel free to call your primary care physician's nurse or assistant to see what they would like you to bring if you're unsure. If you have questions regarding medications, bring the bottles in with you so your doctor is aware of the exact dose and any medications you're taking simultaneously.
Bring a friend or loved one with you, especially if you feel like you have trouble retaining information or you are discussing something serious like cancer or heart disease.
Bring records of any medication you are currently taking.
If you are seeing a new physician and are requesting a new or refill medication, especially if it is a controlled substance, have your records from your previous doctor faxed to the new doctor prior to showing up at your visit to avoid any delays.
"Any prescription refills of a controlled substance, such as Xanax or Vicodin, should not be taken lightly and require an office visit," says Dr. Ochoa.
Other tips to help you get the most out of your doctor's visit include:
Ask if you're due for any health maintenance exams or immunizations, or if there are other screening recommendations for your age.
"This will help make sure you are up-to-date with the basics, such as mammograms and vaccines," says Dr. Ochoa.
Ask to have anything you did not understand repeated or restated.
Feel free to ask if there are alternatives to medications that you may be prescribed. Maybe lifestyle changes, such as diet, exercise and weight loss, will decrease your blood pressure so you don't have to take medication.
Find out if and when you should schedule a follow-up appointment.
On your way out ask for an updated list of your medications and for your visit summary, which is a printout of your vitals, problems discussed and anything that was ordered for you during your visit.
If you are struggling with addiction, having trouble quitting tobacco or alcohol, or are feeling depressed or even suicidal then ask for help.