Scripps Moves First Patients into Prebys Cardiovascular Institute
$456 million heart hospital delivering most advanced care on West Coast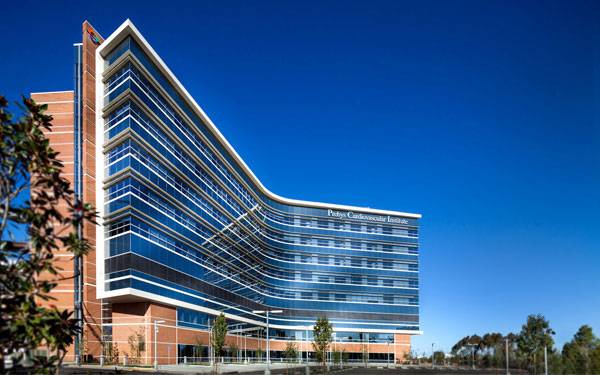 $456 million heart hospital delivering most advanced care on West Coast
Scripps Health today admitted the first 100 patients to its newly opened Prebys Cardiovascular Institute, the most advanced center dedicated to heart care on the West Coast. The $456 million institute on the campus of Scripps Memorial Hospital La Jolla combines the latest diagnostic and treatment technology with special features such as natural light from floor-to-ceiling windows, a subdued color palette and 167 private rooms to create an atmosphere of well-being and healing.
"Starting today, people from San Diego County and beyond can receive care at the Prebys Cardiovascular Institute, a hub for innovation that was designed around our patients and their needs," Scripps President and CEO Chris Van Gorder said. "This hospital brings together leading researchers, world-class physicians and staff from one of the best heart programs in the nation."
For four hours starting at 7 a.m., physicians, nurses and technicians moved heart patients from the original hospital tower on the Scripps La Jolla campus to the adjacent Prebys Cardiovascular Institute.
Lydia Johnson, 75, of Spring Valley, was the first patient to make the trip, which came only two days after the retired university executive assistant underwent quadruple coronary artery bypass surgery.
"Coming over went very smoothly," Johnson said as she sat in her new room in the intensive care unit on the third floor of the Prebys Cardiovascular Institute. "It was a comfortable ride in a new bed. And I had the most wonderful people taking care of me. They were very attentive, always wanting to know if I needed anything."
Her favorite part of the room was the expansive window looking out over a verdant landscape of hills and distant mountains.
"It's fantastic," said Johnson, who describes herself as an avid hiker. "It lets in a lot of light. I'm an outdoors person, so the outside means a lot to me."
Each patient was accompanied on the short trip between buildings by a clinical care team made up of two nurses and a respiratory therapist. A physician joined the teams that moved patients in critical condition.
Institute build around top heart care program
The Prebys Cardiovascular Institute combines highly respected cardiovascular programs from throughout the Scripps system and Kaiser Permanente. Each year, more than 76,000 patients receive their cardiovascular care from Scripps, making it San Diego County's – and California's – largest heart care provider. For more than 30 years, Kaiser Permanente cardiologists have partnered with Scripps cardiovascular surgeons to care for Kaiser Permanente heart patients. This collaboration has contributed to the program's high-quality care, superior patient outcomes and national recognition.
Scripps is the only heart care provider in the region consistently recognized by U.S. News & World Report as one of the best in the country. In 2014, U.S. News ranked Scripps 18th in the nation, the highest rated program in San Diego County.
Heart disease is the leading cause of death for both men and women in the United States, claiming about 600,000 lives each year and accounting for one in every four deaths, according to the Centers for Disease Control and Prevention. In San Diego County, nearly 4,000 people die of heart disease each year, according to the county Health and Human Services Agency.
"The Prebys Cardiovascular Institute builds on a legacy of breakthroughs by Scripps in pioneering surgical procedures, landmark studies, genomic medicine and wireless technology so that we can continue to provide the most advanced treatment options available to patients for generations to come," said Paul Teirstein, MD, the institute's medical director.
Patients at center of design
The 383,000-square-foot tower of glass, brick and steel rising seven stories off Genesee Avenue is named for Conrad Prebys, a real estate developer, philanthropist and long-time Scripps donor, whose $45 million gift helped create this institution that will be saving lives and fostering medical breakthroughs for decades to come.
The institute features 108 inpatient beds in private rooms, 59 intensive-care beds, six state-of-the-art operating rooms, and three advanced technology cardiac catheterization labs with space to add three more.
The design of the institute was shaped by more than 200 individuals – including clinicians, leadership, architects and support staff – who provided guidance on the best practices for cardiac patients. Long before the tower was completed, model patient and operating rooms were constructed on site so that the staff that would be using the new building could help direct design of the actual rooms. Some of the resulting evidence-based design and notable construction features incorporated throughout include:
•Decentralized nurse stations to closely monitor patients and communication with family members.
•Patient rooms and hallways bathed in natural light from floor-to-ceiling windows
•A three-tiered wireless infrastructure dedicated to enterprise, medical and consumer use that maintains maximum capabilities for clinicians.
•Four state-of-the-art operating rooms
•Two hybrid operating rooms that can be used for catheterization procedures or surgeries
•Three negative pressure isolation rooms
•A subdued color palate proven to increase patients' sense of well-being and to boost the healing process.
•Private rooms equipped with LCD screen televisions that can display clinical images, such as CT scans, pullout couches so family members can stay comfortably overnight.
The Prebys Cardiovascular Institute is located at 9888 Genesee Ave. in La Jolla, Calif. More information about the institute is available by calling 858-218-5721 or by visiting Prebys Cardiovascular Institute.
Learn more about Scripps Health, a nonprofit integrated health system in San Diego, Calif.