Scripps Mercy Surgeon Paul Goldfarb, MD, Elected to Commission on Cancer
Note to Patients: The following news is posted for archival purposes only. Scripps is no longer accepting new patients for proton, CyberKnife or gamma knife therapy.
Commission dedicated to improving survival, quality of life for cancer patients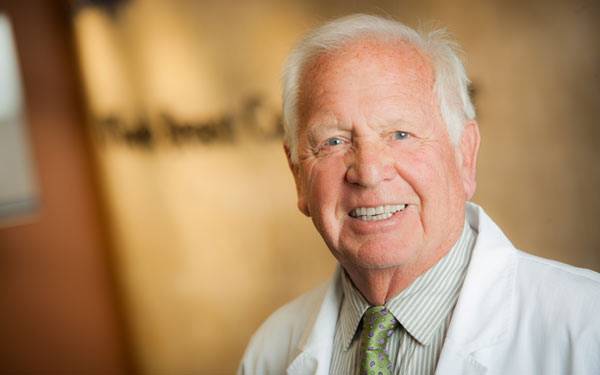 Paul Goldfarb, MD, FACS, a longtime oncologic surgeon with Scripps Health, has been elected to a three-year term as a member of the American College of Surgeons (ACS) Commission on Cancer (CoC). Dr. Goldfarb is the medical director of the O'Toole Breast Care Center at Scripps Mercy Hospital San Diego and is a Fellow of the ACS (FACS).
The CoC is a consortium of cancer care professionals dedicated to improving survival and quality of life for cancer patients through standard setting, prevention, research, education and the monitoring of comprehensive quality of care. CoC membership consists of more than 100 individuals from 56 organizations nationwide, representing the multidisciplinary professionals that comprise the cancer care team.
The CoC's cancer center accreditation program encourages hospitals, treatment centers and other facilities to improve their quality of patient care through various cancer-related programs. There are currently more than 1,500 CoC-accredited cancer programs in the U.S. and Puerto Rico, representing 30 percent of all hospitals. CoC-accredited facilities diagnose and/or treat more than 70 percent of all newly diagnosed cancer patients each year.
"The Commission on Cancer is the leader in advocating for improvements in care for cancer patients, and they share Scripps' commitment to high-quality, patient-centered care," said Dr. Goldfarb, who will represent the ACS Fellowship as a CoC member. "I've been involved with the commission my entire career and have seen the value they bring firsthand, including Scripps' successful network accreditation process."
Since 2008, Scripps Health has been accredited by the CoC as an integrated network cancer program. The designation shows that Scripps meets the highest possible standards for consistently delivering exceptional patient care throughout the Scripps system.
Dr. Goldfarb also currently serves as chairman of the Scripps Health Breast Cancer Task Force. His medical practice has focused exclusively on oncology for the past 25 years. He specializes in general surgery and surgical oncology, performing biopsies, gastrointestinal oncology and breast cancer surgery, as well as sentinel lymph node mapping.
Earlier in his career, he was a clinical professor of surgery within the University of California system and served on the teaching faculty at Balboa Naval Hospital.
As a volunteer, Dr. Goldfarb has served as president of the American Cancer Society's (ACS) San Diego unit and California division. He has also served on the ACS' state and national boards and developed the ACS' first camp in California for children with cancer.
Dr. Goldfarb earned his medical degree from State University of New York at Buffalo School of Medicine. He completed his resident training at Albert Einstein College of Medicine in New York and his internship at Cook County Hospital in Illinois. Dr. Goldfarb also served multiple fellowships at Memorial Sloan-Kettering Cancer Center in New York. As a physician in the U.S. Navy, he rose to the rank of lieutenant commander.
The ACS is a scientific and educational organization of surgeons that was founded in 1913 to raise the standards of surgical practice and improve the quality of care for all surgical patients. The CoC traces its roots back to 1922 when it began as a committee of the ACS and has since expanded from its original surgical focus to include all aspects of modern cancer care today.
Scripps Health is a nationally recognized leader in cancer care, providing comprehensive care at its five hospital campuses and various Scripps Clinic locations. Scripps treats more cancer patients annually than any other provider in California for the following cancer types: breast, colon, bladder, lung (small-cell carcinoma), Hodgkin lymphoma and non-Hodgkin lymphoma. Scripps ranks in the top five statewide for the number of patients treated annually for cancers of the prostate, pancreas, kidney, lung (non-small cell carcinoma), thyroid and skin (melanoma).
Scripps Cancer Care physicians and staff work collaboratively toward cancer prevention, early detection, coordinated treatment and community support services. Scripps Cancer Care is actively involved in leading-edge clinical, translational and basic research.
Scripps offers advanced treatment technologies at the Scripps Proton Therapy Center, the Scripps Radiation Therapy Center and the San Diego Gamma Knife Center, and through its minimally invasive surgical program and CyberKnife stereotactic radiosurgery. Additional resources include specialized breast care centers and infusion clinics, nurse navigators, rehabilitation services, support groups and the Scripps Center for Integrative Medicine.
Learn more about Scripps Health, a nonprofit integrated health system in San Diego, Calif.