5 Great Beginner Hikes in San Diego
Realize the health benefits of hiking year-round in San Diego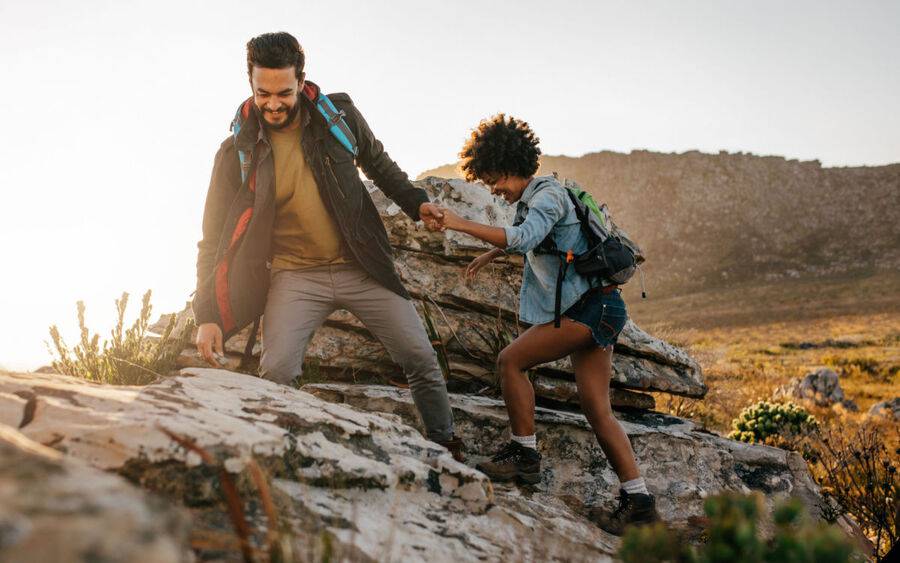 Realize the health benefits of hiking year-round in San Diego
If you're looking for a fun and inexpensive way to get exercise — consider taking up hiking, one of the best types of aerobic exercise. Doing it in San Diego has many benefits.
San Diego County has one of the most diverse trail systems in the United States. If you are new to hiking, the region's mild year-round climate and abundance of terrain — from desert to beaches and mountains — have a lot to offer.
Whether you walk, jog or run in any of these trails, you'll be reaping the metabolism-boosting benefits of aerobic exercise along with the calming, meditative, mind-body experience of the experience.
Walks and hikes are a great way to enjoy the region off the beaten path while burning calories, increasing body strength, improving balance and reducing stress.
"Hiking is an excellent way to enjoy the outdoors and get some exercise," says Jennifer Chronis, MD, a family medicine physician at Scripps Coastal Medical Center Jefferson in Oceanside. "Hiking can reduce your risk of heart disease, high blood pressure and stroke, as well as strengthen your muscles and lungs, and increase your energy level. Regular hiking can also develop strong bones and slow bone loss."
Whatever exercise you choose to take up, it's important just to get started, do it safely and stay motivated to continue to do it and reap the health benefits.
If you're a beginner hiker, try these five easy trails that are short, flat and well-maintained. You can find others near you by going online. As you increase your strength and stamina, you may want to try hiking more advanced trails to challenge your physical fitness.
Put on your comfortable hiking shoes, pack a water bottle and try one of these five beginner hiking trails in San Diego:
1. Tijuana Estuary Trail, Imperial Beach (Easy)
As simple and flat as they come, this 3.3-mile out-and-back trail is a great way to start your hiking adventures. Stop by the visitor's center, located at Third Street and Caspian Way when you arrive, to learn a bit about the ecosystem and borrow a free set of binoculars.
Grab a bird identification guide to augment your walk. Enjoy the ocean breeze, keep a lookout for rabbits and lizards, and enjoy knowing you're one of the singular souls enjoying the secrets of this research reserve at the most southwestern tip of the United States.
2. Dust Devil Trail, Del Mar (Easy)
This flat, sunny group of three looping trails was restored in 2014 and offers level, sure footing for those who are new to hiking or who just want to get some fresh air and possibly glimpse some wildlife without major exertion.
Access the trailhead off El Camino Real between Del Mar Heights and Via De La Valle. You'll see a wide variety of avian life as you pass stands of sage scrub, from the tiniest hummingbirds to herons, hawks, ducks and sea birds.
3. Harper Creek Pools, Cuyamaca Rancho State Park (Easy)
After normal rains, a 3-mile hike out and back from the visitor's center at Cuyamaca Rancho State Park will get you to this stream and a series of shallow pools. Along the way, depending on the time of year, you may see seasonal wildflowers in bloom and annual grasses in the meadow.
You'll also pass live oaks — but once you get to the pools, tread carefully. Poison oak is known to inhabit the area, so stay clear of plants with clusters of three leaves.
4. Piedras Pintadas Trail, Escondido (Easy)
This 3.8-mile interpretive trail loop offers rich opportunities to learn about the lives and culture of the native Kumeyaay people who originally inhabited the region. The trail skirts Lake Hodges and includes a short but steep section that ascends quickly and a waterfall. It offers changing views year-round. Find the trailhead at Interstate 15 just off West Bernardo Road.
5. Fry Creek Trail, Palomar Mountain/Cleveland National Forest (Moderate)
Just off state Route 6, this easy-to-follow 1.5-mile, heavily wooded loop trail surrounds the Fry Creek Campground on Palomar Mountain and offers possible opportunities to encounter birds and animals that you may not encounter in coastal or desert regions — maybe even deer. Watch out for rattlesnakes and stay on the well-maintained parts of the trail. This trail is right on the way to the Palomar Observatory and can easily be incorporated into a day trip.
Safety is key for a fun hike, so consider the following tips before you head to each trail:
Choose trails that appeal to your interests, but also consider accessibility and difficulty.
Before heading out to any of the many trails in San Diego County, visit the parks and recreation website to check for park events, updates and closures.
Before you start your hike, be sure to drink plenty of water. Also, pack extra water for your hike to prevent dehydration. To keep your energy up, it's also a good idea to pack snacks like trail mix and granola bars.
To avoid overuse injuries, increase your distance no more than 10 percent each time you hike. If you are giving trail running a try, break up runs by walking every few minutes.
Wear or bring light layers in case the weather changes. Be sure to pack a first aid kit and a flashlight. Also, bring your smartphone — it can be used as a camera, a resource for hiking apps that track your mileage and elevation and as a GPS system in case you get lost.